Forward this message to a friend
Click to view this email in a browser
Community Convening on the SFUSD Grad Requirement

When: Thursday, November 8th, 5:00-7:00pm

Where: Mission Graduates, 522 Valencia, 3rd floor (ring the buzzer)

Please RSVP to cboilard@colemanadvocates.org.


Graduation Update for the Class of 2014

On Thursday October 25th, SFUSD presented disturbing new data about the numbers of students who are off-track to graduation for the class of 2014 (the first class subject to the New Graduation Requirement). The district also presented a plan to reach out to these struggling students.

It has been a tremendous challenge for students to be successful with the new requirement, in the absence of crucial academic supports and credit recovery options. The district has put forth the claim that as a result of state budget cuts, SFUSD simply can't afford to expand these supports. In particular, drastic state-level cuts to summer school funding two years ago left SFUSD with no funding for summer school, despite a large demand.

In response to Coleman member advocacy, the Mayor and DCYF provided emergency funding to the district so that they could at least provide summer credit recovery options for the high school students that needed it the most. For the past two years, the Mayor and DCYF have compensated for state cuts in this way and it looks like they will be stepping up to fill the gap again this year.

And there is some additional hope on the horizon in the form of a possible additional $3 million in funding for SFUSD credit recovery options. The earmarked resources would be coming from the city as part of an effort led by Supervisor Jane Kim.

As we know from experience, however, confirming this influx of funds – while a major victory for our struggling schools and students – is just the first step in addressing the needs of our off-track students. The devil is in the (allocation) details. Coleman members are committed to ensuring that resources are distributed in a manner that most effectively serves off-track students. And of course, the picture is further complicated by next week's election and whether or not Prop 30 passes.

So come out to the community briefing on Thursday to learn more about all these moving pieces and the next steps to holding the district accountable to providing quality education and support to all students!

Do you know where your polling place is?

Election Day is tomorrow! Make your voice heard! Every vote counts!

The location of your polling place may change from one election to another, so always check before going to the polls to vote. To find the location of your polling place:
Look on the back cover of your Voter Information Pamphlet; or
Call the Department of Elections at (415) 554-4375.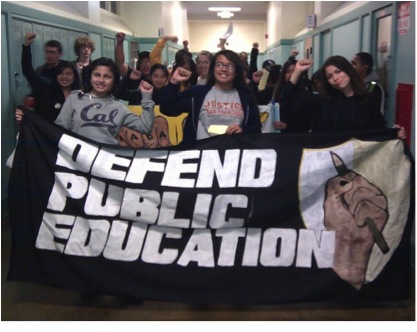 Support Coleman Today! Click Here to Give Online.

Click here to "like" us on Facebook
and get access to daily issue updates and media links

---
| | |
| --- | --- |
| | |