Click here for details (from last week's e-newsletter) about Coleman's City Budget Briefing, SF Education Law Clinic and Children's Fund/PEEF Community Coalition Meeting.

2013 Summer Jobs for Youth 
Community Convening

When: Tuesday, March 19th 5pm to 7pm
Where: Balboa High School - "Green Room" 1000 Cayuga St. San Francisco (3 blocks from Balboa BART Station)

Are you between the ages of 14 and 24?
Are you looking for a job experience over the summer?
Come and learn about future work opportunities that could interest you!

Presentations by:
- The Department of Children, 
Youth, and Families
- The Mayor's Office
- United Way Bay Area
- The Office of Economic 
& Workforce Development

Please RSVP to: Christina Cañaveral ccanaveral@colemanadvocates.org 
or call 415.654.9106

*Food & Translation Provided
**Childcare available if requested

Organized by Coleman Advocates, in collaboration with the OMIE Alliance for a New Economy: PODER (People Organized to Demand Economic and Employment Rights) Filipino Community Center, Chinese for Affirmative Action and Bernal Heights Neighborhood Center

Culture Before Politics: Who We BE and the Colorization of America
A presentation by Jeff Chang

When: Wednesday, March 20th, 12:00 to 1:30 pm
Where: CCSF Lower Level Student Union, Ocean Campus

Join us for this presentation with Jeff Chang, author, activist and radical historian with both street cred and academic chops. Director of the Institute for Diversity in the Arts at Stanford University, his pulsating new book Who We Be: The Colorization of America, traces the rise of multiculturalism—its roots, its triumphs, its commercialization —to tell a new, vibrant, and utterly necessary people's history.

*Persons requiring accommodation, please contact DSP&S at 452-5481. Please give at least 72 hours notice
Organized by Students Making a Change (a project of Coleman Advocates), Asian American Studies, and the Multicultural Infusion Project.

Community/Labor Conversation on the Achievement and Opportunity Gap in SF Schools

When: Saturday March 23 10am to 1pm
Where: Cesar Chavez Elementary School 825 Shotwell St. SF

Community based organizations, service providers, teachers, parents, students, and others invested in public education in San Francisco are invited to discuss and develop strategies for addressing the opportunity gap in our public schools.

* Light meal served. Free parking. Easily accessible by public transportation. *

Sponsoring organizations: Alliance of Californians for Community Empowerment, Chinese for Affirmative Action, Coleman Advocates for Children and Youth, Jobs with Justice, San Francisco Organizing Project, San Francisco PTA, United Educators of SF, Young Community Developers.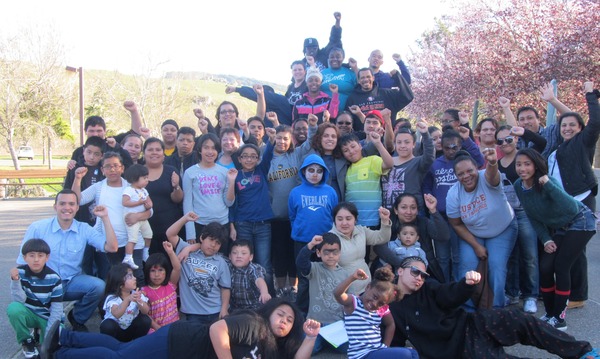 Coleman youth, student, and parent leaders last weekend at our annual
Leadership Retreat, this year at Walker Creek Ranch in Petaluma.