Board of Supes Pass $2.2M Supplemental for SFUSD Credit Recovery!
We are elated to announce that yesterday afternoon the Board of Supervisors passed a $2.2 million supplemental for credit recovery opportunities for the 1800 SFUSD students who are at risk of not graduating next year!

We are tremendously appreciative of Supervisor Jane Kim for her leadership on this issue, as well as the Supervisors who voted in favor of the supplemental: John Avalos, David Campos, Eric Mar, Christina Olague, David Chiu and Malia Cohen.

And last but certainly not least, thank you to all of the community organizations and advocates who worked to build support to ensure that this funding came through. Special shout-outs to the Youth Commission, Chinese for Affirmative Action, Mission Graduates, UESF, LYRIC, College Track, 100% College Prep, Lawyer's Committee for Civil Rights, Youth Leadership Institute, CHALK, TAY-SF, Parent Advisory Council, CARECEN and HOMEY.

The supplemental funding will be spent on some of the following credit recovery opportunities: afterschool programs at eight high schools; evening school at three centralized sites; additional counseling services; oversight and reporting; and community-based satellite centers and targeted support.

This is a huge victory and a big step toward ensuring that all of our SFUSD students are on track to graduating and accomplishing their goals! And, as always, Coleman will remain vigilant in our budget monitoring efforts to ensure timely and comprehensive allocation of this funding. And we will continue to work to identify additional resources to sustain critical credit recovery services, beyond this year.
For more information, email Chelsea at CBoilard@colemanadvocates.org
City College Ed Equity Update

If you recall from past Coleman e-updates, early this year – after months of intensive campus outreach, education, and advocacy carried out by SMAC (Students Making a Change – a Coleman project) community college leaders – the CCSF Board of Trustees voted unanimously to support a proposal that allows students more choice in placement in non-college level courses. This was a major education equity win given the overwhelming evidence that using standard placement test scores as a sole measure disproportionately prevents students of color from reaching their academic goals.

The new policy – "Placement+1" – was scheduled for implementation in Spring of 2013. Months later, however, in October, the Office of Matriculation and Assessment put out a notice to Counselors stating that the Placement+1 policy was not going to be implemented according to schedule. The message explained that: "Interim Chancellor Fisher has indicated that the criteria to advise students about enhanced ENGL placement and the procedures to implement the process require more thorough discussion and development." The message went on to state that the policy is "suspended".

Just 2 days later, however, Interim Chancellor Fisher had this to say in response:

"Colleagues: I have just received a copy of the email below and am compelled to correct some misinformation that is included in the first sections. The implementation of the new process for English placement has been postponed to Spring; it has not been "suspended". It is true that I did approve delaying the implementation of the ENGL Placement+1 Process until Spring, 2013. ... I am concerned that portions of this email imply a lack of commitment to follow direction provided by the Board of Trustees. I may have misinterpreted that message but felt it was important to clarify that we are ethically and legally required to follow formal board direction. Equally important, as we move into a new era of more successful participatory and collegial governance, being sure to demonstrate mutual respect is essential."

Needless to say, SMAC leaders are disappointed that the policy implementation has been delayed. We do, however, fully support its implementation for Fall 2013, and are reassured by the sense of urgency both Interim Chancellor Fisher and Long Term Interim Chancellor Scott-Skillman have demonstrated with regards to this issue.

The importance of this policy and of students being aware of and taking advantage of alternatives to placement testing cannot be overstated. When the new deadline for Placement+1 approaches, SMAC leaders will be on the frontlines ensuring and supporting comprehensive and effective implementation.
And in the meantime, as we await official implementation of the policy, SMAC student leaders have taken it upon themselves to reach out to hundreds of students to inform them of their right to "multiple measures" assessment and related resources, when deciding courses to place into for Math and English.

For more information, email Lena at SMAC.CCSF@gmail.com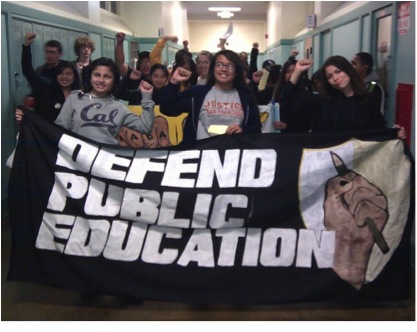 YMAC Leaders
SMAC Leaders