Education Budget Briefing
Wednesday, March 13th, 5:00-7:00 pm
Everett Middle School (450 Church St.), Cafeteria Room

We invite service providers, community based organizations, parents and students to come learn more about SFUSD's budgetary priorities for next fiscal year and the long-term effects of the Governors education budget on our schools. Our main presenter, Myong Leigh, serves as the Deputy Superintendent for Policy and Operations for SFUSD and oversees financial planning, resource allocation and school site-based academic decision-making and budgeting among other operations that support our public schools. All are welcome to attend.

You can RSVP at pmonge-rodriguez@colemanadvocates.org.
City Budget Briefing
Thursday, March 14th, 10:30am-12:30pm

Children's Council of San Francisco: 445 Church Street, Room 120
Come hear from Mayor's Budget Director Kate Howard and the City Controller Ben Rosenfield, along with Coleman staff, about the current budget landscape for the City and community services.

Please RSVP to Christina Canaveral at ccanaveral@colemanadvocates.org.

Ed Trust-West 2013 Policy Agenda
The Education Trust-West has released it's 2013 Policy Agenda, designed to answer the following questions:

How can California's education system ensure that ALL…

1. students are taught by effective teachers?

2. schools receive adequate and equitable funding?

3. students have access to rigorous standards, curriculum, and instruction that prepare them for college and career success?

4. schools and districts are held accountable for student learning while receiving the supports needed to improve?

To read Ed Trust-West's Policy Agenda, click here.


Coleman participates in international convening in South Africa

Last year, YMAC (Coleman's youth organizing project) was invited to participate in a multi-year international study of youth organizing and civic engagement. Seven exemplary organizations in four countries were chosen because of our records of achievement in addressing root causes of social problems and our ability to sustain our work over time.

The culmination of the first year of the study included bringing representatives from all participating organizations to South Africa last month, for a convening and learning exchange. Coleman's Restorative Justice Youth Organizer, Alize Asberry and YMAC Youth Leader, Ellie Smith flew to Capetown and participated in local cultural excursions, historic tours, along with the daily workshops and group activities of the conference.

In her report back to Coleman staff, Alize talked about how inspiring her time in South Africa was. She and Ellie were particularly moved by the group visits to a township near Capetown, and to Robin Island, where Nelson Mandela was imprisoned. She described the whole new level of insight she gained about the sacrifice and struggle that people went through to end Apartheid in South Africa. And she described her much deeper consciousness about how much more work there is to do to in South Africa, and everywhere in the world, to end systemic racism and injustice.

Alize also talked about her many lessons learned about international bridge-building. "By the end of the conference, it became really clear to us all that we were part of a group that has the skills, drive, and shared principles necessary to create an international organizing alliance."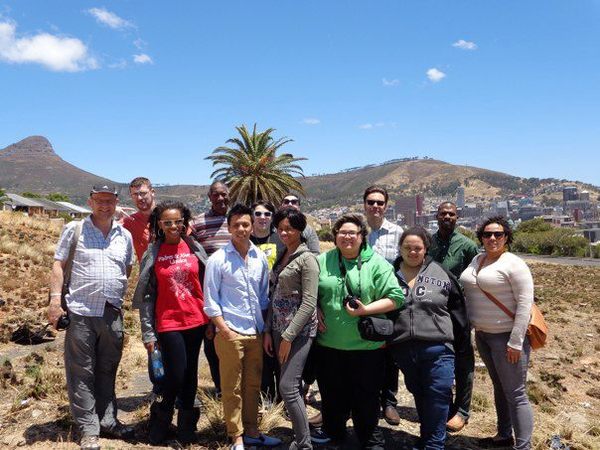 Alize and Ellie in Capetown South Africa, with other staff and leaders participating in an international study on youth organizing.