SFUSD Budget Update
Yesterday evening, the Board of Education Budget Committee provided a general overview of the SFUSD budget, including projected constraints and some new income stream possibilities, related to the Governor's proposed budget. Some key aspects of the budget remain unclear but Coleman will continue to monitor the budget development process and provide updates and information on the district's financial status and budget decision-making, as information comes in. For now, this is what we know:
This is the first time in 5 years that California school districts will be seeing a slight increase in per pupil spending, however SFUSD will still be receiving 10% less than the rate of funding we were receiving in the 2007-2008 FY.
Under the Governor's proposed budget, SFUSD is expecting to receive a 1.65 % COLA (cost of living adjustment / revenue gain).
The way California has distributed funding to schools has not kept up with the changing student demographics of the school districts across the state; In response, Governor Brown is proposing an overhaul of the California school finance system that could potentially lead to a more equitable distribution of resources.
The Governor's proposal would develop a Local Control Funding Formula (LCFF – often called the "weighted students formula"), which would focus more resources on school districts with higher concentrations of low-income and English Language Learner (ELL) students, as well as increase local control related to the specific allocation of these resources.
Currently however, there is insufficient data to calculate how much additional funding (aside from the 1.65% COLA) SFUSD would receive if this new system were to be implemented this year.
In Late April and early May, SFUSD will host community forums and office hours to allow the public to better understand key elements of the proposed budget and also to create opportunities for community members to weigh in on what services and departments we believe should be prioritized in the budget cycle.

City Budget Update
The city is facing a projected deficit of $129 million for FY 2013-14, and a projected deficit of $263 million for FY 2014-15. Since the city has adopted a 2-year rolling budget, the Mayor has asked departments to submit a 1.5% ongoing reduction for FY 13-14 and 1.5% ongoing reduction for FY14-15, a far cry from the days of 20-30% combined proposed departmental reductions in fiscal years 2008-09, 2009-10, and 2010-11. The word on the streets is that direct cuts to services will be minimal, if any, this year.

In essence, the Mayor's budget instructions:

Instruction #1: Submit a Budget Including Ongoing Savings Equal to 1.5% of Base General Fund Support for Fiscal Year 2013-14 and an additional 1.5% of Base General Fund Support for Fiscal Year 2014-15.
Instruction #2: Utilize Data to Identify Opportunities for Greater Efficiency and Effectiveness of Programs and Services
Instruction #3: Review current position classifications and recommend changes
Instruction #4: Submit Functional and Position Level Organization Chart
Instruction #5: Consider Independent Reviews and Audits in Developing Budget Submissions
Instruction #6: Review and, where possible, renegotiate existing contracts.
Instruction #7: Foster Community Engagement in the Budget Development Process

Departmental proposed budgets are due February 21st, and the Mayor's office is planning to hold community town halls starting in March. We will share more information as it comes...

Click here (and jump to pages 12-14) to download the Mayor's full budget instructions.

Click here to download The Mayor's budget office presentation at the Human Services Network


City College: What's at Stake
SMAC (Students Making a Change) leaders took the time to break down the accreditation situation at CCSF in terms we can ALL understand. They created a handy visual illustrating the four possible scenarios of what could happen, how students will be affected, and which scenario SMAC believes is in the best interests of students.

Click here to download the flyer!


City College student organizing featured in a national report
Coleman is excited to be featured in an important new report about the growing field of community college student civic engagement. Our CCSF student advocacy is highlighted and several of our inspiring SMAC student leaders are quoted in the report.

Check it out and spread the word!

(click here to access the report) "A NEW LEADERSHIP LEGACY:: Igniting a National Movement for Student Leadership & Engagement at Community Colleges"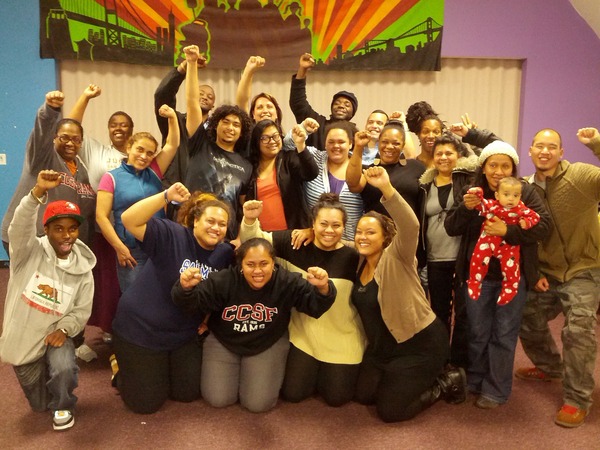 Coleman youth, student, and parent members of the "Coleman Family Leadership Council"
The CFLC convened last week to make key decisions about our 2013 Education and Economic Justice Campaigns.