Forward this message to a friend
Click to view this email in a browser
Hearing on A-G and the New Graduation Requirement
Thursday, October 25th @ 3:30pm
City Hall, Board Chambers (room 250 at the top of the stairs)

This is the only item on the agenda so get there on time if you want to hear the district's presentation!

For more info and to let us know you're coming, please contact Chelsea Boilard at cboilard@colemanadvocates.org.

What the Numbers Tell us: Thousands of Students Falling Between the Cracks and an Urgent Need for Intervention
New numbers from SFUSD show that 45% of students in the class of 2014 are not on track to graduation. These alarming numbers reflect a range of student needs and challenges, from students with sufficient credits but missing a class to students missing so many credits that they need an alternative to traditional graduation.

In particular, only 26% of African American students and 32% of Latino students are on track to graduation next year, meaning that 74% of African American students and 68% of Latino students are at risk of not graduating on time unless interventions are made immediately. And that is only with a D or better. If we use C or better as the measurement, we are looking at only 11% of African American students and 17% of Latino students who are eligible for a 4-year university in California.

And while for other racial groups – Chinese students for example – the percentage of students off-track is lower, we are still talking about a shamefully large number of our SFUSD students who are at risk of not graduating. Across racial groups, 1800 students in total are at risk of not graduating next year; and 2300 students are at risk of not being eligible for a UC or CSU (4 year state university).

This Thursday, the district will be presenting this and other data at the Board of Supervisors/Board of Education Joint Select Committee, as well as their plans to create graduation plans for each student.

We know that students need additional credit recovery options to make up classes and academic support to be successful—and ongoing budget cuts to the district have made it difficult for the district to make this a priority. But now is the time for us to step up and address the crisis before we set students up to fail!
Join Us. Make Your Voice Heard.

SFUSD and elected officials need to know that the community is watching and that the district and the city must do whatever it takes to support all of these students in getting back on track to graduation and accomplishing their dreams! We're asking for people to attend and speak on a few different points:

• We are asking that the district
stay true to the original intention of the A-G policy, which is not only to prepare students for graduation, but also prepare students to be eligible for a 4-year
university.
• We are asking that the district prioritize the provision of all the necessary resources for students to be successful, including credit recovery opportunities and academic suppo

rt.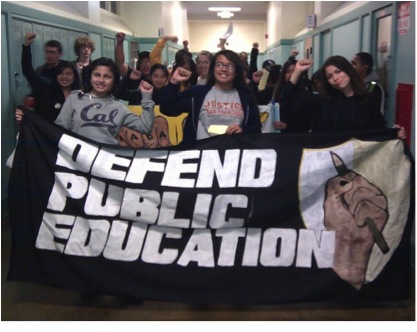 Support Coleman Today! Click Here to Give Online.

Click here to "like" us on Facebook
and get access to daily issue updates and media links

---
| | |
| --- | --- |
| | |