Tuesday evening the SF School Board voted to pass a Local Hire Policy for SFUSD, mirroring the one adopted by the City and County of San Francisco in 2010. An SFUSD policy will help guarantee the hiring of local San Francisco residents and contractors for SFUSD's $531 million construction bond.

We want to thank Commissioners Sandra Fewer and Matt Haney for sponsoring this important policy. Coleman was honored to organize along-side Chinese for Affirmative Action, Brightline Defense (special thanks to Brightline and Joshua Arce for spearheading the effort!), the SF Latino Democratic Club, and the SF Laborers Council.
This is a huge win for labor and community! The vote was unanimous, with all 7 members of the Board voting in favor of the policy. The policy mandates: 1) a local resident labor participation rate of 25% of total construction worker hours; 2) a minimum 50% local resident apprentice participation rate; and 3) a commitment from contractors to sponsor 2 internships for every $2.5 million of construction contract value. The policy will go into affect immediately for all future bond construction projects!

Click here to read the full policy.

And on a more romantic note, also during Tuesday evening's Board of Ed meeting, Commissioner Hydra Mendoza was proposed to, and she accepted! Congratulations Commissioner Mendoza! Yay for love! Local Hire AND a proposal. Now that's a meeting!

CONDO VERSION LEGISLATION GETS AMMENDED
WITH TEN-YEAR MORATORIUM

Condo conversion compromise legislation passed yesterday with a veto-proof majority by the Board of Supes. This means that all TIC (tenancy-in-common) units that were already on the waitlist to convert to condos can do so BUT it also includes ammendments that to put a stop to condo conversions for at least a decade, and ends them altogether for buildings with five or more units. This is an important victory as it will prevent real estate speculators from swooping in and decreasing the rental stock in the city and driving up rent prices even more!

Thank you Supervisors Chiu, Kim, and Yee for authoring the ammendments and thank you to all the community groups who played leadership roles in this fight, including the Housing Rights Committee of San Francisco, the San Francisco Tenants Union, the Council of Community Housing Organizations, Causa Justa/Just Cause, Chinatown Community Development Center, and many more!

Some background on the policy: Earlier this year, Supervisors Mark Farrell and Scott Wiener co-authored legislation to clear a 2,000-unit backlog of tenancies in common (TICs) and allow them to convert to condominiums immediately. Tenants rights organizations as well as organizations like Coleman Advocates that represent the interests of low-income San Franciscans were very upset about this proposition, and for good reason: Evictions under the Ellis Act in order to create TICs from former rental properties have dramatically and disproportionately affected low-income residents. In response to these concerns, Supervisor David Chiu, with the support of Jane Kim and Norman Yee, authored the amendments mentioned above.

COLEMAN STAFF TESTIFY AT HEARING IN CAPITOL ON STATUS OF BOYS AND MEN OF COLOR

Yesterday, Coleman staff members Kevine Boggess and Paul Monge-Rodriguez testified in Sacramento as part of the Assembly Select Committee on the Status of Boys and Men of Color's Briefing on Building Safe and Successful Schools. The briefing featured experts from the law enforcement, education and research sectors speaking on various approaches to violence prevention in schools, as well as innovative programs and policies in place that target boys and young men of color.

Kevine and Paul spoke on a panel about best practices and strategies for making public schools safer for boys and men of color in San Francisco. Specifically, they shared information about several Coleman initiatives and strategies, including our aspiration to win an SFUSD ban on willful defiance suspensions in elementary through high school (the state-level proposed legislation does not cover elementary school suspensions); our focus on continuation schools and monitoring and preventing school pushout practices; and our work with the DA's office to support the development of a juvenile justice diversion program in San Francisco modeled after the one in Alameda County.

We want to thank Assemblymember Phil Ting for taking time to talk with us yesterday and for acknowledging the work of Coleman in his public comments. We also want to thank the Children's Defense Fund, and especially Jamila Edwards, for creating the opportunity for us to share our perspectives and experience at this important hearing!

BALLOT MEASURE PROPOSED TO ALLOW PARENTS/ CAREGIVERS MORE FLEXIBLE WORK SCHEDULES.

On Tuesday Board President David Chiu introduced a proposed ballot measure that would allow parents/caregivers to have more flexible work schedules.

Click here to read more about this promising initiative to make SF more family-friendly.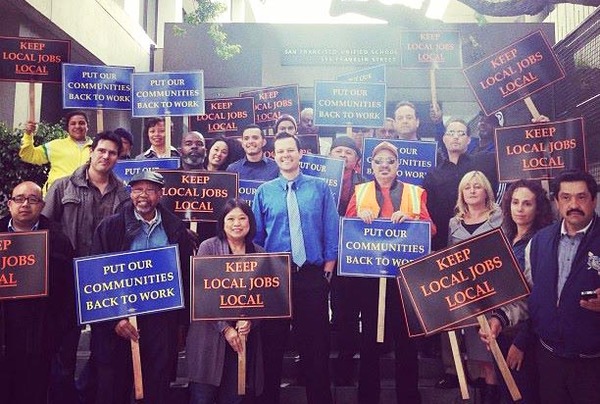 Coleman staff and allies at Local Hire for SFUSD Rally before Tuesday's Board of Ed Meeting