April 25, 2013



Community/Labor Education Town Hall Saturday

When: Saturday April 27th 2pm to 5pm
Where: Cesar Chavez Elementary School 825 Shotwell St.

On March 23rd 2013, over 100 parents, teachers, students, community members and other public school Stakeholders joined together to learn and set priorities around closing the Opportunity Gap in San Francisco Schools. Come Out Saturday to find out what we shared, prioritized and what plans we will make to move forward our work to Close the Opportunity Gap forward.

Refreshments, Free parking, Translation, and Easily accessible by public transportation.
SPONSORING ORGANIZATIONS: Alliance of Californians for Community Empowerment, Chinese for Affirmative Action, Coleman Advocates for Children and Youth, Jobs with Justice, San Francisco Organizing Project, San Francisco PTA, United Educators of San Francisco, Young Community Developers.

EMAIL: closethesfgap@gmail.com to confirm your attendance or sign on as a sponsor.

Youth Organizing Study Presented Tuesday in SF

When: Tuesday April 30 5pm to 6:45 (Presentation and Q&A)
Where: Hilton Union Square Lobby Level Golden Gate 7 333 O'Farrell St

Researchers from the UCLA Institute for Democracy, Education and Access will present the results of a major study on the impact of Grassroots Organizing on the lives of Youth Participants. The presentation will feature the experiences of alumni members of Youth Making a Change (Coleman Advocates), AYPAL, Californians for Justice, InnerCity Struggle, Youth Together, and Youth United for Community Action.


May Day March and Rally Next Wednesday

Join Coleman and our allies in the Progressive Workers Alliance at a May Day March and Rally!
In 2006, 20,000 people in the Bay Area joined millions of immigrants and allies all over the United States to stand against the anti-immigrant laws and policies which were being proposed- and we witnessed the some of the largest demonstrations in the history of United States!

Now we have comprehensive immigration reform back on the table and the stakes are just as high...

Join us as the San Francisco Bay Area comes together to push for humane, equitable and inclusive immigration reform! We will begin the march at 24th Street & Mission at 3pm. We will march together to Civic Center Plaza where we will have closing speakers and performances.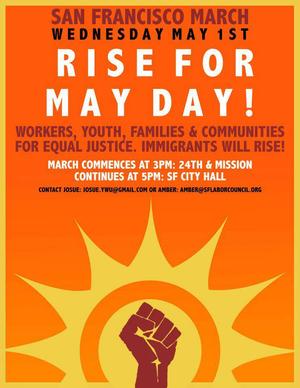 May SFUSD Community Budget Forums

When: Thursday May 2nd and Thursday May 15th
Where: 555 Franklin Street. SF

Two opportunities to learn more about funding for our public schools – how it works and what you can do to help increase education funding in San Francisco and across the state! The forums are being co-hosted by the district & community organizations: Coleman Advocates, Chinese for Affirmative Action, Mission Graduates, Parents for Public Schools, the Parent Advisory Council, and the PTA.



Click Here for a Flyer with More Information
Children's Fund Community Planning Conference Friday May 3rd
Sponsored by the newly formed Children's Fund Community Coalition -- 50 agencies strong and growing!

When: Friday, May 3rd, 9am-2pm
Where: College Track 4301 Third Street (between Jerrold and Kirkwood)



Click here to read more about the conference agenda and goals.



For more information contact Chelsea Boilard at cboilard@colemanadvocates.org or Margaret Brodkin at margaret@margaretbrodkin.com