Forward this message to a friend
Click to view this email in a browser
Funding for Credit Recovery

As we've shared in past e-alerts, years of budget cuts to SFUSD has led to the elimination of evening school, summer school and other credit recovery options. Most recently the after-school credit recovery programming available as a result of a 21st Century grant was cut from eight SF high schools. Thanks to the Mayor and DCYF, SFUSD has been able to offer summer school to a limited number of students for the last two summers, and the district will be expanding this offering somewhat for the upcoming summer. We know, however, that summer school alone is not nearly enough to meet student need and get all students back on track.

Supervisor Jane Kim, along with co-sponsoring Supervisors Avalos, Campos, Mar and Olague, has introduced a supplemental appropriation of up to $3 million, which could go to SFUSD from the city, specifically to address the district's credit recovery needs. The supplemental appropriation will be heard at the Budget and Finance Committee of the Board of Supervisors this week and will go before the full Board next week. And it is up to US to make sure that the Board does the right thing and approves the appropriation!

Tomorrow: Testify in Support of Credit Recovery Funding!

This Wednesday 11/14, we are asking you to come to the Budget and Finance Committee of the Board of Supervisors and testify in support of this supplemental appropriation to support our students to get back on track! The meeting starts at 11:00am but this is item #12, so it will likely take some time before it comes up, possibly more like 12 or 12:30pm. Can you attend and speak in support?

Tuesday 11/20: Show your support at a Press Conference!

Next Tuesday 11/20 will be the day the supplemental goes to the full Board of Supervisors-- and we are planning to do a press conference at 12pm that day. Can you be there to support?

Please let me know asap if you can attend each of the above events-- we need to demonstrate broad support so that the Board of Supervisors votes in favor of this money passing through!

For more information or to RSVP contact KBoggess@colemanadvocates.org

An update about last week's New Grad Requirement briefing

Thanks to all of you who came out last Thursday to the community briefing on the New Graduation Requirement. In addition to getting a comprehensive look at the numbers of students who are on-track and off-track with regard to the New Graduation Requirement, we also heard from the district about their immediate strategy to create graduation plans for off-track students and we were able to engage in dialogue about the role of community stakeholders in holding the district accountable to graduating all students prepared for college and career, an in particularly the high numbers of Latino, African American and Chinese students.

It is more clear than ever that a broad coalition of stakeholders working together on these issues will be essential to ensuring equity and a high quality educational experience for all SFUSD students. At Thursday's briefing, participants consistently voiced a strong commitment to moving forward the reforms necessary to address the crisis in our schools and support struggling students to get back on-track. Given the demonstrated investment of participating community members and organizations, Coleman is committing to bring this group back together to continue the conversation and planning. We will convene again the week of January 21st. Stay tuned for details!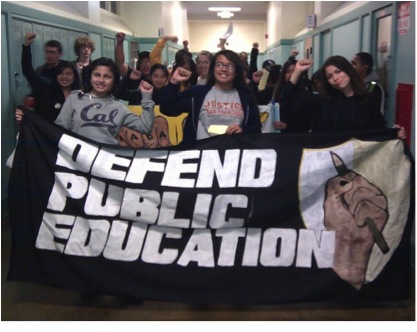 Support Coleman Today! Click Here to Give Online.

Click here to "like" us on Facebook
and get access to daily issue updates and media links

---
| | |
| --- | --- |
| | |