-- Session 2012
-- Supermarket Sales in MD & FMI Wine Study
-- Next Issue?
-- Odds & Ends

2012 Alcohol Legislative Roundup
The General Assembly Session came to a close two weeks ago and still many pundits are trying to parse through (a) what happened and (b) what didn't. From an alcohol perspective, a surprising number of bills made it through before the Great Budget Impasse of 2012.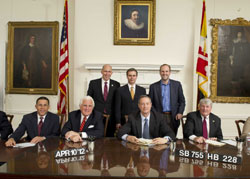 Corkage becomes legal as of July 1st at restaurants, hotels and private clubs that choose to allow it. The new law requires an establishment with a liquor license to obtain a no-fee permit from the local liquor board before setting its own policy. The law precludes a restaurant from allowing a patron to bring a bottle of wine the restaurant is already selling, which would be poor corkage etiquette in the first place. The local liquor boards have not yet figured out the permitting process but should be doing so over the next several weeks. We should have a list of corkage-friendly restaurants up on our website shortly.

In the meantime, a number of restaurants that supported our efforts have donated corkage-free dinners that will become an online fundraiser for Marylanders for Better Beer & Wine Laws. The fundraiser will be launching in May, so keep your eyes out for some great packages from around the state. We'll have dinner from Jaleo (Bethesda), B&O American Brasserie and Gertrude's (Baltimore), Monocacy Crossing (Frederick) and Pairings Bistro (Bel Air) among others. We will also let you know about some of the corkage promotions being held by Maryland restaurants so you can take advantage of them.

Other bills that came to pass this Session include:

Rectifiers, those who blend whisky or other spirits, can now offer tours, samples and even sell their wares (HB1316/SB1018). Maryland is home to Diageo's Captain Morgan rum rectifying facility, and they didn't want to lose out on all of the on-premise fun being had by the Maryland wineries. Unfortunately, Maryland's only distillery, Blackwater Distilling, home to Sloop Betty vodka, did not fare as well. The legislation to legalize distillery tours, samples and sales (HB717/SB386) did not make it through the final steps. As the legislation came really close to passing, it's possible that legalized distillery tours and sampling might become law in 2013.

Farm breweries, farms that could grow their own crops for beer production and make the beer on-site, can now have a lawful permit to do so. This legislation (HB1126/SB579) creates a similar license to that of a winery, allowing on-site tours, sampling, sales and ability to also sell certain foods. Other brewers did not fare so well (HB1127/SB957): micro-breweries and brew-pubs will not be able to provide samples or self-distribute quite yet. Consumers in Baltimore City (HB401/SB874) and Howard County (HB1047) will now be able to bring refillable growlers into permitted facilities to buy beer on tap to take home with them.

One of the more sensible bills that went nowhere this Session was HB1266 which would have turned over to local liquor boards the ability to regulate Sunday alcohol sales. In order for a county to offer Sunday sales under the current system, the county delegation must put forth the legislation which then has to be ratified by the entire General Assembly. Currently legal in 17 of 24 Maryland counties, Del. Kramer's bill would have given the local boards flexibility in determining Sunday sales instead of requiring legislative action. As Del. Kramer put it so well, "If the liquor board can be entrusted to determine how, when and where to sell alcohol on the other six days of the week, why can't it do so on Sunday?"

Maryland wineries can now sell at farmers' markets in St. Mary's, Dorcester (HB171) and Charles (HB1387) Counties. The Maryland Zoo in Baltimore City can now obtain a liquor license (HB1319/SB975) to sell beer, wine and liquor on-premises, presumably only for human consumption. Damascus, one of Maryland's few remaining dry jurisdictions, will now be able to hold a referendum to determine whether they want to stay dry (HB690). The Frederick Foodie covered several changes in Frederick County in his blog posting Maryland Law Changes including the new ability of the lone Frederick County liquor inspector to pack heat while on official duty. Baltimore County Executive Kevin Kamenetz was able to make substantial changes to county liquor law as profiled in a recent Baltimore Sun editorial ("Balto. Co. Liquor Lobby Cracks").

Supermarket Beer & Wine Sales in Maryland
The topic of uniform beer and wine sales in Maryland grocery stores is quite controversial among the industry. There are a number of jurisdictions that have supermarket sales either broadly (Talbot County) or with grandfathered-in stores (Montgomery County and Baltimore City are just two), yet the state lacks any sort of coherent legal framework. For example, just by putting a liquor store next to the McHenry Row Harris Teeter store in Baltimore has caused the Maryland State Licensed Beverage Association (MSLBA), the main packaged goods and tavern owners association, to become apoplectic. As reported recently in the BBJ article "Group Wants McHenry Row Liquor Store to Lose License," the MSLBA claims that the license issued to this store, which is held in the name of the property developer and owned by him, violates Maryland's chain store prohibition. The protest was dismissed by the Board last week because the protesters who signed the request were not within the requisite geography, a technicality that preserved McHenry Row's license.

The Prince George's County Delegation bill (HB817) that would have allowed a supermarket to obtain a liquor license in a long-abandoned Bowie shopping mall did not have enough support from the delegation to move forward. The College Park Patch wrote a lengthy article in January ("Bowie Opposed to Adding College Park to Grocer Alcohol License Bill") that discussed the local interest in a specialty grocery store such as Trader Joe's being able to fill this location. During the debate about this bill, so many parts of Prince George's County wanted chain store sales that multiple parties tried to amend the bill to allow chain store licenses within their area. As a result, the delegation could not move forward with the bill as planned, so this legislation was completely repurposed to address entertainment at local liquor licensees and in no way changed the chain store status quo.

Contributing to this debate, the well-respected Food Marketing Institute, the national trade association for food retailers and wholesalers, came out with a report at the end of last year entitled "FMI WINE STUDY: The Economic Impact of Allowing Shoppers to Purchase Wine in Food Stores." The study made some interesting findings:

-- Open states that allow widespread supermarket sales have about 4 times as many retail wine outlets per average adult population as closed states.
-- Legalizing chain store wine sales is projected to increase federal and state taxes collected by over $5 billion and increase employment by 168,000, resulting in a total economic impact of $14.3 billion.
-- Package goods stores remain relatively unaffected, continuing to maintain healthy counts in states where wine chain store sales are legal, and having only marginal impact on existing stores.

If Maryland were ever to seriously contemplate legalized chain store sales, perhaps our esteemed legislators could keep in mind this observation from the FMI report: "While adapting to a changing economic environment is often difficult, states that have made the change have found their fears preceding the change were unjustified."

Next Issue(s)?
With direct wine shipping and corkage now legal, what's next for MBBWL? What are the issues that you would like to see resolved in the Free State? Please let us know via our Facebook group (www.facebook.com/MBBWL) so we can start adding them to the mix.

Odds & Ends
A thief suspected of stealing $100,000 of top-shelf liquor from around the state was finally apprehended in January ("Man Charged In Thefts Of Top Shelf Liquor From Harford Stores").

Baltimore has a rich brewing history, one that is chronicled in a recent book by former Baltimore Sun staffer, Rob Kasper, called Baltimore Beer: A Satisfying History of Charm City Brewing. The Sun gave a generous review to it in "Year Of Good News Highlights Baltimore's Rich Beer History."

Tastefully yours,

Adam Borden
President
Marylanders for Better Beer & Wine Laws
4315 Underwood Road
Baltimore, MD 21218
Tel: (443) 570-8102
http://www.mbbwl.org
Facebook: http://www.facebook.com/MBBWL
Twitter: http://twitter.com/mbbwl
Donate: https://www.paypal.com/cgi-bin/webscr?cmd=_s-xclick&hosted_button_id=2184279
---
| | |
| --- | --- |
| | |