WE'RE CELEBRATING OUR 10th ANNIVERSARY THIS JUNE!

From day one we have offered affordable group acupuncture in a cozy treatment room. Since opening we have provided over 90,000 acupuncture treatments!

Most important of all is the support, enthusiasm and patronage of people like you!

By coming in for treatments and spreading the word about Acupuncture Together with your friends, family, colleagues, communities and health care providers you have helped us to grow and sustain our practice, making what we do possible.

We couldn't do it without you.

Keep on reading for our fun special and contest to celebrate our 10th anniversary throughout June!
Click here to make an appointment, or call 617-499-9993.
10th ANNIVERSARY SPECIAL: DRAWINGS FOR ACUPUNCTURE PRIZES THROUGHOUT JUNE!

We'll be holding drawings at random throughout June! Each time you come in for a treatment you're eligible to win a prize.

Each week 3 lucky people will win a prize of $5 off of a future acupuncture follow-up.
Winners will be called at the end of each week. Good luck!

ACUPUNCTURE POETRY CONTEST

Write a poem about acupuncture! It could be a haiku, limerick, sonnet, free verse or other style of poetry. Submit it by June 30th via email to Justine at info@acupuncturetogether.com.

Each person who submits a poem will receive a gift for $5 off a future acupuncture treatment, and the winner will receive a package of 3 acupuncture follow-ups.

We'll be putting a book together featuring all submissions to display in our reception area and sharing some poems on social media for others to enjoy! All poems will be featured by first name and last initial (not full name) for privacy. We're excited to see what you come up with - have fun! Here's a little sample for you to enjoy:

Acupuncture Dream

by Justine Myers

A pin was placed atop my head,
And lo, I fell asleep!
I dreamt of floating peacefully,
'Twas relaxing, sweet and deep.

When I awoke I was surprised
To find myself surrounded by
Some other people just like me,
Relaxing, dreaming comfortably.
I quietly rose up from my seat,
My spirit lighter, my mind quieter,
Body rested, energy replete,

Acupuncture, what a treat.
OUR SLIDING SCALE, GIFT CERTIFICATES, STAYING CONNECTED & MORE!

OUR SLIDING SCALE:
we offer
SLIDING SCALE PRICING
of $35-55 for first visits and $20-40 for acupuncture follow-ups, as well as packages of 5 treatments for $90-200 (add $15 for a first visit) everyday for everyone. Pay whatever works for you.
GIFT CERTIFICATES

are always available for purchase in any amount you'd like. Purchase them by phone at 617-499-9993 or in-person at our office.


"LIKE" US ON FACEBOOK
and INSTAGRAM for interesting acupuncture and health-related articles and information, the latest happenings at Acupuncture Together, fun photos and memes like these: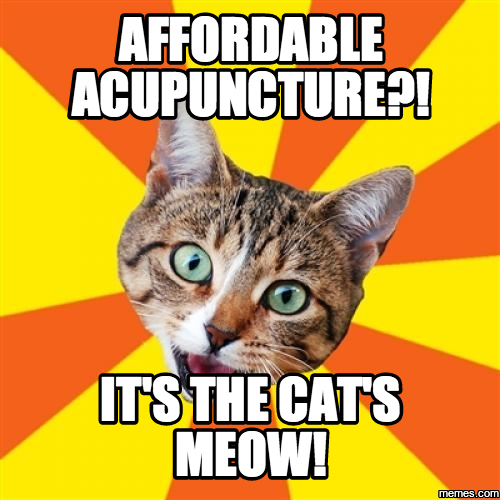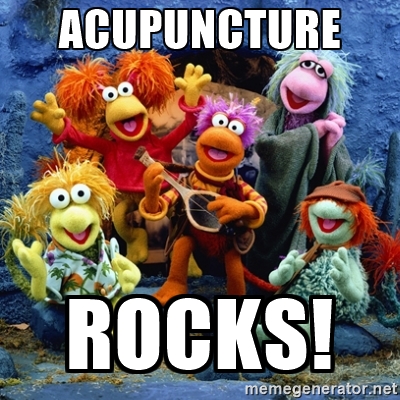 ACUPUNCTURE TOGETHER ENTHUSIASTS - please consider sharing your positive experience at Acupuncture Together in a GOOGLE REVIEW. We'd love to help more people discover the affordable, effective and relaxing care that we offer. Your personal story might be just the thing that helps someone else! Word of mouth referrals are also always greatly appreciated. Thanks so much for your support
ACUPUNCTURE TOGETHER BABY BULLETIN BOARD - If we've helped you to conceive, supported you through your pregnancy and/or helped you to get your labor started we'd love to know how you are doing and for you to send us a photo for our Acupuncture Together Baby Bulletin Board. It could be a family photo, you and your baby or your baby alone, whatever you'd prefer. You may submit a photo via

email to info@acupuncturetogether.com and we will print it, OR snail mail a photo to us at Acupuncture Together, 2464 Massachusetts Avenue, Suite 420, Cambridge, MA 02140.

JOIN POCA, THE COMMUNITY ACUPUNCTURE COOPERATIVE -
POCA
helps improve access to affordable acupuncture. Patient/community membership includes some great benefits.
TO JOIN POCA, CLICK HERE!