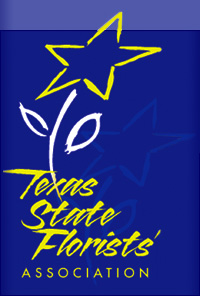 Hi Valued Customer,
The TSFA Board and Education Committee would like to thank you for your dedication to teaching your students, preparing the future of our industry. We want to make sure that you have as much information moving forward as possible! If you have any questions about anything in these monthly newsletters, please do not hesitate to contact the TSFA office.

---
Junior Cup Floral Design Competition

Don't Forget!!

The 2013 Finals are being held in the Texas Department of Agriculture's Food and Fiber Pavilion on October 19, 2013.

Region Winners

Southeast Region
Tarsheanna Bauer, Center High School
Adela Reyes, Center High School
Floral Design teacher: Shana Brittain TMF

North Region
Haley Smith, Northwest High School
Floral Design teacher: Kristen Stockard

Jennifer Esparza, Skyline High School
Floral Design teacher: Shawn Coyle TMF

Central Region
Junelyn Gameo, Madison High School
Floral Design teacher: Josh Anderson TMF

Please come out to see our first set of finalists compete for the Junior Cup!


Level 1 High School Floral Design Certification

TSFA has confirmed all of our testing dates and locations for Spring 2014! Registration information will be available soon at
tsfa.org
.
April 12, 2014
College Station High School
4002 Victoria Ave.
College Station, TX 77845
AND
Banquete High School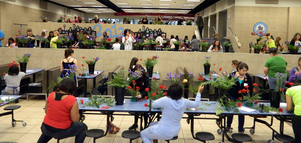 5519 Hwy 44
Banquete, TX 78339
April 26, 2014
Skyline High School
7777 Forney Rd.
Dallas, TX 75227
May 17, 2014
Region 8 Educational Service Center
4845 US Hwy 271 N
Pittsburg, TX 75686
AND
Klein ISD Multipurpose Facility
7500 FM 2920
Spring, Texas 77379
All testing dates begin at 9:00am.
If you have any students that need to retest, they are welcome at any of the above testing dates as well. Please contact TSFA for a retest registration.
Scholarships for these Level 1 testing dates will be posted on tsfa.org in January. Check back then for more information!
Click here for the Hands-On Guide, Study Guide, and a Basic Grading Form:
Level 1 High School Certification
---
Press Release from TDA

Commissioner Todd Staples
Texas Department of Agriculture
Contact: Bryan Black or Lindsey Pope | (512) 463-7664 | 1-800-TELL-TDA
For Immediate Release:
Sept. 12, 2013
COMMISSIONER STAPLES ENCOURAGES ADMINISTRATORS, TEACHERS, COMMUNITY LEADERS TO NOMINATE PROMISING STUDENTS FOR GROW AWARD BY
OCTOBER 1
Award honors middle school, high school students for outstanding work
AUSTIN — As the 2013 school year gets underway, Agriculture Commissioner Todd Staples reminds teachers, school administrators and community leaders across Texas to nominate promising students for the Texas Department of Agriculture's GROW Award. The award Gives Recognition for Outstanding Work to middle and high school student leaders who demonstrate excellence in their pursuits inside and outside the classroom.
"The future of the Lone Star State is in the hands of today's youth," Commissioner Staples said. "Leadership in the classroom, the lab, at home and in the field is vitally important to give students the training and experience needed to remain competitive in today's global job market. We were able to recognize some amazing students last school year, and I look forward to adding more young people to our distinguished list of GROW Award recipients."
The GROW award celebrates outstanding student leaders who demonstrate excellence in their academic or extracurricular activities. The award highlights a student's special interests, service to community and family, strong work ethic, leadership and overall character. Award recipients will receive an official certificate from Commissioner Staples and special recognition on the TDA website. Students can be nominated by community leaders such as teachers, coaches, school administrators, mayors, county judges or anyone else committed to recognizing youth leadership and achievement. A committee will choose a winner each month during the regular school year.
"Many people may not realize there are more than 200 different agriculture-related careers out there for our young people to explore," Commissioner Staples said. "Agriculture today is technically-advanced, diverse, efficient and innovative. It takes a close partnership with education to grow the knowledge and skills necessary to produce the clothes we wear, the homes we live in, the food we eat, the medicines that heal us and the energy that powers our lives."
To nominate a promising middle or high school student in your area, click here. Applications are due Oct. 1, 2013. The first GROW award recipient of the 2013 school year will be announced on Oct. 15, 2013.
Commissioner Staples began recognizing Texas students with the GROW Award during the 2012 school year. Click here to view all of our GROW award recipients.
###
---
Member Benefits

Introductory Hands-On Floral Design Classes
TSFA is offering another set of Introductory Hands-On Classes this Fall!! This two day seminar offers classes in Basic Design Styles and Techniques, Wedding Design Techniques, and Funeral Design Techniques.
The next opportunity will take place in Austin, TX on October 18 & 19, 2013.
October 18, 2013
Basic Design Styles & Techniques: 4:00pm - 8:00pm
October 19, 2013
Wedding Design Techniques: 8:00am - 1:00pm
Funeral Design Techniques: 2:00am - 6:00pm
TSFA members receive a $40 discount on the cost of registration for each class!
Registration information is available at
www.tsfa.org/education.html
.
Visit
tsfa.org/application
to become a member today!
TexasLocalFlorist, our consumer site, has a Pintrest page! Find Tips & Tricks, connect with florists, and get great ideas for your future creations! Follow us by going to:
http://pinterest.com/txlocalflorist/
---
Flowers 101, courtesy of uBloom

Guess the Flower
Check out
Flower Thoughts by J Schwanke
for clues and more information on this month's mystery flower!
uBloom
---
Educational Resources

TSFA has an amazing career website that your students can use to learn more about the various careers within the floral industry. Visit
www.texasfloralcareers.com
with your class today!
Texas State Florists Association
PO Box 170760
Austin, TX 78717
Phone: 512-834-0361 Fax: 512-834-2150
txsfa@sbcglobal.net