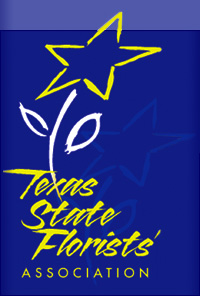 Hi Valued Customer,
The TSFA Board and Education Committee would like to thank you for your dedication to teaching your students, preparing the future of our industry. We want to make sure that you have as much information moving forward as possible! If you have any questions about anything in these monthly newsletters, please do not hesitate to contact the TSFA office.

---
Level 1 Floral Design Certification Teacher Review
½ Day Hands-On Workshop and Lecture
This hands-on workshop and lecture will give you a fundamental review that you can take back to your classrooms. The review will help you understand what the Texas Master Florist graders are specifically looking for in their grading of your Level 1 Floral Design Students' designs.
The Level 1 Floral Design Certification Teacher Review hands-on workshop and lecture is a detailed, step by step review of the Level 1 Floral Design Certification testing. As a fun bonus, you will learn how to tie a bow. CPE Credit certificates will be issues to all who attend and participate.
Participants need to bring floral design tools. Flowers and supplies will be provided.
Confirmed locations:
January 10, 2014, Time: 8:30am
During Mid-Winter Ag Conference
Blinn College
902 College Ave.
Brenham, TX 77833
Registration deadline: January 2, 2014
January 11, 2014, Time: 9:00am
Education Service Center-Region 8
4845 US Hwy 271 North
Pittsburg, Texas 75686
Registration deadline: January 2, 2014
January 25, 2014, Time: 1:00pm
Banquete High School
5519 Highway 44
Banquete, TX 78339
Registration deadline: January 14, 2014
To register, please return the seminar registration form (found on the Classes/Workshops page of tsfa.org) indicating the date you would like to attend, by the deadline listed above.*
You can also register online! Simply click on your TSFA membership status to go to the appropriate registration form. TSFA members receive a $20 discount on Workshop costs.
*Late registrations will be assessed an additional $20 fee.
For more information, please contact the TSFA office at (512) 834-0361.
Teacher membership is available. Please contact the TSFA office for more details.
Level 1 High School Floral Design Certification

TSFA has confirmed all of our testing dates and locations for Spring 2014! Registration information is now available at
tsfa.org
. Please be sure to heed the deadlines as they will be strictly enforced.
April 12, 2014
College Station High School
4002 Victoria Ave.
College Station, TX 77845
AND
Banquete High School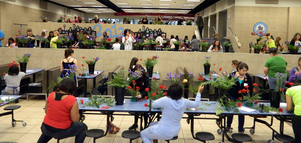 5519 Hwy 44
Banquete, TX 78339
April 26, 2014
Skyline High School
7777 Forney Rd.
Dallas, TX 75227
May 17, 2014
Region 8 Educational Service Center
4845 US Hwy 271 N
Pittsburg, TX 75686
AND
Klein ISD Multipurpose Facility
7500 FM 2920
Spring, Texas 77379
All testing dates begin at 9:00am.
If you have any students that need to retest, they are welcome at any of the above testing dates as well. Please contact TSFA for a retest registration.
Funding for Level 1 Testing scholarships has still not been confirmed. As soon as we have more information, we will send out a note and post the information on our High School testing page.
Click here for the Hands-On Guide, Study Guide, and a Basic Grading Form:
Level 1 High School Certification
If your students would like to compete in the 2014 Junior Cup Competition, the Preliminary Competitions will be held at each of the Level 1 Testings above. For more information on how to register and the rules, please visit the Junior Cup page on tsfa.org.
Level 1 Certified Job Bank

TSFA Education has found a way to help Level 1 Certified students find jobs out of High School. There is a new
Resume Submission Page
on
tsfa.org
, for those that are Level 1 certified, to submit their resumes to florists in their area. At the same time, TSFA is advertising the new job bank option to all our member florists looking for qualified employees. For those that have been certified in the last few years, they are more than welcome to get started now. For those testing in Spring 2014, this is just one more incentive to working hard and earning their Level 1 Certification!
---
Monthly Design Style Definitions

Abstract Design: a design which employs non-realistic use of natural and/or man-made materials solely as pure elements to create a statement evoking a well thought-out emotion.

Oriental Design: a generic term referring to classic Chinese and Japanese design styles. Oriental floral design is typically linear, with emphasis on negative space, floral forms, and textures.

---
Member Benefits


Texas Certified Florist (TCF) Qualifying Exam
Have you been teaching floral design for 3 years or more? Have you taken one of our Introductory Hands-On series of classes? You may be eligible to begin the journey toward earning your Texas Master Florist (TMF) designation!
Teachers who have been teaching Floral Design for 3 or more years are eligible to take the TCF Qualifying Exam. Our next formal opportunity is:
January 10, 2014
Blinn College
902 College Ave.
Brenham, TX 77833
To register, please visit the
Classes/Workshops page
of tsfa.org to download your registration form today!
Questions? Call the TSFA office for more details! 512-834-0361
Membership will help cut the costs once in the program. Visit
tsfa.org/application
to become a member today!
Texas Floral Endowment Scholarships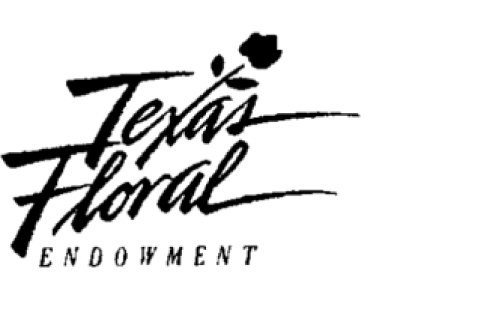 Looking for Floral Design education but the school can't help you pay for it? Apply for one or more of the many Education scholarships that TFE has to offer!
You can find the list of
available scholarships
and the application on tsfa.org.
Some important things to remember when applying:
1. Print one application for EACH scholarship you wish to apply for.
2. Put the name of the scholarship that each application applies to. If they don't know which scholarship you are looking at, they can't award you anything.
3. Scholarship applications can be mailed, emailed, or faxed as long as you include all pieces together. If you need something sent separately, please inform the TSFA office.
4. Scholarships must be received
in the TSFA office
by 5pm, April 11, 2014. No late applications will be accepted.
TSFA Celebrates 100 Years!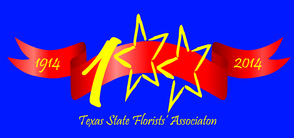 Please mark your calendars to join us for our 100th Anniversary Celebration!
July 18-20, 2014 at the Renaissance Hotel in Austin, TX!
It is sure to be an event to remember!
---
Texas State Florists Association
PO Box 170760
Austin, TX 78717
Phone: 512-834-0361 Fax: 512-834-2150
txsfa@sbcglobal.net