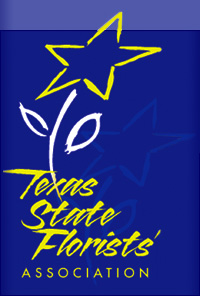 Hi Valued Customer,
The TSFA Board and Education Committee would like to thank you for your dedication to teaching your students, preparing the future of our industry. We want to make sure that you have as much information moving forward as possible! If you have any questions about anything in these monthly newsletters, please do not hesitate to contact the TSFA office.

---
Junior Cup Floral Design Competition

San Antonio Student Wins First Annual Junior Floral Cup Design Championship Sponsored by
TexasLocalFlorist.com and Texas State Florists' Association
-------------------------------------------------------------------------
Five Finalists from Texas High Schools Competed in First-time Event at 2013 State Fair of Texas®
(Dallas, Texas) – Following nearly two hours of demanding competition before hundreds of viewers and passers by at the 2013 State Fair of Texas®, Junelyn Gamao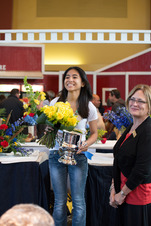 of James Madison High School in San Antonio, earned first place in the first-time Junior Floral Cup Design Championship. TexasLocalFlorist.com, an online directory connecting consumers to local florists throughout Texas, and its parent organization the Texas State Florists' Association (TSFA), sponsored the event on Saturday, October 19, 2013 on stage at the Food & Fiber Pavilion. Gamao received a $300 Texas Floral Endowment Scholarship along with the Junior Cup trophy. Haley Smith of Northwest High School in Justin, TX, took second place, winning a $150 scholarship and ribbon.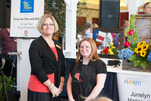 Five high school students qualified at TSFA Preliminary Competitions earlier this school year to compete in the state championship in Dallas. At Saturday's competition, the students were given 45 minutes to create floral designs in each of two categories, "Surprise Situation" and "Theme Interpreted Design."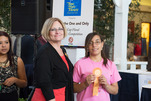 Tarsheanna Bauer, a junior at Center High School, won third place, and honorable mention awards went to Jennifer Esparza (senior at Skyline High School, Dallas) and Adela Reyes (senior at Center High School).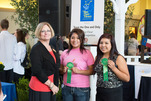 "We are so proud of each contestant and their hard work under pressure today," said TSFA President Pam Fuller, AAF TMFA. "In addition to providing scholarship support and motivation to the students, a goal was to draw more attention to the career of floral design. This competition certainly achieved all objectives, as well as providing a great networking opportunity for all," Fuller continued.
Each design was judged by three Texas Master Florist certified TSFA members based on category interpretation, creativity, proportion, harmony and texture, balance, focal emphasis, line, depth, color and mechanics. All competing students currently plan to continue their education in floral design.
If your students would like to compete in the 2014 Junior Cup Competition, the Preliminary Competitions will be held at each of the Level 1 Testings below. For more information on how to register and the rules, please visit the Junior Cup page on tsfa.org.
Level 1 High School Floral Design Certification

TSFA has confirmed all of our testing dates and locations for Spring 2014! Registration information is now available at
tsfa.org
. Please be sure to heed the deadlines as they will be strictly enforced.
April 12, 2014
College Station High School
4002 Victoria Ave.
College Station, TX 77845
AND
Banquete High School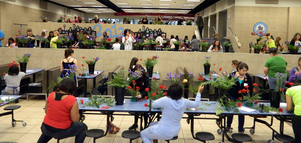 5519 Hwy 44
Banquete, TX 78339
April 26, 2014
Skyline High School
7777 Forney Rd.
Dallas, TX 75227
May 17, 2014
Region 8 Educational Service Center
4845 US Hwy 271 N
Pittsburg, TX 75686
AND
Klein ISD Multipurpose Facility
7500 FM 2920
Spring, Texas 77379
All testing dates begin at 9:00am.
If you have any students that need to retest, they are welcome at any of the above testing dates as well. Please contact TSFA for a retest registration.
Scholarships for these Level 1 testing dates will be posted on tsfa.org in January. Check back then for more information!
Click here for the Hands-On Guide, Study Guide, and a Basic Grading Form:
Level 1 High School Certification
Level 1 Certified Job Bank

TSFA Education has found a way to help Level 1 Certified students find jobs out of High School. There is a new
Resume Submission Page
on
tsfa.org
, for those that are Level 1 certified, to submit their resumes to florists in their area. At the same time, TSFA is advertising the new job bank option to all our member florists looking for qualified employees. For those that have been certified in the last few years, they are more than welcome to get started now. For those testing in Spring 2014, this is just one more incentive to working hard and earning their Level 1 Certification!
---
Member Benefits

Texas Certified Florist (TCF) Qualifying Exam
Have you been teaching floral design for 3 years or more? Have you taken one of our Introductory Hands-On series of classes? You may be eligible to begin the journey toward earning your Texas Master Florist (TMF) designation!
Step 1: Fill out an Education Application. This can be found on the
Education Application
page at
tsfa.org
. When completed, submit the Education Application to the TSFA office. It will be reviewed by the Education Committee and a plan of action will be determined.
Step 2: When approved, take the TCF Qualifying Exam. Next opportunity to take:
January 10, 2014
Blinn College
902 College Ave.
Brenham, TX 77833
Questions? Call the TSFA office for more details! 512-834-0361
Membership will help cut the costs once in the program. Visit
tsfa.org/application
to become a member today!
TexasLocalFlorist, our consumer site, has a Pintrest page! Find Tips & Tricks, connect with florists, and get great ideas for your future creations! Follow us by going to:
http://pinterest.com/txlocalflorist/
---
Flowers 101, courtesy of uBloom

Flower of the Month

Orchid Cymbidium
Scientific Name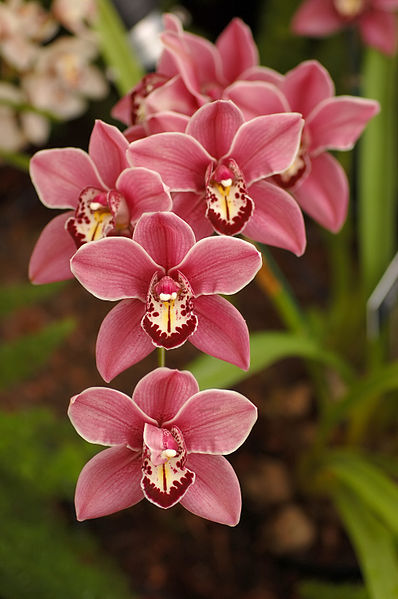 CYMBIDIUM

Pronunciation
(sim-BID-ee-um)

Common Name(s)
Cyms, Spray Orchids

Availability
Year Round

Other Colors
Bicolor-Flowers
Brown
Burgundy
Cream
Dyed
Gold
Green
Lavender
Magenta
Orange
Peach
Pink
Purple
Red
Taupe
White
Yellow
Cut Flower Life
7-10 days

Quality & Packaging
1 flower or 1 stem

Design Form
Form

Flower Meaning
Love; Refinement; Symbol for many children; Ecstasy; Promotes strength; Rare beauty

Special Care
Temperature sensitive. Store at 45-55?F. Remove water tubes and place in water.
---
Educational Resources

TSFA has an amazing career website that your students can use to learn more about the various careers within the floral industry. Visit
www.texasfloralcareers.com
with your class today!
Texas State Florists Association
PO Box 170760
Austin, TX 78717
Phone: 512-834-0361 Fax: 512-834-2150
txsfa@sbcglobal.net