Dear Friend of Got Transition,
When Young Adults Need Help with Decisions: Guardianship and Other Approaches to Decision-making Support......... Announcing a new Got Transition Issue Brief

At age 18 young adults with intellectual disabilities have the same rights to privacy and protection of their health information as other young adults. When their decision-making abilities are challenged, one of a variety of alternative supports may be needed. As a result, health care providers need accurate information about the decision-making status of their young adult patients.

This new Got Transition brief describes a number of decision-making supports that may assist young adults with intellectual disabilities while assuring the highest degree of independence and self-direction. It also provides links to important resources for more information about guardianship and other alternatives.
Brief (PDF)
Webinar: Understanding Guardianship and the Alternatives for Decision Making Support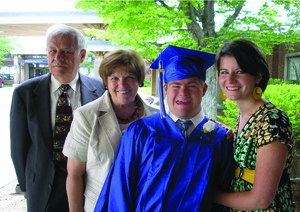 Reaching the age of 18 can be an exciting time. It's also a time when many questions arise around legal responsibilities for young adults with disabilities and needs for continuing support. Families and professionals need information and assistance to think through questions around who will makes certain legal decisions- including about health care- and how to support young adults to assume greater responsibility for decision making over time. Guardianship is often used as a solution, yet it is important to understand the potential benefits and drawbacks of this and other legal approaches to providing decision making assistance. From an advocacy perspective, the goal is to protect as much independence as possible while supporting safe and clear decision-making processes. This webinar will discuss the options for support including from its least to most restrictive options.

Tina Campanella, Executive Director of Quality Trust for Individuals with Disabilities, will lead this discussion. Quality Trust is an independent, nonprofit organization in Washington, DC supporting children and adults with disabilities through lay and legal advocacy services.

View Webinar
PowerPoint Slides (PDF)
© 2011, Got Transition? • 18 Low Ave, Suite 1, Concord, NH 03301 • 603.228.8111
National Health Care Transition Center is supported by cooperative agreement U39MC18176 HRSA/US MCHB
Got Transition? is a program of CHMI at Crotched Mountain Foundation
Forward this message to a friend
---