| | |
| --- | --- |
| | Young Adult HUC: A Survivor's Perspective |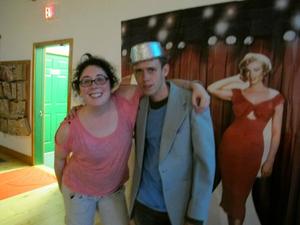 James with Kayla during Hollywood night and dance party at HUC
The Children's Brain Tumor Foundation annually holds a series of conferences scheduled every summer at Camp Mak-A-Dream in Gold Creek, Montana. These weeklong conferences bring together brain tumor survivors to build a support network and expand their communities. I am a twenty-four year old man and a survivor of six years and hopefully have many more years to come. This was my very first experience; traveling by plane, relaxing in a hot tub and setting foot in Montana.
The weeklong voyage to Montana is a bonding experience from the very beginning. This sensation stems from a basic similarity: we are all brain tumor survivors. We realize we all belong, and we all are loved for who we continue to be throughout our battle with this disease.

The experience of personal connection was boosted by two things. The first was this thing everyone did which was making a "warm and fuzzy bag". We each took a brown paper bag, decorated it and wrote our names on it, and it served as a mailbag. The mail we received during our week was little notes, compliments from other campers, or just sharing a friendly hello. These helped me in particular to devote more attention to the small things because they could really make your day.

The other activity we each did was we gathered as a group every night before dinner and had a "Fireside chat". I will be the first to tell you that this was a fantastic idea because it lifted burdens and demolished mental mountains that to anyone else would seem like a molehill. It was compelling, it was relieving, and it was cathartic. It is not every day that any of us could talk about brain tumors so openly and feel accepted by our listener.

Camp Mak-A-Dream had scheduled different activities to challenge us. These activities were the zip-line of thirty feet, the rock wall climb, and lastly the high ropes challenge, also thirty feet up. But even though those were great, frightening challenges, all of us tackled it. I was scared half-to-death of the high ropes, but in the end I followed through once I climbed up there.

We also took time to look at our strengths. These were on display in the art barn, and more importantly the talent show that was held the two nights before our last day. work was on display, our thoughts and feelings were on display and the greatest of those feelings, our concern and love for each other was on display.

Through our embrace, our connections, and our talents we were able to build a family of love. This love was captured in the short films which we made, which one can order by contacting the Camp directors or searching up on YouTube. Each of these short public service announcements (PSAs) focused on a different problem each of us goes through. From Anti-Bullying, to "Cancer Sucks But", each had a resounding message of a flourishing life that can be coped with.

At the close of our stay, all of us were given an award, I was lucky enough to share a cabin with a survivor we call "Mr. Determination" and who I proudly call my friend. Another was a great dancer, who has a deep love and sense of appreciation for rock study who will stay a great friend. The third was a giant teddy bear of a guy and always filled with fun and laughter. When I feel down, I will always remind myself of the events and people I met during the week of June 4th 2012 to June 10th 2012, and say I can do this because you guys are with me every step of the way. Like I told my mom, they are all my new inspiration and heroes!

This is what Camp Mak-A-Dream showed me and meant to me for the week. One may be so conscious of the bad stuff that happens in life but it is places like these that remind us and make us grateful for words like "happiness", "optimism" and "hope". Being a brain tumor patient doesn't mean that is the color of our life's quilt. What it means is that it is the color or image of only one tiny square patch of our enormous life's quilt. It is empowering to know that we have a lot of artistic choices for what the next patch in our quilt will be.
| | |
| --- | --- |
| | Teen Heads Up Conference 2012 at Camp Mak-A-Dream |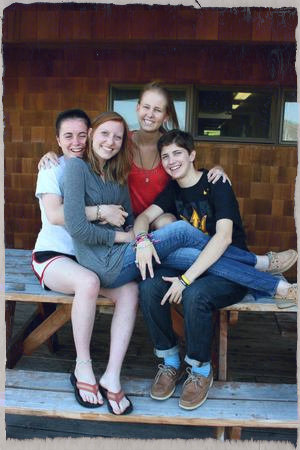 I can't even begin to accuratley explain my experience at the 3rd Teen Heads Up Conference which was sponsored by the Children's Brain Tumor Foundation and hosted at Camp Mak-A-Dream in Montana.

Participants ranged from ages 13 to 18, and mentors + volunteers were predominantly in their 20s and 30s.

Quite a few of the mentors were diagnosed in their junior or senior year of high school, a perfect match for the time frame of my recent re-diagnosis.

High school and college students diagnosed with cancer have to reevaluate their goals and accept the loss of abilities and dreams, whether those be physical, mental, or emotional. Some of the long term side effects of chemo and radiation include vision, hearing, and memory difficulties.
Catherine (far right) with teen survivors Laura, Alli, and Tory.
What you can't explain about this trip are the people. We are so much more than survivors..we are athletes, musicians, aspiring film makers, accountants, educators, etc...we cannot be defined or held back by a diagnosis. No one aspires to join the brain tumor club, but its members possess the highest possible levels of bravery and tenacity.

This was originally a blog post written by Catherine Blotner and posted on the Mass Kicker's Foundation website, for which Catherine writes and is an advocate for. Follow her original blog here.
Bereaved Parents Honor their Loved Ones
The Joseph Lentz Fund for Pediatric Brain Cancer Research Supports CBTF's Brain Tumor Tissue Consortium
By: Jennifer Lentz and Jessica Elder
Bereaved parents find many different ways to honor their children. We would like you to learn about Joseph Lentz and share one of the many ways in which his family and friends honor him.

Joseph Lentz was born on March 13th, 2007, to Bryan and Jennifer Lentz. Jennifer describes Joseph as a sweet, docile little boy who loved music, reading and memorizing books, walking on the beach and eating eggs for breakfast. At just two years old, Joseph exhibited an incredible amount of knowledge; his proudest display of knowledge was his ability to name all of the Thomas the Train characters. Joseph's ability to communicate in full-length sentences enabled him to forge a strong and loving bond with not only his parents but also his extended family which included 13 cousins.

On March 3, 2009, Joseph was diagnosed with a brain stem tumor at Children's Hospital of Philadelphia (C.H.O.P.). Just nine days later, Jennifer gave birth to her second child, a son named Thomas. The next day, Joseph turned two and on March 17, 2009, Joseph, Jennifer and baby Thomas were discharged from their respective hospitals and sent home with a relative amount of hope.

Since Joseph felt sick from his tumor and the harsh medications used to combat it, no one would have questioned a rejection of a new baby in his family; however, he formed an instant and extraordinary bond with Thomas. Joseph enjoyed watching movies with new baby Thomas and sharing his musical instruments with him. Joseph's favorite thing to do with Thomas was to "brush his teeth" because he found it funny that Thomas didn't have a set to brush. This short but full relationship brought Joseph happiness in what would later prove to be his last months of his life.

Despite the promising course of treatment, Joseph died in July of 2009. The Lentz family, like many bereaved families, found themselves nearly immobilized by their devastation and totally lost about how to carry on without their oldest son.

In a moment of clarity, Jennifer realized that she felt strongly about giving others an opportunity to offer their support in a lasting way that would foster Joseph's legacy. In response, she founded The Joseph Lentz Fund for Pediatric Brain Cancer Research, a 501c3, which provides others with an opportunity to honor Joseph, and all of the children affected by brain tumors, by raising money for brain tumor research.

Last year, The Joseph Lentz Fund donated $13,000 to C.H.O.P. to support their involvement within CBTF's Brain Tumor Tissue Consortium. The Children's Brain Tumor Tissue Consortium is a new multi-institutional research project funded by Children's Brain Tumor Foundation, with support from the International Licensing Industry Merchandisers' Association and Justin's Hope Fund. The purpose of the Consortium is to collect and analyze tumor biopsy samples with clinical and laboratory data from a group of hospitals nationwide. To date, approximately $42,000 has been allocated to The Children's Brain Tumor Tissue Consortium in honor of Joseph Lentz and Jennifer is quick to point out that all of the money raised for such an important cause has been done so by Joseph.

Jennifer states, "Despite Joseph's death and physical absence from our lives, we fall deeper and deeper in love with him every day and we take a small but much needed amount of comfort in knowing that not even death can take our love away. Our relationship with Joseph continues to mature, evolve and flourish even though he is not physically here."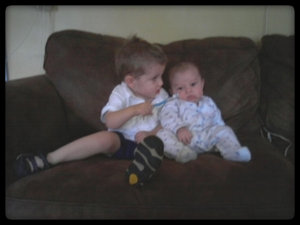 Jospeh Lentz (left) helping to brush his baby brother, Thomas' teeth
Virtual Chat for Young Adult Survivors
Wednesday,September 12th, 7:00p.m., EST
This month's topic will be: Your employment rights and overcoming obstacles. Please register at: the Friends Health Connection website or email Stacia Wagner or Kayla Giacin to find out more.

Virtual Chat for Parents
Tuesday, September 11th, 7:00p.m., EST
Contact Wade Iwata for more information.

Daniel Jegle Open
Monday, September 17, 2012 - 9:30am
Hempstead Country Club, Hempstead, NY
Join us for the 14th Annual DJ Open Golf Tournament at Hempstead Country Club. Registration will start at 9:30, followed by a breakfast buffet. Cocktails will be served after golf as well as dinner. The Hempstead Country Club s located at 60 Front Street in Hempstead, NY. Please contact Haley Askew for more info.
Families Have a Blast at the 12th Annual CBTF Kid's Cruise

On July 21, 2012, CBTF held their 12th annual Kid's Cruise. Although the forecast called for days before, the sun ended up shining and made for a warm and beautiful day.

Approximately 315 people, including families, volunteers and staff, attended as the families engaged with one another, had fun on the dance floor, got their faces painted, sat in the sun on top of the Zephyr and all in all had a great time.

Many thanks to the Mark R. Harris Foundation for sponsoring the Kid's Cruise, to the New York Water Taxi who provides us with the Zephyr every year, the Big Apple Circus for the clowns who created entertainment, and for our volunteers who came to help out in a variety of ways.

The 12th Annual CBTF Kid's Cruise was most certainly a huge success and we look forward to having everyone join us again next year!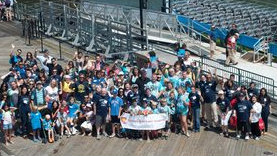 Check out even more of our photos from the Kid's Cruise on Facebook!
---
CBTF is offering a new opportunity
for you to share your story! Take part in our video contest telling about your family's experience of dealing with a brain tumor diagnosis. The winner will receive airfare and hotel accomodations for you and your immediate family in order to attend CBTF's Campference: Connecting Families and Professionals.
For more details and to enter, visit our
Facebook
page.
---