GR!C
AUGUST 2012
NEWSLETTER
YOU'RE INVITED: HELP GR!C WIN KARAOKE IDOL!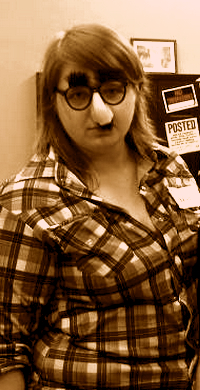 KARAOKE IDOL @ BEAUTY BAR
Thursday, August 23rd
| 8pm 'til 11pm
Beauty Bar: 1444 W. Chicago Ave.
| Chicago, IL
60642
Cover is $5/person, 21+ to enter
Mark your calendars and save-the-date because your shouts of support have never been needed more: Thursday, August 23rd, Girls Rock! Chicago is going to battle—karaoke, that is—and because crowd response determines the winner, we'd greatly appreciate you loaning us your loudness for the night. Volunteer Carrie Shemanski (pictured on the left) has been selected to take the stage in our name, so ather your friends, family, coworkers and band mates, and head to Beauty Bar to provide our qualifier Carrie with a well-deserved, dominating decibel of encouragement as she croons her way to the champion title and a generous percentage of the door money for GR!C!
If sitting offstage has you feeling a bit jealous, know that you too can take a shot at the title: From 8:00 to 8:50pm, Beauty Bar's beginning the night with an open mic session to determine the 6th contestant! Anyone seeking sing-song time under slightly less pressure can jump onstage when the open mic resumes post-competition. Questions? Email
joan@girlsrockchicago.org
Hope to hear you there!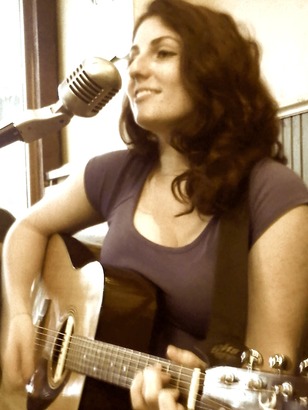 IT'S FRIDAY: LAST DAY FOR A MUCH NEEDED POTBELLY GIRLS ROCK! SHAKE BREAK!
Today is the last day to taste the delicious Girls Rock! Shake from Potbelly Sandwich Shops and the last day when simply sipping something sweet sends $.50 straight to GR!C. Potbelly will also showcase female musicians at each participating shop today (like our very own camp week volunteer, Claire Corrivea pictured here) from noon until 2pm.
Enjoy!
PARTICIPATING LOCATIONS:
FRIDAY (Today! August 17th) from noon to 2pm:
Illinois Center / North Riverside / 55 W. Monroe / Clark Street

UPCOMING EV
ENT
S /
VOLUNTEER
!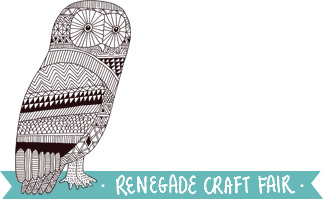 RENEGADE CRAFT FAIR
Sat. & Sun., Sept. 8th & 9th
| 11am to 7pm
Division Ave. in Wicker Park
| All-ages! Free!
The Renegade Craft Fair returns to Division Ave. for an anniversary 10th annual Chicago run, and GR!C will be there with buttons aplenty. Held outdoors along Division St. in Wicker Park, this FREE to attend craft, art, design and DIY spectacular will run from 11am – 7pm each day, and feature over 300 of today's finest indie-craft talents from all over the nation.
GR!C will be there all weekend, stationed under a tent with plenty of supplies set for button-making Want to volunteer? Join us for a shift or two as we sit alongside some of Chicago's most talented crafters and spread the good word of Girls Rock! to any smiling stranger who stops by.
VOLUNTEER QUALIFICATIONS
: Must enjoy button-making
& smiling at strangers.

FOR GR!C PARENTS & GUARDIANS...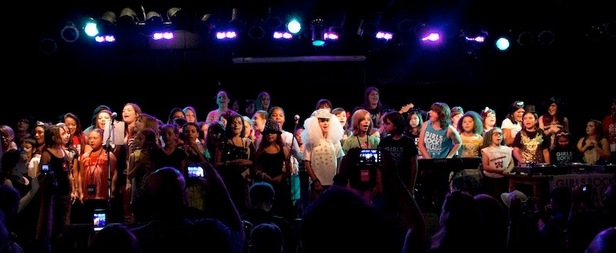 Are you the parent or guardian of a 2012 camper? We'd love to hear what you thought about our camp sessions! Please take a few minutes to fill out a brief survey that will help guide us toward improving our camp experience for future attendees. Thank you in advance!
SURVEY: http://tiny.cc/GRCparentfeedbackform
Also for the camperparents or guardians, GR!C is in the process of forming a Parent Advisory Board. The group will begin meeting this September with 3 to 4 meetings scheduled throughout the year. This is a great opportunity for anyone interested in providing feedback or brainstorming ideas on camp week curriculum, future programming, and much, much more. To learn more about the board and/or express interest in membership, please email: parentadvisoryboard@girlsrockchicago.org

SESSION 2 SHOUTOUTS & THANKS!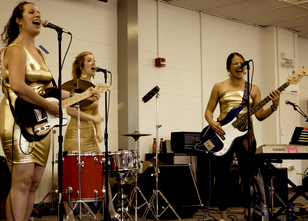 Our session 2 campers saw some amazing local performers and got to wind down their weekdays with a little bit of dancing! Check out the bands who so kindly donated their afternoons to entertain our campers:
Midnight Moxie (Pictured performing on the right) // Blizzard Babies // Videotape // Lights Alive
Another huge shoutout to Guitar Center and Daisy Rock Guitars for helping meet all our gear needs, Sybil and Michael and all the folks at Chicago Quest (our camp-week host school), the Bottom Lounge staff for hosting not one, but two amazing camper showcases, Wall2Wall Recording Studio, and our engineer Dominique D'Amico, who is working hard to finalize this year's camper albums. Also, thanks to the amazing volunteers at One Brick who joined forces with GR!C to help move over 80 pieces of musical equipment safely from school to storage. We couldn't do what we do without help from all these amazing people and more!

HOW YOU CAN HELP GR!C NOW
Ladies Rock Camp is GR!C's biggest fundraiser, but in order to put on this fun-filled, condensed version of what our campers enjoy ever summer, we need a suitable venue to host all our participants. Unfortunately, we've not yet found the right space for this highly-anticipated event, so we're sharing a brief list of requirements in hopes that it may prompt some smart suggestions we'd not yet considered. Thank you in advance!
OUR IDEAL LRC SPACE: Nine to 10 smaller rooms (for band practice), a larger room that can accommodate all our attendees, no issues with loud noise (at least from 8am to 9pm, Friday through Sunday!) and easily accessible via public transit. Anything coming to mind? Feel free to send space suggestions to joan@girlsrockchicago.org
CONNECTING THE GR!C COMMUNITY
Two new facebook groups were created to provide GR!C Volunteers
and
GR!C Camper Parents & Guardians with a forum for sharing ideas and swapping stories, and potentially suggesting ways to further the Girls Rock! Chicago goals and mission.
If you've not yet done so, take a minute to "like" the GR!C
facebook
page and ensure your newsfeed will fill with all our latest and greatest news and events.
You can also follow GR!C on
twitter
to receive the most to-the-minute information:
@girlsrockchi