Our dedicated Board of Directors, members and allies are committed to guaranteeing the future of our economically-precious treasures that are in critical danger here in the Keys. Please
join us as a member
,
renew your membership
or consider
volunteering
with us in 2012.

Marine Zone & Regulatory Review
We Need Your Input!
FKNMS
is now in the beginning stages of a review of
sanctuary regulations
, including the rules and boundaries for
marine zones
in the sanctuary and surrounding national wildlife refuges. The review is in response to public requests, shifting environmental conditions and threats, better scientific information and legal requirements.
x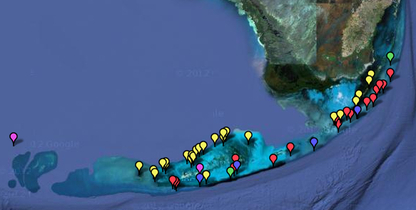 x
The
review
will be a very involved, open and public process culminating in the implementation of any regulatory modifications, additions or eliminations in 2015. Public input is an important component to the process, which will take years and involve proactively reaching out to members of the community to gather input, weighing collected information against the best available science, and developing recommendations that will allow the sanctuary to meet the
goals and objectives of the review
.
x
Public input and interest is one of the primary reasons for conducting the review. To stay informed of public meetings and ways to participate in the review process, you can:
As the
process
moves forward, your input will be instrumental to helping the Sanctuary Advisory Council develop recommendations and zoning or regulatory alternatives for NOAA and the U.S. Fish and Wildlife to consider. Staff will then assess the environmental impacts of any modifications or additions to sanctuary regulations. Finally, any changes to marine zone regulations or boundaries will be adopted and implemented.
---
Report Your Marine Observations
Marine Ecosystem Event Response and Assessment Project (MEERA)
The key to early detection of changes in the marine environment is to work directly with those who are already out on the water and have a considerable knowledge of the area and an understanding of when things are not as they should be. The
Marine Ecosystem Event Response and Assessment (MEERA)
project is designed to allow the public to easily
report these changes
.
x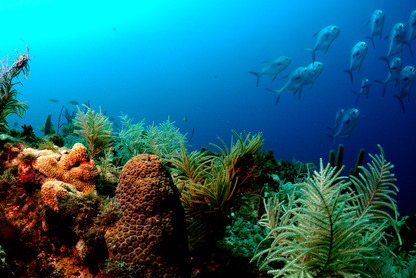 The goal of MEERA is to provide early detection and assessment of biological events occurring in the Florida Keys and surrounding waters to help scientists better understand the nature and causes of these events and how they adversely affect marine organisms. The information will help determine whether the events are natural or whether they are linked to human activities.
Mote
scientists will use the reports to determine if large scale marine events may be occurring, and initiate efforts to investigate.
x
x
There is no paperwork involved, no specialized training needed and no other participation or effort is required. By simply providing what, where, and when something unusual was observed, residents can provide scientists with information needed to detect potentially large-scale events as they develop. Report your observations through the
online form
, or contact Cory Walter, Project Coordinator, at (305) 395-8730 or
cwalter@mote.org
. MEERA is supported and coordinated through
FKNMS
.
---
Mooring Buoy Donation Banks
Miniature models of our FKNMS
mooring buoy system
have been receiving a facelift the past few weeks. These "buoy banks" are being refurbished and placed throughout Monroe County dive shops, parks and chambers. In February, Divers Direct in Key Largo collected a whooping whopping $173.31! The money from these banks funds upkeep and placement of mooring buoys in the
FKNMS
.
x
The model consists of a small buoy on a stand that can be used to demonstrate the correct way to connect to a mooring buoy while on a boat. The donation balls are also equipped with brochures containing information about proper mooring buoy technique and our
Sanctuary Friends
brochure.
x
In economic times like these, many pressing concerns take priority, so buoy banks help raise the extra funds needed to allow continuation of the Sanctuary's
mooring buoy program
.
---
NewsMakers
---
Sanctuary Friends'' GROUPON!
Sanctuary Friends and
Groupon Grassroots
, the philanthropic arm of Groupon, launched a Miami- and Florida Keys-area campaign benefiting shoreline cleanups in collaboration with
FKNMS TeamOCEAN
that ran for a week, ending on Earth Day.
x
Utilizing Groupon''s collective action model, Groupon subscribers pledged support for Sanctuary Friends' initiative in increments of $10, with each $300 raised going toward beach and shoreline cleanups in the Florida Keys! The deal was tipped the first day, and Sanctuary Friends received 100 percent the funding, as well as a $1,000 grant from Groupon Grassroots.
x
"We were excited to partner with Groupon Grassroots to raise support for this cause," said George Neugent, Sanctuary Friends Board Chair. "We looked forward to creating new awareness outside the Keys and support on a new level for our fragile ecosystem through this campaign."
Team OCEAN Cleanup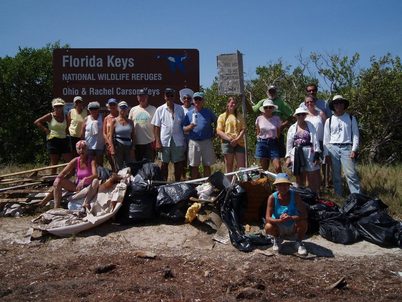 On April 4, twenty volunteers led by
TeamOCEAN
''s Robert Keeley and
Florida Keys Wildlife Rescue
''s Maya Totman removed 1,238 pounds of marine debris from the sensitive shorelines of Ohio Key in the National Key Deer Wildlife Refuge. The removal comes just in time for sea turtle nesting season, which begins in the Florida Keys on April 15.
Volunteer or learn more about Team OCEAN and area shoreline cleanups.
Let Your Online Purchases Support Us!
Here''s a simple way you can help support Sanctuary Friends AT NO COST TO YOU! Just
download the GoodSearch toolbar
and we''ll earn money every time you shop and search online.
GoodSearch.com
is a Yahoo-powered search engine that donates half its advertising revenue, about a penny per search, to the charities its users designate - in this case, us!
x
GoodShop.com
donates up to 30 percent of each purchase to your favorite cause. Thousands of great stores including Amazon, Target, Gap, Best Buy, eBay, Macy''s and Barnes & Noble. The toolbar will automatically credit your designated charity or school for virtually all your purchases at participating stores. You can also "shop for a cause" by going directly to
www.GoodShop.com
and find thousands of money-saving coupons.
x
GoodSearch and GoodShop have been featured in the New York Times, The Wall Street Journal, CNN, The Oprah Magazine, Good Morning America and more. Please spread the word to all your friends and family to start their shopping at GoodShop!
---
We want your input!
If you have stories of note or just want to comment on our newsletter,
---
Sanctuary Friends Foundation of the Florida Keys
is a non-profit, 501(c)(3), tax-exempt organization
(Tax ID# 59-2443959).
We take your privacy seriously. Your email address will never be sold, rented or given away. All our emails include an easy opt-out feature. If you have activated spam filters in your email application, please add the following email to your address book:
Sanctuary_Friends_Foundation_of_@mail.vresp.com
---
---
Dear Friends:
x
x
The goals of the program, established by the Legislature in 2009, are to encourage the establishment of additional public mooring fields and to test policies that: 1) promote the establishment and use of mooring fields, 2) promote public access to state waters, 3) enhance navigational safety, 4) protect maritime infrastructure, 5) protect the marine environment, and 6) deter improperly stored, abandoned or derelict vessels.
x
x
Upon approval by FWC and subsequent adoption by the County Board, the policies would be implemented in late 2012 and expire in 2014. The Legislature will then evaluate the results of the test program and consider future authority for local governments to regulate anchored vessels.
x
x
Sincerely,
Rich Jones,
---
---
Please add your upcoming events to our online Florida Keys Environmental Calendar. This community-wide resource allows any organization or group to set up an account and post environmentally-related events.
xxxxxxxxxxxxxxxxxxxxxxxxxxxxxxxxxxx
Wildnight Wednesdays Outdoor Film:

"Sharks at Risk"

Tonight! April 25, 7:30 pm, National Wildlife Trails parking lot (1/4 mile north of Blue Hole parking lot)

Friends and Volunteers of Refuges (FAVOR) presents this free movie. Bring your own lawn chair.
Friends in Focus Lecture:
Ecology of the Florida Keys
May 3, 7:00 pm, Sail & Power Squadron Education Building, 12 Loggerhead Lane, Marathon. Social begins at 6:30 pm.
Come chat with Chris Ziegler, park ranger at Dry Tortugas National Park. Lecture, film and slideshow followed by a mooring buoy splicing party!
Friends in Focus Film:
"Sharks at Risk"
May 10, 7 pm, Sail & Power Squadron Education Building, 12 Loggerhead Lane, Marathon. Social begins at 6:30 pm.
In this episode of Jean-Michel Cousteau''s Ocean Adventures, the team meets sharks face-to-face in two intense expeditions to dispel harmful myths about sharks.
Battle in the Bay Dragon Boat Festival
May 12, 9 am, Sombrero Beach, Marathon
More than 25 races throughout the day, free to watch. Finals begin at 2 pm.
More info.
Ocean Life Lecture Series: Striking a Balance: Coral Reefs & Human Systems
May 18, 7 pm, Nelson Government Center, Key Largo, MM102
Dr. Deron Burkepile will discuss his research on how the widespread changes in human systems endanger the integrity of ecosystems worldwide, particularly coral reefs. He will talk about the current status of coral reefs, as well as how we can modify our own behavior to protect and preserve these unique ecosystems.
America's Boating Course
May 19 & 20, 8 am-5 pm, Key West Sail & Power Squadron, 5205 College Rd., Key West
Learn boating rules, course charting, safety equipment, boat handling and other safe boating skills. Individuals who successfully complete the course and exam are eligible for the Florida Boating Safety Education ID Card.
Register online ($55).
Save the Date!
Lionfish Tournament
July 22, Marathon
Details to come!
---
Welcome! Thank you for your support!
New & Returning Members ($30-$100)
Sybil Veeder
Julie Cheon
Sidney Goldman
Tiffany Baugher
Benefactors ($200+)
Long Key Ladies Club
Richard S. Worthington
Robert Quill
Bruce Frerer
Matthew Forelli
Mr. and Mrs. Frank Shumway
Charles Causey
Michael Fimiani

---

---
Our Mission


Sanctuary Friends Foundation of the Florida Keys supports the Florida Keys and the Florida Keys National Marine Sanctuary (FKNMS) in the preservation, restoration, and sustainable use of our coral reef ecosystem, from the uplands to the deep sea. We focus on development of community support and advancement of public awareness, education, outreach and scientific research.