Most Caribbean coral reefs will disappear in 20 years if we don't restore the population of fish that eat seaweed. That's because Caribbean reefs are gradually getting smothered by algae, according a new report,
Status and Trends of Caribbean Coral Reefs: 1970-2012
. The report reveals a more than 50 percent decline in living corals throughout the Caribbean over the past half century.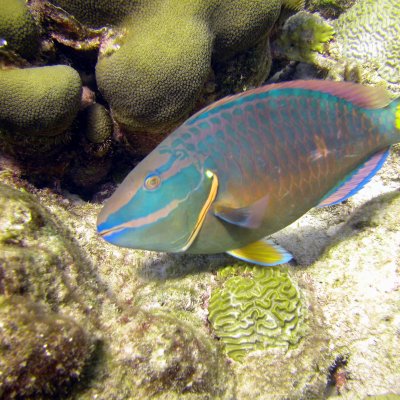 The report also shows that loss of parrotfish and other grazers has been far more important than climate change for Caribbean reef destruction so far. While it is true that climate change poses an enormous risk for the future because of coral bleaching and more acid oceans, reefs protected from overfishing and excessive coastal development and pollution are more resilient to these stresses and will bounce back faster after damaging extreme heating events and hurricanes. "We must immediately address the grazing problem for the reefs to stand any chance of surviving future climate shifts," according to Jeremy Jackson, lead author of the report.
x
The new report confirms that reef locations where parrotfish are protected from overfishing – such as Flower Garden Banks in the northern Gulf of Mexico, Bermuda and Bonaire -- are the healthiest and most resilient. But reefs where parrotfish are being overfished have suffered tragic declines. These 'Failure Reefs' where local human impacts are not controlled, are impacted by overfishing, but also recreational overuse, excessive and destructive coastal development and pollution.
x
The good news from this report is that Caribbean coral reefs can be saved! The report strongly advocates banning all fish traps throughout the Caribbean, banning spearfishing (a practice that cannot be regulated at the level of fish species), and banning all other fisheries practices that harm parrotfish. Some countries are already taking new positive action. Barbuda is moving to ban the take of all parrotfish and grazing sea urchins, while also planning to set aside one third of their coastal waters as marine reserves. "This type of action needs to be taken on throughout the region to increase the resilience of Caribbean reefs," says Ayana Johnson of the Waitt Institute's Blue Halo Initiative that is collaborating with Barbuda in the development of their new management plan.
x
x
Florida takes its
seagrass
very seriously. Boaters can face federal and state fines, as well as costs associated with restoration efforts and monitoring if they are caught destroying seagrass. A fine of up to $1,000 can be imposed under Florida law. Bring in the feds and things get more serious. In 1997, a federal judge ordered a treasure-hunting company to pay a fine of $589,311 for destroying seagrass while searching without a permit for shipwrecks in the
FKNMS
.
x
So what is the big deal about seagrass? It is valuable to the health of our ocean, marine life and Florida's economy. More than 70 percent of all recreationally- and commercially-important fish species are dependent on seagrass at some point in their lives. The high level of productivity, structural complexity and biodiversity of seagrass has led some researchers to describe it as the marine equivalent of tropical rain forests.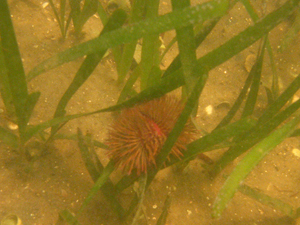 In 2014 alone, seagrass in Monroe County supported an estimated harvest of roughly $380.5 million for stone crab, spiny lobster, shrimp, yellowtail snapper, gray snapper and blue crab. Florida's approximate 2 million acres of seagrass (and the organisms that grow on them) provide shelter and food for fish, crustaceans, shellfish, marine mammals (such as manatees) and birds. A single acre of seagrass can produce over 10 tons of leaves per year, providing food, habitat and nursery areas, supporting as many as 40,000 fish and 50 million small invertebrates.
x
Seagrass is recognized as an important indicator of water quality and the health of coastal ecosystems. It helps maintain water clarity by trapping fine sediments and particles and stabilizing the ocean the bottom. Worldwide, there are 60 species of seagrass. Seven of those varieties grow in 2.7 million acres of seagrass meadows along Florida's extensive coastline, protected bays and lagoons. Turtle grass, manatee grass, and shoal grass are the most common types of seagrasses in the Keys. Seagrass also uses carbon dioxide and gives off oxygen, which is good for the ocean, you and me.
x
The bad news is that seagrass is disappearing at an alarming rate from coastal development, climate change, pollution, harvesting and vessel damage. Damaging seagrass with a boat's propeller fragments the grass, creates barren areas and restricts the movement of marine wildlife. If only leaves are damaged, seagrass can recover in a few weeks. But more extensive damage to the plant can lead to a recovery period of over seven years, if at all. Because seagrass is so intertwined with the sea's hard bottoms and coral, damaging seagrass has a negative effect on the coral reef.
x
Besides fish, who needs seagrass? Seems reptiles, birds and mammals do. The American crocodile, which lives in the shallow waters of Florida Bay and the northern Florida Keys, is known to feed in sea grass beds. The main food of the green sea turtle is turtle grass. The Great White Heron, with a very small distribution that is restricted to Florida Bay and the Florida Keys, has undergone a substantial decline likely due to decreasing fish availability, which is tied to losses of seagrass beds. Manatees feed on seagrass and bottlenose dolphins go to the shallow depths of the grass beds to find prey.
x
x
Tilden's Scuba Center
's annual Spines & Spinys Tournament on July 29-30 will benefit
Sanctuary Friends Foundation
! Half of all entry fees and all proceeds from the raffle will go directly to Sanctuary Friends.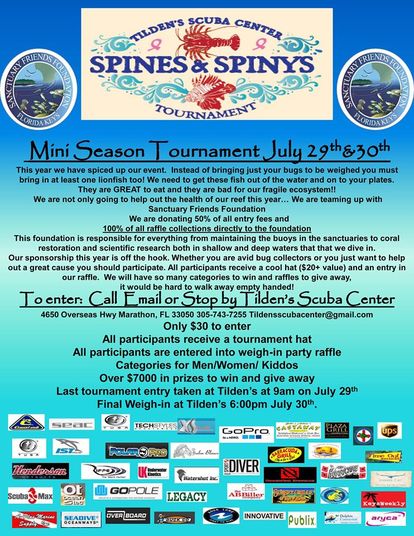 x
The tournament has been spiced up this year. Instead of just brining in your bugs to be weighed, you must bring in at least one lionfish! WE need to get these fish out of the water and onto your plates. They are GREAT to eat and they are bad for our fragile ecosystem.
x
Whether you're an avid bug collectors or you just want to help out a great cause, you should participate in this year's tourney. Cost is only $30 to enter and all participants receive a cool hat ($20+ value) and an entry in the raffle. More than $7,000 in prizes! So many categories – men, women, kiddos – to win and raffles to give away, it will be hard to walk away empty handed! Last tournament entry taken at Tilden's at 9 a.m. on July 29 and final weigh-in at 6 p.m. on July 30.
x
x
Sanctuary Friends is so grateful for this opportunity and thankful for the amount of lionfish that will be brought off the reef during the popular mini-season!
Reef Environmental Education Foundation (REEF)
will hold a summer day camp designed for ocean-minded and adventurous children ages 8-14, where they will be immersed in an ocean of learning and fun. Based at
John Pennekamp Coral Reef State Park
in Key Largo, REEF will introduce campers to the underwater world and all the amazing things found beneath the sea. Each camp session includes: snorkel trips, kayak ventures, stand-up paddleboard excursions, glass bottom boat rides, marine science lessons, experiments and crafts. Check out the
Explorers Camp website
for details and registration information.
Sanctuary Friends Foundation of the Florida Keys
is a non-profit, 501(c)(3), tax-exempt organization
(Tax ID# 59-2443959).
We take your privacy seriously. Your email address will never be sold, rented or given away. All our emails include an easy opt-out feature. If you have activated spam filters in your email application, please add the following email to your address book:
Sanctuary_Friends_Foundation_of_@mail.vresp.com