Join us for a tour of the vineyard, hosted by Dave Hansen, Owner. He'll walk you through each block of the vineyard and explain the clones, soil, micro-climates, and more. Dave will be pouring barrel samples of each specific clone as you walk through that part of the vineyard. Taste the difference between each clone as Dave talks about specific characteristics of each clone and what we strive for when blending clones. Bring your walking shoes and a hat!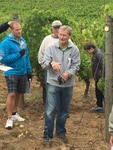 ​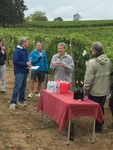 Not in the mood for a hike? No worries. The tasting room will be open regular hours of 11:00 - 5:00 Saturday through Monday. Stop in, taste through the flight, and enjoy some relaxing time with a glass (or bottle) and a cheese plate on the patio.
---
---
What's Left of Summer SPECIAL
Ah, the last days, ok, weeks, of summer... With this crazy hot weather, it's most definitely time for some chilled white wine!

We know you all love the Croft Vineyards Pinot Gris ~ and it's hard to beat for a summertime wine! So here's the deal - 15% off. Bottles, six-packs, cases, whatever you need. And, if you're a club member, we'll add this discount to your club member discount!

Want to order online? Easy! Click here and remember to include your CLUB15 promo code when checking out online (there's a reminder at the top of your shopping cart checkout page).
---
---
Block Party at Hyland Estates ~ Friday, August 24, 2018, 6:30-8:30pm
RESERVATIONS ARE REQUIRED.
Looking for something fun to do before Labor Day? Join us at Hyland Estate Vineyards Tasting Room in Dundee for a fun and educational tasting, featuring the Coury Clone. This tasting will include wines from ArborBrook, alit Wines, Brittan Vineyards, Erath, Hyland, Penner-Ash, Solena, and Winderlea. All Coury clone; all Hyland Estates fruit. Come taste the differences winemaking makes!

PDX Paella will be serving their great food for you to enjoy while sipping the wines and listening to live music.

$35/person. If you are an ArborBrook Club Member, it will be $30/person ~ just click here and enter the promo code ABrookMember.

RESERVATIONS ARE REQUIRED.

---
---
The entire ArborBrook team hopes you've had a wonderful summer, filled with good times and lots of fabulous adventures with family and friends. If you stopped in for a visit, thank you and we hope to see you again soon.
As always, we know how many other wineries are out there and we appreciate your patronages very much!
Dave & Mary Hansen, Owners