Welcome to our Quarterly Newsletter!
Welcome!
I am grateful to have this opportunity to share with you the many projects and offerings that we at The Glendon Association have been working on these past months.
As recent headlines have highlighted, there have been many strikingly painful events going on around the globe. In times like these, we believe it is all the more important to take pause and consider the psychological well-being of ourselves and the people around us. With that goal in mind, we hope that you will find the information and efforts featured in this newsletter to be helpful to you and to those you care for.
Last April, we were excited to launch our very first eCourse on "Creating Your Ideal Relationship," presented by our Director of Research and Education, Dr. Lisa Firestone. With the success of this course, this September we are featuring our second online course, "Overcome Your Inner Critic." This six-week, multimedia course will address the subject of self-sabotage: why we do it and how we can stop.

September is also National Suicide Prevention Month. In our ongoing effort to raise awareness, we will be offering free and CE Webinars, articles and resources to support the worldwide effort to save lives. We thank you for your help in spreading the word and sharing these materials. We are ever grateful for your interest, input and support. As always, please feel free to email us with any questions or thoughts.
Warm Regards,
Nina Firestone
Managing Director
Overcome the Problem of Self-Sabotage
We all know that harping on negative events or circumstances doesn't do us any good. But new research is proving that rumination is even worse for us than we thought. In fact, it is one of the biggest predictors of some of the leading mental health struggles like depression and anxiety. Allowing negative or self-blaming thoughts to hijack our headspace can lead us to self-sabotage. This thought process, which we call the "critical inner voice," is like a mean internal coach that insults, doubts and undermines us at every turn. In this sense, we are very much our own worst enemy. That is why Glendon is highlighting the subject of self-sabotage. We are offering live and online courses, free and CE Webinars, blogs and articles, all that address why we listen to this inner critic and what we can do to overcome it.
Courses:

eCourse: Overcome Your Inner Critic
Learn how to free yourself from imagined limitations in this six-week online course with Dr. Lisa Firestone. Starts Sep. 14.


Learn more or register here

Workshop: Free Yourself from Your Inner Critic
A weekend workshop retreat
with Dr. Lisa Firestone
from Nov. 7 to Nov. 9, 2014
in beautiful Ojai, CA .
*********************************************************************
Webinars:
Free Webinar: How to Stop Sabotaging Yourself
A one-hour video presentation from Dr. Lisa Firestone on how to put a stop to self-destructive thoughts and behaviors.


Watch Now

CE Webinar: Overcome Your Inner Critic
Earn 3 CE Credits by watching this 90-minute Webinar and completing a reading assignment.
Order Now
*********************************************************************

How Negative Thoughts are Ruining Your Life
4 Ways to Stop Sabotaging Yourself
How to Make Your Life More Meaningful
Watch a cartoon, explaining the critical inner voice: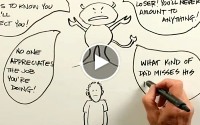 Glendon continues its efforts to help prevent suicide...

The reported suicide of actor Robin Williams has again tragically put the spotlight on one of the most serious public health issues facing our nation. Dr. Lisa Firestone's blog "Why we lost a lovable genius: the hidden enemy in suicide" was widely shared and offered a glimpse and compassionate understanding into what is often driving the suicidal person.
We all can play a role in suicide prevention by becoming aware of the warning signs of suicide and by knowing how and when to intervene.
The suicidal state is most often transient, temporary and treatable.
We can save lives by destigmatizing mental illness and getting people to the help they need. You can learn more at
PsychAlive
.

Additionally, the National Suicide Prevention Lifeline 1-800-273-TALK (8255) has trained crisis counselors available seven days per week 24 hours per day. Glendon will again be offering programs throughout the month in our local community as well as the worldwide online community, including a free Webinar on "Learning the CPR of Suicide Prevention" on Sep. 11 as well as a CE Webinar on Suicide Prevention for mental health professionals on Sep. 23.

Upcoming Suicide Awareness Events:



* Sep. 2:

Glendon receives Board of Supervisors resolution proclaiming September as Suicide Prevention Month in Santa Barbara County


* Sep. 10:

Candlelight Vigil at Our Lady of Guadaloupe Parish




* Sep. 11:

Free Webinar "Learning the CPR of Suicide Prevention"


* Sep. 23:

CE Webinar:"Suicide: What Therapists Need to Know"
* Nov. 2: Out of the Darkness Walk Sponsored by AFSP. Join our team!
* Nov. 5: Suicide Prevention Forum
in Santa Maria
with Kevin Hines and Lisa Firestone
"The Ultimate Resistance" by Robert Firestone, Ph.D.
Dr. Robert Firestone's latest article "The Ultimate Resistance" has been published in the Journal of Humanistic Psychology.

This timely article addresses what Dr. Firestone sees as the core resistance in each individual and a primary source of resistance in psychotherapy. He wrote:



Although resistance takes many forms, this article elucidates the primary source of resistance in psychotherapy as well as the fundamental resistance to a fulfilling life the ultimate resistance, in both cases, originates in the antici

patory fear of arousing existential angst.





Dr. Sheldon Solomon, the co-founder of Terror Management Theory, called the article, "A lucid and compelling account of why unconscious death anxiety underlies "the ultimate resistance" to change in psychotherapy and life in general; and, how maladaptive defensive reactions to existential terror undermine psycho-social well-being."
.
You can download the complete article here
Lisa Firestone Speaks on Violence at APA Convention
Dr. Lisa Firestone was again invited to present an all-day workshop at the American Psychological Association Convention (APA) in Washington D.C. Her CE workshop, "What Therapists Need to Know: Understanding, Assessing and Treating Violent Individuals," spoke to the fact that the clinical prediction of violence is challenging for all mental health professionals. Yet, clinicians are expected to assess and manage violence risk in their patients. Dr. Firestone shed light on the subject by sharing state-of-the-art assessment techniques as well as her experiences researching violence and utilizing Firestone Assessment of Violent Thoughts (FAVT), a violence assessment scale that she developed with Robert Firestone Ph.D.

"Research has found that the therapeutic relationship can modulate violence if the clinician has adequate training in the treatment of violent patients," said Dr. Lisa Firestone. In her presentation, she illustrated this point by screening clips from Glendon's "Interviews with Experts in Mental Health Series," which features interviews with Dr. Peter Fonagy, Dr. James Gilligan, Dr. Donald Meichenbaum and Dr. James Garbarino among others . Dr. Firestone also showed illuminating clips from Glendon's film series on violence, where individuals with histories of violence shared their stories.
Latest Blogs from Dr.'s Lisa and Robert Firestone
Blogs by Robert Firestone, Ph.D.