Aspiration Summer Newsletter
Hey friends,
We have been staying busy here at Aspiration in 2016. Here is a quick update on what we have been up to and what we've got planned for the rest of the year, including 2016 Dev Summit and celebrating the Tech Center's tenth anniversary! Here is what you can find below:
San Francisco Nonprofit Technology Center turns 10!
Ten years ago, Aspiration was searching for a new office space when an idea struck us. What if we joined our buying power with other like-minded nonprofits, social justice organizations, and tech cooperatives to find a shared workspace? This space would have both private offices and common space that would allow us to hold workshops, trainings, and meetings better than the small office we could afford on our own.

Thus, the San Francisco Nonprofit Technology Center was born in August of 2006 near 10th and Mission in San Francisco's SoMa neighborhood. Over the years, it has been home to some 19 different organizations and countless trainings, workshops, happy hours, and parties. Two and a half years ago, we moved into our current, larger location at 16th and Mission.

If you're in the Bay Area, we want to invite you to help us celebrate with a snack and a drink at our anniversary party on Thursday!

When?

Thursday, August 4, 2016 5pm-8pm

Where?

San Francisco Nonprofit Technology Center
2973 16th Street (between Mission and Capp), Third Floor
San Francisco, CA 94103

R.S.V.P.

Reply to this email or join our Facebook event.

Can't make it? We'd still love to see you. Email us if you'd like to come by for coffee and a tour or to co-work some other time.
Huge thank you and fond farewell to Misty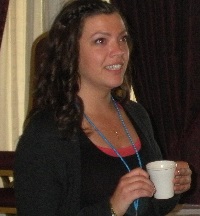 Last month, we bid a fond farewell to our longtime Program Director, Misty Avila. Misty worked tirelessly at Aspiration for over five years, first as our eAdvocacy Support Specialist, then as Communications & Training Director, before finally being promoted to Program Director in 2014.
Misty was truly instrumental in making Aspiration what we are today. She cultivated a network of California nonprofit staff and capacity builders from the ground up through innumerable road trips, emails, and phone calls. From there, she started our program of California Nonprofit Technology Festivals, which have now been held in seven rural and urban communities around the state.
During her tenure, she evolved from leading small workshops and trainings at the Tech Center to facilitating events all over the world with hundreds of participants, from Fresno to Jakarta, Tunisia, and Cambodia. She also proved to be an effective and supportive manager, developing a talented team whom she has left well equipped to continue the great work she catalyzed.
Besides her obvious skills as a facilitator, trainer, and manager, we will sorely miss having her humor, humility, and enthusiasm around the office. We wish her all the best in her future endeavors back in her hometown of Sacramento, and we look forward to our paths crossing again soon!
Join us at the 2016 Dev Summit!
Even though it's mid-summer in the northern hemisphere, we are already looking forward to late autumn and our annual Nonprofit Software Development Summit, a.k.a., Dev Summit. It is a great place to connect with other like-minded individuals to share knowledge, explore new skills, and collectively envision the future of open source technology for social good.
In case you are thinking, "That sounds great, but I'm not really much of a techie," fear not! This gathering will offer a wide breadth of collaborative sessions designed to benefit you whether you are a grassroots activist, a nonprofit staffer, a tech capacity builder, a hard core geek, or anywhere in between.
The event takes place from Wednesday, November 16 to Friday, November 18 in downtown Oakland. Last year's Dev Summit sold out, so we recommend you register now to reserve your spot!
Digital Responder Meetup next week
Our first Digital Responder Meetup in June was so much fun, we decided it's time to do it again! This informal get-together is for anyone who is interested in the ways we can use technology to prepare for and respond to disasters. Many participants either work in digital response now or have in the past, and some just have an interest in the topic and want to learn how to get involved. If that sounds like you, you can register for free on Eventbrite or Facebook to let us know you're coming.
When?

Thursday, August 11, 2016 5:30pm-7:30pm

Where?

San Francisco Nonprofit Technology Center
2973 16th Street (between Mission and Capp), Third Floor
San Francisco, CA 94103

That is all the news we have for now! We would love to hear what you are up to this summer. Email info@aspirationtech.org to give us your update and let us know how we can support you.
Best wishes,
Josh and the whole Aspiration team