OUTDOOR OUTREACH SUMMER NEWS

New Military Adventure Club Kicks-Off!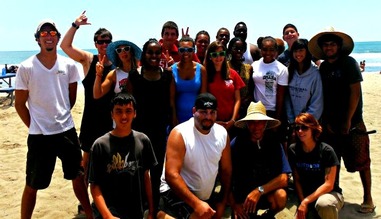 This summer, Outdoor Outreach launched a new Adventure Club program through the Miramar Youth and Teen Center (operated by the Marine Corps Community Services) dedicated to under-served military youth. The new pilot program is a year-round, after-school club closely modeling Outdoor Outreach's three other Adventure Club programs. During the summer, the youth enjoyed weekly outdoor programming including surfing, kayaking and stand-up paddle boarding. With the start of the school year, the youth will meet for weekly activities and participate in monthly outdoor outings including rock climbing, mountain biking, and snow boarding. The Military Adventure Club program was made possible by a generous grant given by The Sierra Club Foundation and The Rose Foundation.
---

Colorado Backpacking trip with SOS Outreach!
This summer, Outdoor Outreach partnered with SOS Outreach to provide a boots-on-the-ground Introduction Backpacking course to ten of our Adventure Club and Leadership youth.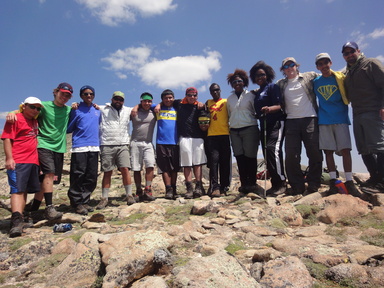 Under the guidance of SOS Outreach guides and OO staff members Gavin Daly and Joe McLeod, the group enjoyed a multi-day backpacking trip in the Holy Cross Wilderness outside of Vail, CO.
Although this was their first extended backcountry experience, the group was able to rely on the skills and camaraderie they've developed as Adventure Club members. Teamwork took on new meaning as the youth came together to tackle new challenges and obstacles in the remote, wilderness setting. Thank you, SOS Outreach for helping provide our youth this life-changing week!
---
ACTIVEx Charity Challenge
Raises the Bar to Raise Funds for
Outdoor Outreach!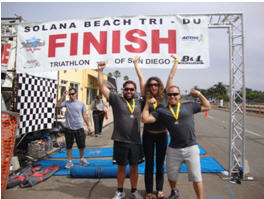 Hundreds of ACTIVE Network employees teamed up to raise money for Outdoor Outreach and three other youth development organizations by competing in the Solana Beach Triathlon/5K as part of the company's ACTIVEx Charity Challenge. Outdoor Outreach staff members KJ Brussow (Field Program & Volunteer Manager), Juan Herrera (Sr. Instructor) and Gavin Daly (Youth & Development Program Manager) also competed in the race relay. We loved cheering all the ACTIVEx fundraisers and our OO relay team across the finishline! We're always honored when individuals choose to go "the extra mile" to fundraise to support our mission--or in this case--choose to walk, run, swim and bike a lot of miles!
---
Bridgepoint Education HEROES Volunteer Fair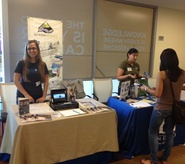 I
n August, Outdoor Outreach participated in Bridgepoint Education's annual volunteer fair for employees. We're excited about the employees' overwhelming interest to volunteer to support our mission to serve San Diego's under-served youth, and grateful for Bridgepoint Education's Ashford University's sponsorship of our Lincoln High Adventure Club.
---
Outdoor Outreach Featured | The San Diego Foundation Environmental Program Partner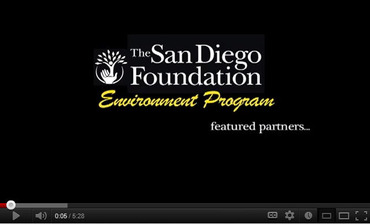 The San Diego Foundation recently created a video highlighting Outdoor Outreach as a featured partner of their Environmental Program. Watch the video to learn how we are partnering with the Foundation to provide inner-city youth access to recreational green spaces throughout San Diego County.
Click here to view video
---
Summer Fun Pics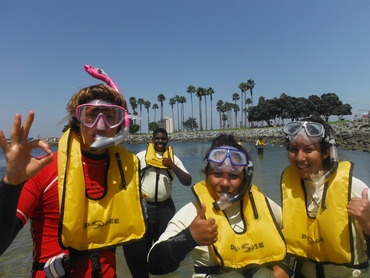 Click here
to check out some of our photos from this year's outdoor summer programming.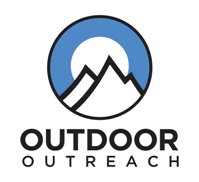 ---
In this issue
> Military Adventure Club
> SOS Outreach Colorado
Backpacking Trip
> Bridgepoint Volunteer Fair
> Active
X
Charity Challenge
> Bridge to Beach Day
> Puzzle Pursuit Race
> Reach the Peak & Pedal
to the Peak Race Trail
Race / Mountain Festival
---
---
Puzzle Pursuit 2012
We would like to thank everyone who participated in the 4th Annual Puzzle Pursuit race which raised over $3,500 dollars!
Teams enjoyed a beautiful day solving some pretty tough puzzles along Seaport Village and Coronado Landing as they followed the clues to solve the mystery of the Sinking of the Midnight Raven.
Congratulations to the winning teams:
1ST PLACE
#2 - The Dread Pirate Roberts Crew
#10 - Pastafarians
2ND PLACE
#11 Postmodern Pirates
3RD PLACE
#4 - Elila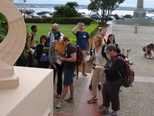 A special thanks to the event organizers Scott and Nick and to all the volunteers!
---
Welcome to the team Merina Mesa and Scott Shepherd
Outdoor Outreach is glad to welcome two new staff members to our team. Give a big hello to Merina and Scott!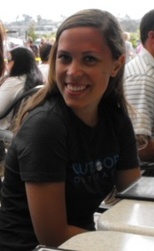 Merina is a recent graduate from the University of Houston and joined our team during the second week of July as an AmeriCorps Vista (Volunteers in Service to America). She majored in Advertising and minored in Italian. She will be our new Development Coordinator.
Scott is Outdoor Outreach's new Youth and Development Programs Manager. Scott is a recent graduate of Fort Lewis College with a degree in Adventure Education and has been working with us over this past summer as a surf and snorkeling instructor.
We're grateful to have both of them join the OO team!
---
Thank you to our Corporate, Foundation and Civic donors who gave $500+ from 6/19/2012 - 9/12/2012