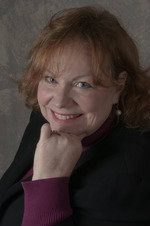 A Special Gift to a Mother

Is there someone in your life who has inspired you? Perhaps someone who has opened up a new perspective or new ideas? Perhaps it's someone who has done something you find remarkable.

Being inspired lifts the heart and mind with hope of new possibilities, helps us to stretch ourselves, to become more. When you have been inspired by someone, that person has given you a gift.

In this month's issue we share a very special story of two people who inspired one another to service. This pair is a mother and daughter. We couldn't think of a better way to share an IVC service story and honor Mother's Day. We also are delighted that this pair serve in the two sister Ignatian service corps – the Ignatian Volunteer Corps and the Jesuit Volunteer Corps - with both generations living out St. Ignatius' call to be men and women for others. We hope they inspire you to the gift of service.

Thank you for all you do to support the work of the men and women of IVC. And Happy Mother's Day to all mothers and all women who nurture the best in others!

In gratitude,

Mary




A Mother and Daughter Who Inspire Each Other to Service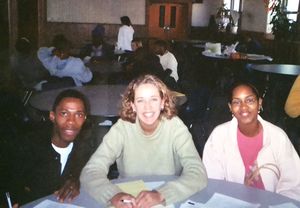 Erin Bishop works with two immigrants to help them become naturalized as citizens at a Citizenship Fair organized by her JVC placement in conjunction with the USCCB's Justice for Immigrants campaign.
"My daughter Erin inspired me to get involved with what I'm doing now," says Julie Bishop, an Ignatian Volunteer in San Diego. "When she started with JVC after college, it was difficult for me to think of her living in the inner city environment. I worried about her. We had a lot of conversations about it. But I've seen how she's been very motivated by her work with the poor and marginalized."

"When I retired from teaching, I thought maybe there was a way I could do this. My interactions with my daughter helped spark me. I give Erin credit for that," says her mother.

Julie joined IVC in 2008 and says of her service, "It's the best day of my week. I'm just having such a good time. I love it."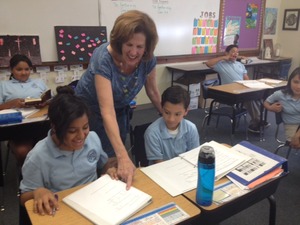 Julie Bishop, mother of 4 and a retired teacher, teaches writing skills to middle schoolers at Nativity Prep Academy in San Diego.
Julie Bishop and her daughter Erin's service experiences vary geographically and in the populations they serve. But what they share with IVC and JVC is a common experience of service and reflection in the Jesuit tradition. They value it greatly and have this shared mother-daughter bond.

"We've had some really good conversations and discussions about our experiences," says Julie.

When asked about the origins of her passion for service, Erin says, "I want to give credit to read more


IVC Spring Events

Many IVC regions are hosting spring gratitude events in the upcoming weeks and months. Join us! Visit our IVC homepage and click on your region for dates and details.


Nominate Us for the GreatNonprofits Top-Rated List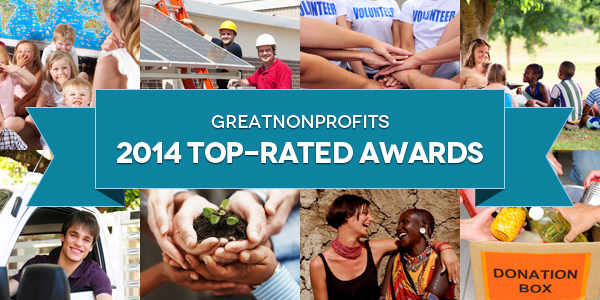 If you love IVC then tell the world! You have an opportunity to help us make even more of a difference. GreatNonprofits – a review site like TripAdvisor – is honoring highly reviewed nonprofits with their 2014 Top-Rated List. We received this Award in 2013 and need your help to do so again.

Won't you help us raise visibility for our work by posting a review about IVC? All reviews will be visible to potential donors and volunteers. It only takes 3 minutes! Click here to get started!

Easy Ways to Help Build the Corps...
Privacy Notice
You are receiving this message because you have given IVC your email address. This e-bulletin is sent monthly to friends and supporters of IVC. If you do not wish to receive these monthly updates, please reply to this message with "Unsubscribe" in the subject line, or click on the Unsubscribe link at the bottom of the page.

In This Edition:
A Special Gift
to a Mother:
Message from Executive Director Mary C. McGinnity

A Mother and Daughter Who Inspire Each Other to Service

Contemplations Blog

Spring Events

Write an IVC Review

Easy Ways to Help Build the Corps
---
Click to Visit
IVC Regions

Atlanta
Baltimore
Chicago
Cincinnati
Cleveland
Detroit
DC/ Metro MD
Los Angeles
Minneapolis/St. Paul
New England
New York
Northern Virginia
Omaha
Philadelphia/S. Jersey
San Diego
St. Louis
Syracuse


---
Contemplations Blog
IVC shares a taste of our Ignatian Spirituality program through our weekly blog.

This week's piece, "Burning Hearts", comes from Fr. Si Smith, SJ, an IVC Spiritual Reflector in New England.
Read his reflection
.
---
Join IVC!
Are you called to serve?

Through IVC, you can have a real impact through a leadership service role in your community.

Through our spiritual program, rooted in the Jesuit tradition, you will reflect individually, in community, and with your Spiritual Director on your experience with the materially poor.

Come and
Experience Making A Difference!

Visit www.ivcusa.org to contact your local Regional Director for more information.
---