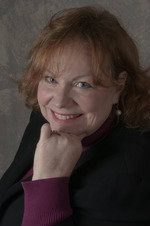 Full-Blown Smile

Before you read further I'd like to ask you to stop for a minute and think of a moment that brought a sudden, immediate full-blown smile to your face. Seeing an old friend after a long time, hearing a purely intelligent joke, looking at something of great beauty.

Recall that moment now. Can you remember the rush of joy and gratitude you felt?

My daughter had one last week. She was rushing around, in a bit of a tizzy getting ready for work, pulling together a lunch, searching for car keys, tossing everything into her tote in a mad dash to the door. I heard this ritualistic commotion from the kitchen. Then I heard "Oh!! Wow. Beautiful!" Then silence. I peeked out. I saw her standing motionless in awe with a huge smile.

She was stopped dead in her tracks as the brilliant morning sun was just at the right angle to hit the gold colors of the trees in the front yard in such a way you thought it was HD TV. Swathed in surreal colors as she stood in silence for just that gasp. The smile on her face said it was a moment of perfect prayer.

She proceeded to the car with the most beautiful smile on her face. That brought about an immediate full-blown smile to my face and my spirit.

In the story below you'll see two such smile-induced prayers as a client and volunteer see one another after a hiatus. That joy and connection of two people – each one in service to the other for different reasons – is grace-filled. Read more.



Join Us in Prayer for a Mass of Thanksgiving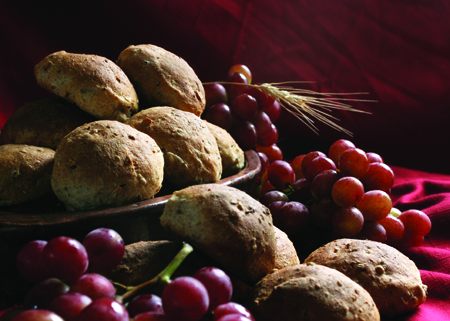 On November 22, our IVC staff will celebrate a liturgy for you and your intentions in gratitude for the way in which your friendship and support has enabled IVC to serve more people than ever before.

We will set aside this time at our All Staff Gathering to give thanks for the blessings God has shared with IVC this year. Because of the gifts you have shared with us - whether time, expertise, prayer, accompaniment, or financial support – you have been a blessing to us and because of you, people experience the gift of hope in their time of need.

In gratitude for all you have done over the past year and more, we will bring your name to the Lord's table during our closing Mass. We will be praying for you, and for your intentions, and we hope, wherever you are at that moment, you will feel the warmth of God's grace, and our appreciation for you.




Good to See you Again!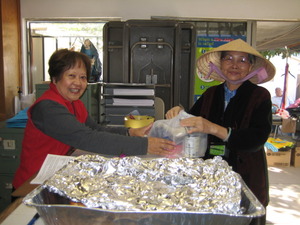 Ignatian Volunteer Fe Varquez had a surprising encounter with a client at the food pantry where she serves in Los Angeles.

"I've been at the Juan Diego Center for four years. I had just come back from my summer break. I saw Miguel, a homeless man, walk into to the food pantry. His face lit up immediately and he gave me the broadest smile and a hug. 'Good to see you again!' he said. His face brightened." Fe Varquez shares food with a client at the Juan Diego Center

"I felt so elated. I had the sense that here I'm making a difference with somebody."

"Then I questioned myself. What could I have possibly done to make this person light up? It made me realize that my presence is important. The work of distributing food is almost secondary. Afterwards, I had to pray over this and let it sink in."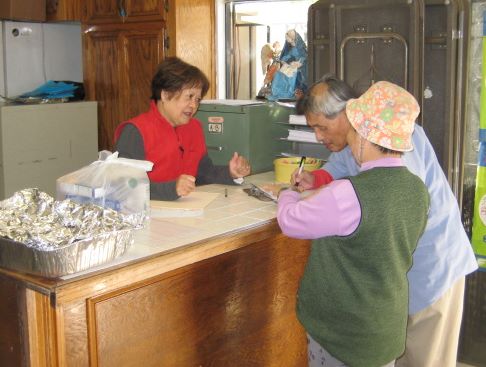 Catholic Charities' Juan Diego Center in Los Angeles serves 13,000 homeless and low-income individuals annually with emergency services. Fe's responsibilities include assembling food bags for the pantry, distributing them, responding to emergency assistance requests, preparing adults for job interviews, and more. Her husband Ben is also an Ignatian Volunteer there, where he teaches English classes.

"I am very grateful. Being connected in service to the materially needy has taught me so much. I keep developing my understanding of Jesus's words. It gives me a personal understanding of the Beatitudes." Read more.


IVC is a "Top-Rated Nonprofit"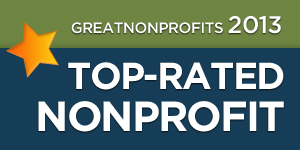 Thank you to our IVC community for your help in achieving our goal of getting 15 new reviews. IVC has been honored with one of the first Top-Rated Awards of 2013 from GreatNonprofits! This helps others learn about our mission and work.

Here's what our supporters say about IVC!
Once you see how easy it is to write a review, please take a few minutes to write one of your own.

Are you on Facebook? Have you "Liked" IVC?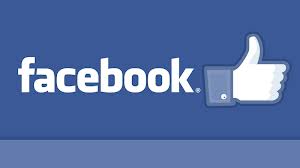 Hav
e yo
u ever heard anyone call IVC "a best-kept secret"? A 2012 Volunt
eer
Survey showed us that our best way to recruit new volunteers is through word-of-mouth from another volunteer. Thanks for continuing to spread the word of IVC and your experiences!

Here's another (very quick!) way you can help: Like IVC on Facebook! Over 370 of our Friends have 'Liked' us to date; our goal is to reach 400 "likes" by the end of the year. Help grow our virtual word-of-mouth network to share our mission with others!

Easy Ways to Help Build the Corps...

Pray for Ignatian Volunteers & the thousands of people they serve each week
Join IVC as an Ignatian Volunteer
Make a gift to IVC

Spread the word - tell your family and friends about IVC, 'Like' IVC on Facebook, write a review on GreatNonprofits.org, or forward this email to your friends.
Privacy Notice
You are receiving this message because you have given IVC your email address. This e-bulletin is sent monthly to friends and supporters of IVC. If you do not wish to receive these monthly updates, please reply to this message with "Unsubscribe" in the subject line, or click on the Unsubscribe link at the bottom of the page.

In This Edition:
Full-Blown Smile:
Message from National Executive Director
Mary C. McGinnity

Join us in Prayer:
Mass of Thanksgiving

Good to See You Again!

IVC Chicago on
the Radio

IVC is a Top Rated Nonprofit

Are you on Facebook? Have you Liked IVC?

Easy Ways to
Help Build the Corps

Thanksgiving Prayer
---
Click to Visit
IVC Regions

Baltimore
Chicago
Cincinnati
Cleveland
Detroit
DC/ Metro MD
Los Angeles
Minneapolis/St. Paul
New England
New York
Northern Virginia
Omaha
Philadelphia/S. Jersey
San Diego
St. Louis
Syracuse
---
IVC Chicago
on the Radio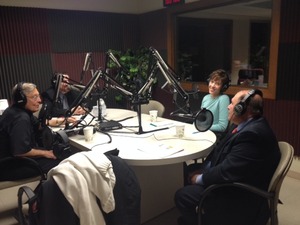 IVC Chicago Volunteer


Bob Castagna

and Regional Director Christine Curran appeared on the Catholic Community of Faith radio program on Oct. 18.

Listen to the podcast.

The IVC portion begins at the mid-way point.
---
Join IVC!
Are you called to serve?

Through IVC, you can have a real impact through a leadership service role in your community.

Through our integrated spiritual program, rooted in the Jesuit tradition, you will reflect individually, in community, and with your Spiritual Director on your experience with the materially poor.

Come and
Experience Making A Difference!

Visit www.ivcusa.org to contact your local Regional Director for more information.
---
Thanksgiving Prayer
O God, when I have food,
help me to remember
the hungry;

When I have work,
help me to remember
the jobless;

When I have a home,
help me to remember
those who have
no home at all;

When I am without pain,
help me to remember
those who suffer,

And remembering,
help me to destroy my complacency;
bestir my compassion,
and be concerned enough
to help;
By word and deed,
those who cry out for
what we take for granted.

Amen.

-Samuel F. Pugh