TWB and its partners have developed the following resources to support teachers in Haiti:
Teacher's Guide to Earthquake Education (English, French and Kreyòl in progress)
Earthquake Education Poster (Kreyòl)
Classroom Video Module: "Can Earthquakes Be Predicted?" (English and Kreyòl)
Podcasts from Haiti (Episodes 4 and 5)
TWB's Haiti Country Page
---

Featured Volunteers

TWB would like to thank:

Guy and Hugues Métayer, Ben Pierrecin, and Jean Aupont for the time and effort they volunteered to translate TWB's Teacher's Guide to Earthquake Education into Haitian Kreyòl.
Professor Michel DeGraff and Professor Lemète Zéphyr for their thorough Kreyòl-language proofreading of TWB's Earthquake Education Poster.

Carolyn Muir, a TWB member who visited Haiti last year and shared our earthquake education posters with students at the St. Joseph School in the town of Petit-Goave.


---
Volunteer Opportunities

Haitian Kreyòl Translators

---
Get Involved
Join the Education in Haiti group on our online networking site.
CONNECT WITH TWB: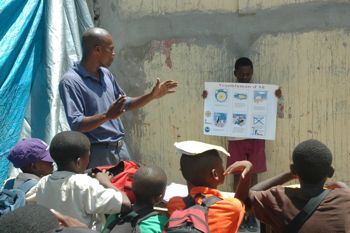 Haiti Earthquake Anniversary
Today, Teachers Without Borders marks the one year anniversary of the catastrophic earthquake that struck just outside of Port-au-Prince, Haiti. Few areas of Haiti's infrastructure were left unscathed, and education was no exception. This is a brief update on what we've done, together, and what we will continue to do into the future as part of the recovery effort.
Immediately following the earthquake on January 12, 2010, TWB's Emergency Education Program supported Doctors Without Borders to provide emergency relief to help address immediate needs such as food, water, shelter, and medical supplies. Then building on our experience in the aftermath of the 2008 Sichuan earthquake, TWB recruited volunteers to translate our earthquake education resources into Haitian Kreyòl and French. Together with our university partners (Massachusetts Institute of Technology and the University of Montana), TWB produced, translated, and disseminated earthquake posters and classroom videos for use in Haiti. TWB also gathered and disseminated the latest earthquake information by interviewing scientists, engineers, and community leaders involved in post-earthquake research and education activities in Haiti. Finally, TWB and its members interviewed teachers in Haiti to find out how the earthquake has disrupted or destroyed the education system, and how to create recovery strategies that incorporate teachers and school administrators.

The latest geophysical models of the region indicate that the earthquake potential for Haiti may still remain high. TWB continues to develop partnerships between teachers and scientists in North America and Haiti to improve access to geohazard educational resources; to contribute to the reconstruction of the education system in disaster-affected areas; and to prepare for any future earthquakes. On a larger scale, TWB is expanding the scope of its Emergency Education Program to supplement projects with proactive prevention measures in earthquake-prone areas of the world.