eDish with Commish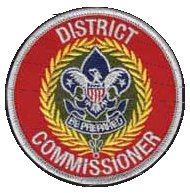 Welcome to eDish with Commish, a quick way to get some timely information out into the hands of folks who need it.
Join Me!
eDish is a companion to a new casual gathering I am calling "Dish with Commish" which will be held on the 4th Saturday of each month. This month we will gather at the Panera Bread on South Sun Dr in Lake Mary starting at 8:30 a.m. until about 10:00 a.m. This will be an informal, "come as you are," dutch treat, chance for scouters to get some questions answered by a member of their District Key 3. Feel free to pass this along to any of your unit leaders who may be interested in attending.
Our next "Dish" will be held
Saturday, June 25th
.
---
Fall IOLS & SM/ASM Position Specific Training

Yes! There will be an IOLS course conducted this Fall by the Seminole Springs Training Team.
The course will be held the weekend of September 23rd, at will be at the newly remodeled Group camp site at La-No-Che.
Combine that with the Scoutmaster & Assistant position specific training on Saturday October 8th, and you can quickly become a "trained" Scoutmaster or Assistant Scoutmaster!
(Of course, there are other courses being held this fall by other districts as well, if these dates don't work for you - you can get that information from the
Central Florida Council web site
.)
---
Chartered Organization Representatives, too!

Just announced at Roundtable, there will be a training for CoRs at the October 8th District Training Day.

This would be a great opportunity to get your CoR trained before the required training kicks in 2012.

---
Alternative Registrations for College Students

The
College Scouter Reserve
exists for college students at least 17 years of age to maintain a Scouting affiliation. These individuals should be registered either as a district or council Scouter, and not on a unit roster. Both male and female Scouters may register in the college Scouter reserve. The application should indicate a college address and may be submitted through the college or home council. Applicants should use position code 92.
This may be the perfect solution for those young men ages 18-20 who are registered as ASMs and unable to complete their required training for 2012 re-registration.
---
BSA to Offer NetSmartz Internet Safety Program

The National Center for Missing & Exploited Children is making available its Internet safety program, NetSmartz, to the BSA to teach Scouts and their families how to make responsible decisions both online and in real life. The BSA is asking all Scout leaders to incorporate the NetSmartz materials into their programs and to distribute information directly to parents.
The program uses videos, games, and activity cards to educate children on how to recognize potential Internet risks and to empower children to help prevent them from being exploited.
---
Venturing Forum Commissioner

John Lapotaire
has agreed to become our District's new Venturing Forum Commissioner.
John will be contacting the Crews about the Forum, but Forums will be held every 2-3 months, with location to be determined.
Look for more news later this summer.
---
University of Scouting - January 28, 2012

---
Contact Me

Got a question? Feel free to contact me and ask your question anytime:
Ron Blaisdell
1060 Meadow Lake Way Apt 103
Winter Springs FL 32708
Ph: 321-593-4704
Email:
ron@blaisdell.com
Skype: rbblaisdell
Yahoo: ron_blaisdell
MSN / Windows Live: ron.blaisdell
AOL: dadblaze58
Gtalk: ron@blaisdell.com
Facebook: ron.blaisdell@facebook.com