June 28, 2011

Dear GroundSpark Supporter,

Sixteen years ago, producer Helen Cohen and I were at PS 87 in New York City filming a fifth grade class during a civics lesson. "Today the law says that if you're the same sex —two men or two women— you can't get married, it is against the law," their teacher explained. And then he set up a class assignment for students to debate whether or not the law should change.

When the news broke last Friday that New York had changed its discriminatory marriage laws, I immediately thought of this incredible scene in It's Elementary—Talking About Gay Issues in School, the film Helen and I ended up making with the footage we shot that day.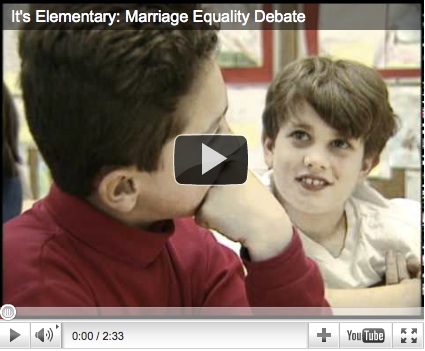 These children had the opportunity, in elementary school, to think critically—with their teacher's support—about whether or not it was fair for same sex couples to be denied equal legal rights. Today these same students are 25 and 26 years old! And they are part of the electorate that voted in the current representatives in the New York state legislature.

We couldn't possibly have imagined when we completed It's Elementary that it would continue to be so relevant and utilized 16 years later. But every week new copies of the film go out to school districts across the country.

Sometimes it's because new anti-bullying legislation gets enacted and school districts need ways to help their teachers and staff members understand why it's so important to be pro-active in addressing bias. Sometimes it's because there has been some horrible hate crime or suicide and the district wants to do everything it can to prevent another tragedy.

And sometimes, it's just because the cultural tide is turning and staff need support on how to grapple with their students' questions about why the government treats LGBT people differently than everyone else.

Educators watch the film, or our companion documentary, It's STILL Elementary. They use the highly regarded curriculum guide for these films that offers support on how and why to address LGBT issues in school settings. Inevitably these screenings and trainings build teachers' understanding and confidence, preparing them to lead age-appropriate lessons for their students that are inclusive and welcoming to LGBT people and families.

Even more importantly, they support educational pedagogy which prioritizes critical thinking skills, respect, and compassion.

I hope we don't have to wait for all of today's elementary school children to grow up and become voters before we truly have full legal equality throughout the United States.

But for today, we're celebrating the fact that if we were to film that same scene again right now in New York, the lesson would be different: today, in New York, two people of the same sex do have the right to marry!




Share your thoughts on our blog.
Become a fan of GroundSpark on Facebook.
Follow GroudSpark on Twitter.
Buy a film!




GroundSpark
2180 Bryant Street, Suite 203, San Francisco, CA 94110
info@groundspark.org
phone: 415-641-4616
fax: 415-641-4632
toll-free: 1-800-405-3322