THIS WEEK AT TIBET HOUSE US
The Foundations of Self-Healing and Contemplative Life
Monday, November 8 from 7 - 9PM
Dr. Joe Loizzo

This first series of the NICS/THUS Four Year Program in Sustainable Happiness covers the foundations of Self-Healing in the Buddhist tradition: the basic self-healing insights of the Four Noble Truths; the four scopes of mindfulness practice; and the life-strategies of accepting reality, breaking free of compulsions & liberating good will.
Click here for more information
---
Introduction to Meditation
Tuesday, November 9 at 7PM
Sharon Salzberg

Tibet House's introductory meditation classes were featured in New York Magazine's top picks (4 stars). Tibet House shrine & gallery will be open for silent individual meditation at 6 PM, instruction begins at 7 PM. Each session is intended to stand alone, attendence at previous sessions is not required.
Click here for more information
---
Co-Sponsored Program - THUS/NYOC
Module II - Basic Buddhism as the Arts & Sciences of Happiness
Wednesday, November 10 at 7PM
Robert Thurman

This series of lectures will introduce the basics of the Buddhist tradition as still usable today for the improvement of one's life. The good thing about the modern adaptation is that one is not required to "be a Buddhist," though that effort is something I and many others do enjoy doing.
Click here for more information
---
Documentary Screening - Dalai Lama Renaissance
Thursday, November 11 at 7PM
Khashyar Darvich

Dalai Lama Renaissance is a feature length documentary film, produced and directed by Khashyar Darvich, and narrated by actor Harrison Ford. Dalai Lama Renaissance documents the Dalai Lama's meeting with the self-titled "Synthesis" group, made up of 40 Western "renaissance" thinkers who hope to use the meeting to change the world and resolve many of the world's problems.
---
Music & Meditation Program
Friday, November 12 from 7 - 9PM
Open Music Ensemble

The Open Music Ensemble returns to lead a series of evening meditations with improvised music. The evening begins with a guided meditation, awakening he senses. Next, the musicians play: weaving a colorful carpet of sound through improvisation, deepening the experience of being in the present.
Click here for more information
---
SCA Workshop - Freedom from Habitual Patterns in Mind and Body
Saturday, November 13 from 10AM - 5PM
Dr. Robin Boudette

In this workshop Dr. Robin Boudette will explore of principles and practices from both cognitive therapy and Buddhist psychology aimed at understanding and working with habitual patterns. When we experience the present moment and connect to our true intentions, we have the freedom of choice. With the power of mindfulness, our actions can be aligned with our intentions rather then a reflection of our impulses.
---


September 16 - January 7
The Buddha Image:
Out of Uddiyana
Monday, November 8
The Foundations of Self-Healing & Contemplative Life
Dr. Joe Loizzo*
Tuesday, November 9
Introduction to Meditation
Dr. Miles Neale
Wednesday, November 10
Basic Buddhism as the Arts and Sciences of Happiness
Robert Thurman*
Thursday, November 11
Screening of Dalai Lama Renaissance
Khashyar Darvich*
Friday, November 12
Open Music Ensemble: Music and Meditation Program
Saturday, November 13
SCA Workshop
Jill Satterfield*
---

THUS/NYOC
co-sponsored programs
Module II
Nov. 4, 10 & 17
Basic Buddhism as the Arts and Sciences of Happiness
Robert Thurman*
Dec. 30, 2010 - Jan. 2, 2011
---
Events Around Town
Philip Glass & Robert McDuffie's
The Season's Project
---

---

*Current Tibet House US members receive
10% tuition discount on
above marked programs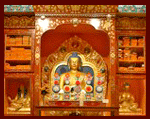 Help Make a Difference