IN THIS ISSUE:

1) New Family Trips

2) Galapagos Specials Galore for 2009

3) Peru Active Family Trip Overview
Please contact us at:
Vaya Adventures
1525 Shattuck Ave.
Berkeley, CA 94709
(800)342-1796, (510)548-8487
info@vayaadventures.com
www.vayaadventures.com
New Trips Designed Especially for Families!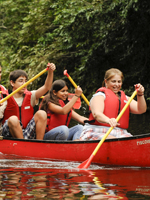 Trying to figure out what to do on your next family vacation? Look no further! Just check out the new Family Section of our website. Family travel has come a long way since the days when we drove from New Jersey to Florida in a station wagon with 2 parents, 4 kids, a dog, and a cat. Hey, those were great experiences, no doubt about it.... but just to mix it up a bit, consider what it would be like to take your family around the Galapagos Islands, on a hike to Machu Picchu, on a zipline canopy tour through the jungles of Costa Rica, or snorkeling on the Western Hemisphere's largest barrier reef in Belize. With special pricing for families, these trips are also a tremendous value. And as always, we can customize any of our "suggested family itineraries" to perfectly match your travel dates and interests. Send us an email to info@vayaadventures.com or give us a call at (800) 342-1796 if you have any questions or would like any additional information.

Galapagos Specials Galore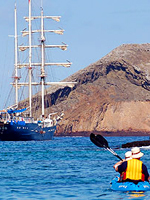 It's an unbeatable year to travel to the Galapagos, with great deals on several top vessels. Yachts such as the Evolution, Mary Anne (at right), and Eric/Flamingo/Letty are offering discounts from $225 to over $1000 on various departures. You can't go wrong with any of these boats. For those looking for a small vessel, consider the Beagle, a 12 passenger first class motor schooner with a top quality naturalist guide. Prices as low as $2600 per person for an 8 day cruise make this an excellent value. Contact us if you're interested!

Spotlight: Peru Active Family Adventure

Our Peru Active Family Adventure is a great chance for parents to create unforgettable memories with their children. Starting off in Cusco, your kids will be amazed at the massive stone fortress of Sacsahuaman, the countless Incan ruins, and the still-vibrant culture that created the largest empire in the pre-Columbian Americas.

In the Sacred Valley of the Incas, your family will spend an exhilarating day mountain biking (non-technical and mostly downhill), stopping to see unique Incan sites and passing through small Andean villages. You'll also hike to Machu Picchu along the last part of the Inca Trail, arriving through the traditional Sun Gate (Inti Punku), where you'll get a stunning first view of this remarkable sanctuary in the clouds. For even more adventurous families, another option is the classic trek to Machu Picchu with 3 nights of camping.

Beyond the amazing things to see in Peru, our ground operation is second to none, offering outstanding personalized service from the moment your family is picked up at the airport. All logistics and transportation are taken care of, so you don't have to worry about a thing. Our travelers often tell us in their trip evaluations how stress free their trips were... that's because we take care of all the details and allow you to just enjoy the destination and make the most of your experience. When traveling with kids it's even more important that everything goes smoothly, and you can be confident you are with the best ground operation available.

Our English-speaking local guides have worked with many families over the years, and know exactly how to make sure everyone gets the most out of the trip, whether it's pre-teens, teens, grown kids, parents, or grandparents. And with private guides for all your excursions, you'll also have total flexiblity to go further off the beaten path and experience what the country has to offer.

If you have any questions about our Peru Family Adventure or any of our other trips, please don't hesitate to contact us at (800) 342-1796 or info@vayaadventures.com.