IN THIS ISSUE:

1) Lodge-Based Trek to Machu Picchu

2) Spotlight: Marine Life on the Peninsula Valdes in Argentine Patagonia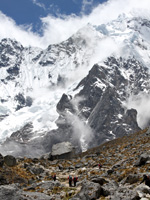 Please contact us at:
Vaya Adventures
1525 Shattuck Ave.
Berkeley, CA 94709
(800)342-1796, (510)548-8487
info@vayaadventures.com
www.vayaadventures.com
Lodge-Based Trek to Machu Picchu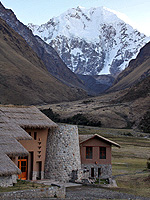 For those interested in trekking to Machu Picchu, but who would prefer to sleep in a real bed rather than a tent, a great option is the Salkantay Lodge-Based Trek to Machu Picchu. After acclimating in Cusco and the Sacred Valley of the Incas, the trek starts in the high Andes and finishes in the upper Amazon rainforest at Machu Picchu. It combines some real challenges, including a 15,000 foot pass along the massive southern face of awe inspiring Mount Salkantay (20,500 feet, the highest peak in the Vilcabamba Range, pictured at left). In the evenings, you get to relax in a series of four remote mountain lodges, with very comfortable facilities, including private bathrooms and exceptional meals (first lodge pictured at right). You approach Machu Picchu from the southwest, providing some unique and extraordinary views to the site that few travelers ever see. Reply to this email or give us a call at (800) 342-1796 if you have any questions or would like any additional information.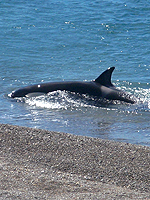 Spotlight: The Peninsula Valdes in Argentine Patagonia

If you're thinking about a trip to Argentine Patagonia, you may have in mind iconic places like the Perito Moreno Glacier and Mount Fitzroy. One lesser known highlight you might consider is the Peninsula Valdes area, particularly if you are interested in wildlife. Declared a UNESCO World Heritage Site in 1999, this sparsely populated region along the Atlantic coast is one of the best places in the world to observe marine life, including whales, elephant seals and penguins. Orcas can be seen right up at the shoreline (photo at right), at times bursting from the water onto the beach to try to catch prey. The world's largest Magellanic penguin colony is located just south of the Peninsula, at Punta Tombo, and Southern Right Whales congregate here in large numbers from June to December. An excellent place to stay in the area is the Estancia Rincon Chico, a traditional estancia (one of very few on the Peninsula) still owned by a family that settled here over 100 years ago. In addition to seeing marine life, you'll take excursions to view a wide variety of other wildlife, incuding rhea (ostrich-like birds), guanaco (a wild relative of the llama), Patagonian hares, armadillos, and more. For one suggested itinerary that includes 3 nights in this area along with other highlights of Argentina, please check out our Buenos Aires, Peninsula Valdes & Patagonia itinerary. As with all our trips, we can customize this itinerary in any way you would like. Reply to this email or call us at (800) 342-1796 with any questions or for additional information.