IN THIS ISSUE:

1) Patagonia Ecocamp

2) Check out our new destination videos: Easter Island, Patagonia, Amazon!


Please contact us at:
Vaya Adventures
1525 Shattuck Ave.
Berkeley, CA 94709
(800)342-1796, (510)548-8487
info@vayaadventures.com
www.vayaadventures.com
The Patagonia Ecocamp: A
Model of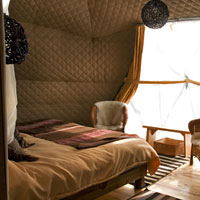 Green Building Design

In Torres del Paine National Park, one of the most spectacular highlights of Chilean Patagonia, we work with a lodge that is a model of green building design: the Patagonia Ecocamp (pictured above and at right). A great base from which to explore the area, this carefully designed facility offers very comfortable accommodations, with individual
heated domes and private bathrooms. The facility has a light footprint: each dome has its own composting device to process waste, and electricity is generated with a micro hydro turbine and solar panels. The Ecocamp is a winner of the Virgin Tours Responsible Travel Award for its pioneering building practices. A few of our Patagonia itineraries include the Ecocamp, including our 14 day Highlights of Chilean & Argentine Patagonia trip. The camp has an ideal location in the Park, very close to the trailhead that takes you up to the base of the Paine Towers (8 hours hiking roundtrip). Our travelers generally spend 3 nights, which allows time for at least 2 full days of hiking and exploring in the National Park. If you have any questions about the Ecocamp or our trips to Patagonia, just give us a call at (800) 342-1796 or reply to this email.


Check Out Our New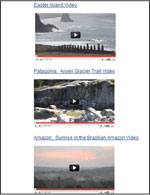 Destination
Videos: Easter Island, Patagonia & the Amazon!
OK, we admit our videos aren't slick professional productions... we're

amateurs and these were made "in-house." But we hope they'll give you a sense of some of the magnificent places you can see on our trips. It won't take you more than 5 minutes to see all of them. Check out the ancient mysteries of Easter Island and its enigmatic "moai." Trek across the Neff Glacier along the Northern Patagonia Ice Cap. Take in the sights and sounds of sunrise from the observation tower at renowned Cristalino Jungle Lodge in the Brazilian Amazon. To check them out, just click here!
If you have any questions about any of our trips, please reply to this email or call us at (800) 342-1796.