IN THIS ISSUE:

1) Patagonia Ice to Ocean Charity Challenge

2) Spotlight: International Rivers' Patagonia Campaign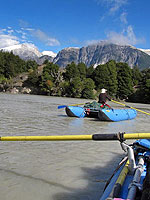 Please contact us at:
Vaya Adventures
1525 Shattuck Ave.
Berkeley, CA 94709
(800)342-1796, (510)548-8487
info@vayaadventures.com
www.vayaadventures.com
Patagonia Ice to Ocean Charity Challenge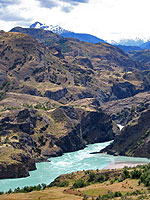 Interested in doing something to help protect a spectacular region of Patagonia? Join our Ice to Ocean Charity Challenge to help raise awareness of the threat to a large area of Chilean Patagonia posed by the massive and highly controversial HidroAysen Dam project. This fundraising trip is taking place from February 26 to March 12, 2010 (15 days) and will follow the hydrologic cycle of the Baker River (photo at right), Chile's most voluminous river and one that would be irreparably damaged by the dam project.

The trip will include visits to proposed dam sites on the Baker.

The "challenge" is a multi-day trek through three glacial valleys along the Northern Patagonia Ice Cap (source of the Baker River), then down to the Baker itself, finishing with a multi-day rafting trip all the way out to the ocean.

All funds raised by trip participants will go to support non-profit International Rivers' campaign against the project (see the Spotlight below for more information).

If you are interested in an exceptional trip to Patagonia, and would like to help protect that region's natural environment, this trip is for you. Send us an email to info@vayaadventures.com or give us a call at (800) 342-1796 if you have any questions or would like any additional information.

Please forward to anyone you think might be interested!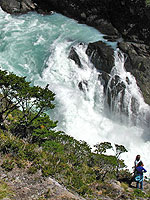 Spotlight: International Rivers' Patagonia Campaign

International Rivers is a federally registered 501c3 non-profit organization that is dedicated to preserving the last remaining free flowing rivers around the world from environmental destruction. They also work to protect the rights of the many traditional communities that continue to thrive along these rivers. They have been very active in the campaign against the HidroAysen dam project, working closely with their Chilean counterparts to raise awareness of the issues involved. To learn more, see International Rivers' Patagonia Campaign Fact Sheet (in PDF format). You can also go the International Rivers website, where they have a variety of pages related to the dam project and the facts and issues surrounding it. A majority of the Chilean population is now opposed to this massive project (see this article from the Santiago Times, an English language daily newspaper in Santiago), which is being pushed by a combination of Chilean and multinational conglomerates. The project would put 2 dams on the Baker River and 3 on the Pascua River (including one at the site pictured here). Many people view this type of large scale dam project to be an anachronism and a major step in the wrong direction when it comes to environmental responsibility. Beyond the large areas that would be flooded and the disruption of the communities living along the rivers, the dams would also require the world's longest clearcut (more than 1200 miles long) straight up the country through several national parks to make way for a continuous line of 70 meter (220 feet) high electrical towers, further endangering numerous plant and animal species. Studies have shown that there are viable alternatives to this project that can meet Chile's energy needs. In short, a compelling case can be made that this dam project is unnecessary and will cause major environmental harm. Though polls show a majority of Chileans now oppose the dam, the Chilean and multinational conglomerates promoting it are politically very powerful and it still stands a good chance of going through. Our goal is to raise awareness of this issue by supporting International River's campaign and the Chilean environmental groups that they are aligned with. If you would like to participate in this trip or learn more about it, please visit our trip page or contact us at (800) 342-1796 or info@vayaadventures.com. If you can't join us, please consider making a pledge towards one of our participants!

Please also see the April 2008 New York Times Editorial against the dam project.

(Photos courtesy of Wolfe Schmidt and International Rivers.)