OK, so its been a long time since there was a newsletter! Please forgive the length of these musings - there is even a supplemental webpage with audio interviews, photos and more, along with a meditation from Tamil Nadu. Part 2 will appear in summer.
If you are local, come to an afternoon of India - yoga, poetry, slides
4/17
3.30-6.30 in Boonville.
Wherever you are, take great care of whatever seeds are being cultivated in your life and let's preserve diversity and respect for older wisdoms in practice and beyond.
Enjoy!
Mary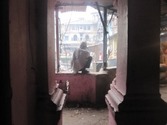 "Fragile this petal of the earth, as fragile as love."
-Mirabai
A student, who I hadn't seen in awhile, walked into the studio and started chatting about their home practice and the teachers program they were participating in. Everything about this student seemed different; although she had been practicing for many years, it was only in the relatively recent past she had begun to have a serious home practice. And it showed!...in her fluidity, her relaxed engaged manner, the seed of yoga had truly taken root. When someone delights in their own time on the mat and in study, it is like a plant taking off, photosynthesizing with the universe in their own unique way, and moving out of the potential hazards of a mainstream yoga class monoculture.
I have just returned from 2 months in India where seeds were part of many of my conversations and one of the reasons for being there. Avoiding all tourist areas, even Buddhist or Yoga itineraries, my intention was to listen to those who are taking care of India's seeds and in their own ways living their yoga in an ecological way, whether they called it yoga or not. The only actual yoga class I took was one of the worst experiences both yoga and India wise but thats a whole other story!!
---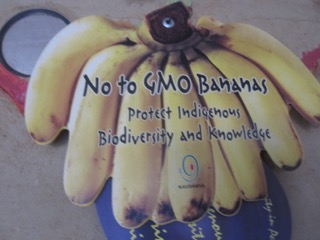 Vandana Shiva, activist, seed-preserver, is vilified by those who believe in a Monsanto, monoculture type of universe. She receives death threats regularly.
Every university and institute that invited her to speak last year—including governments—received letters attempting to discredit her personally or scientifically. I too had been impacted by some of the slimier journalism appearing in relatively respectable journals e.g. New Yorker hatchet job by Michael Specter. And this make me ever more curious to see what was happening at Navdanya Farm founded by Vandana and her earth university there. There is an attempt by GMO folks and agribusiness to claim the word "sustainability" and hijack some of the more progressive and deeply traditional wisdoms around food and agriculture that are responsible for feeding the majority of the world's populations. Part of their mission appears to be the takeover of seeds and seed distribution everywhere.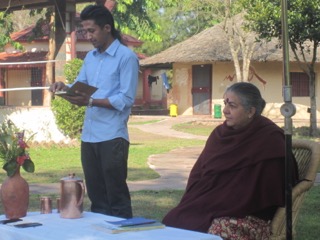 Vandana's mission is Bija Swaraj or Seed Sovereignty. Her mantras:
The seed is not an invention
We need to stop the patenting of life
Based on Ghandian principles, Vandana and her scientific friends and farmer group believe that the chemicals and GMOs that have been showered on India need to be resisted. Unlike the US where we seem to have swallowed the GMO thesis hook line and sinker, groups like Navdanya and PANAP-Pesticide Action Network Asia and Pacific + GMOFree India groups, have worked incredibly hard to at least have moratoriums on their introduction.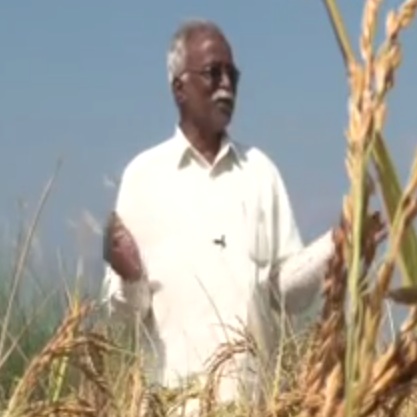 Please watch the short video on rice seed preservation and be aware that Navdanya and farmers like these are treating seed saving now as a sacred act. There were always 100s of varieties of grain seeds suitable to deal with all the different geographies of this vast continent until the last few decades of agri-business takeovers in India. The GMO/Chemical mind set argues that we only need a few types of "High Yield" varieties and this will stop hunger.
Many people believe that GMOS are all over India but currently the only GMO crop officially sanctioned in
India
is BT Cotton. 95 or 99% of the cotton—depending on which group you listen to—is GMO. According to these groups, the area of cotton production is creating a cancer train, farmer suicides, and destroying the land. At the same time the dreaded bollworm that destroys the crops is becoming a monster bug resisting even roundup. Yogis—who love their floating indian cotton garments—please only buy organic cotton products from now on.
There are various trials being conducted for the introduction of GMO vegetables and yet, Vandana and others have resisted the introduction of a gene manipulated eggplant that was claimed to end hunger as we know it and as a consequence they have been accused of creating famine!
---
Take Care of Seeds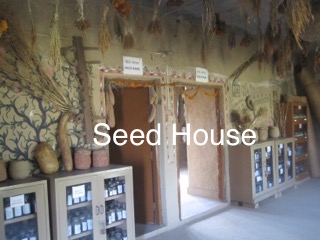 After a few weeks at Vandana's farm, I found myself understanding and letting go of some of the assumptions that I didn't even know I had. One was that big farming is the only way to end hunger. Over and over again, I saw this myth disproved by statistics and scientific evidence. The United Nations are honoring the small family farm this year and state that--though hard to believe--75% of the world's food is produced by small/family farms.
Living at Navdanya, at the foothills of the Himalayas, fields of green around, the whole notion of patenting nature seemed totally ridiculous! Here was land that 20 years ago had become arid and toxic because it was a eucalyptus farm - a non native species that uses copious amounts of water and saps the land dry. With permaculture and returning to traditional wisdoms that had been abandoned in the 80s with a rush to high yields and chemicals, this small farm is now a verdant living lab of possibility. The seed center, made of cow dung walls and delightfully airy and cool, housed hundreds of different rice, grain and vegetable seeds that have been collected and shared by small organic farmers all over India. Vandana warns everyone everywhere she goes that we need to look after our seeds. Legal action is being taken to stop us all saving seed - (here in the US also!), surely one of the most natural processes since cultivation began.
---
Nat and Bija
Nat - an agro ecologist from Malaysia - who I met at the Ayurvedic center where I went later in the trip - has been working on projects and supporting farmers who decide not to go the GMO/chemical route and to use their traditional ingenuity. Listen to his interview for an Asian perspective on sustainability in general.... and specifically his meeting with a small farmer who had over 300 different type of kidney bean! Pulses and beans are important. Statistics from Navdanya show that over the last 30 years, protein consumption has decreased in India as less varieties of pulses and beans are available. Many Indian women suffer from anaemia. This has occurred because of the industrialization of agriculture and lack of respect for iron and protein rich varieties that are often considered weeds. While I was doing my volunteer weeding at Navdanya I noticed that Bija, a woman of 80, who is a storehouse of energy and wisdom, didn't pull what I thought was a weed out of the ground, she carefully cut it and placed the leafy part in her bag. This, I discovered from Mira Shiva, Vandana's sister, is Batois (spelling?!) an old plant that is very high in iron. So in these fields, instead of using Roundup and killing everything except the wheat variety that was growing there, she actually harvests the weeds and encourages them to grow more!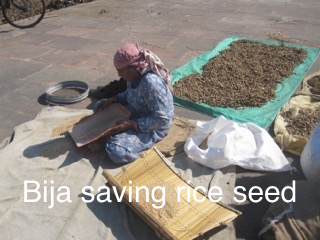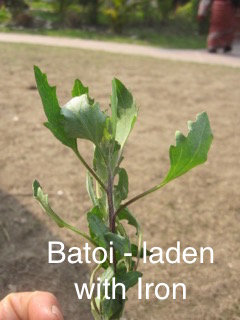 ---
Cows and Curves
For more information and audios, click
here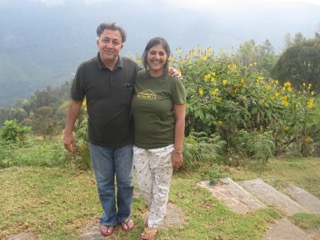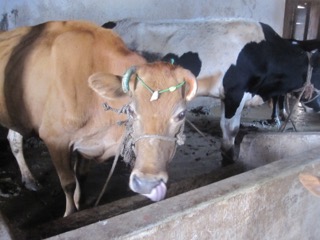 At Navdanya at a workshop around Earth Democracy, I met a number of impressive young and older activists from India. Among them was Ayesha d'Souza who works for 350.org in Delhi. She arrived at Navdanya rather discouraged. Delhi is beyond polluted - its beyond even science fiction fantasy. But it wasn't the work that she was engaged in, educating Delhi residents regarding the level of toxicity in their air, that was the problem. She had just received a letter from the government requesting all her financial records. In the last few months organizations like 350, Greenpeace, and the Sierra Club have been investigated and their accounts frozen for periods of time. Anyone talking about climate change is seen as a threat to development and the Growth or Die agenda of leader Modi and his crew. In our
audio interview,
Ayesha talks about her work and also the challenges of cultivating a balanced life as an activist, as a lover of earth.
Ayesha encouraged me to visit a family friend and Bollywood director turned eco-agriculturalist when I went to the South.
Mansoor Khan
has written a book called
The Third Curve
which questions the current mantra of "Growth at all cost". This book is written for an Indian audience but allows many different viewpoints to converge on an underlying assumption that has to change. If you go the audio interview you will also see an interview with Tina, Mansoor's partner and co-creator of Acres Wild, a dairy farm and B&B in the tea plantation area of Tamil Nadu.
In the lush hills of their farm, I understood how the cow rules and its poop is the vital soil for the seeds of creativity....in biomass production, in soil cultivation, in cheese making.
While I was there Mansoor was debating his next move, the creative quandary of whether to take the message of his book back into a Bollywood formula to attempt to broaden the audience or pursue a documentary or continue giving presentations to people as diverse as government ministers, ecologists and farmers, academics, even the RSS and business groups. Can you help? See audios and his website for further info.
---
The other reason to come to India was to explore ayurveda treatment/pancha karma for a longer period and at a center that had at its heart ecological priorities. It's a no brainer right? that Ayurveda, the elemental life should be conducted with great respect for those elements. But apparently its relatively rare to have such a conscious attempt to take care of the earth and the food in the way that this center does. They had salvaged the land from previous overuse and their intention was to create a center that held to the classical texts, that demanded simple conscious living (i.e. no TVs and no cocktails or shopping after your shirodhara treatment - believe me it happens!) and that was as self sustaining as possible. And beautiful. It is all that! But if you want your ayurveda mixed with more creature comforts this is not the place to go to.....
In 6 years, by permacultue and re-using all waste water, they had managed to bring their water table up from 600 feet to 150 and to make what looked like a desert into a veritable oasis.
One of the first persons I met here was Shelagh*. A young teacher (32) who had spent the last 2 years dealing with major cancer - colon and ovarian. She had come here not out of any great understanding of Ayurveda but because she had almost given up on her body. It was a last resort. After 6 weeks of some powerful and some not so pleasant treatments, she left with a totally transformed perspective on life and the seeds of possibility were beginning to take root. I asked her if there had been any toxicity in her early life. "Well, my Dad sprayed the grass with roundup every week. And we used to lick the grass!! as kids....My dad worked for Monsanto and I never had a vegetable that wasn't roundup ready til I was at college"
*not her real name
In Bombay - as it was called when I lived there as a child - we would watch the vultures on Malabar Hill and knew that these were the vultures that fed on the dead bodies that the Parsi placed at the top of the hill. Coming back to Bombay after so many years I met someone on their way to a funeral in this area. They told me that there is a problem now. No vultures! Why is that? Because of the toxins that are in human livers and kidneys and because of various chemicals that have been given to livestock.
One of the more pleasant memories of my life as a child in Bombay was the time spent with our ayah/nanny. During my trip, armed only with a non functioning email and a Mumbai address that didn't make sense, I spent a lot of time on lousy internet and a phone wild goose chase trying to track her down. Finally in the last few days, with the help of family and friends, I found her in an old peoples home in Mangalore and rerouted my journey for a short visit. It was 47 years since I had last seen Rosaly (see below with my sisters). In her late 80s, she remembered more than I did of our time together and showed me a little piece of paper that I had apparently given her when I was 8 or 9 with some prayers on it. She has kept this child-offering under her pillow since then. Oh my, not sure if there are words to describe what was felt at that point in the journey. Mother India leaves you one moment crying, one moment in quiet awe.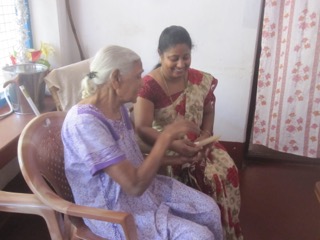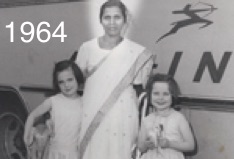 Finally, coming back to the bigger seed story.... India now has a Ministry of Yoga and although it is also the Ministry of Ayurveda and some feel it may mean that a little more of the public health budget might move in that direction (right now 97% is spent on allopathic and 3% on traditional)...some of us are wondering what Modi has in mind. Just as Monsanto and friends are patenting food and seed, will India respond by patenting yoga? The West has already tried to patent neem and basmati rice so its understandable that Indians are nervous about the damage that could be done to their heritage. But just like seeds, we need to preserve our own unique heirloom varieties and keep evolving different varieties and the weeds that have grown up in the mix of a healthy educational and humanitarian soil. Just like the student above, unless the seed of yoga drops deep, it is easy to get caught in monoculture patenting mind.
Variety is the essence of life!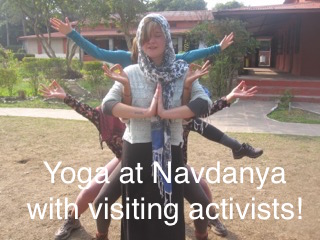 ---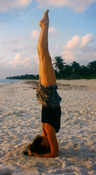 Teachers/Trainees - If you are interested in a one year 300+ hour training/untraining!, that would be based either locally or via Gray Bear and other residential retreats in 2016, please let me know. You would need a 200-hour Yoga Alliance training to attend if you want this advanced course to lead to certification at the 500 hour RYT level.
Teachers Forum -
I may also start a quarterly online conference call series for teachers to discuss such issues as the inversion discussion that is becoming an epidemic since various articles appeared in the press/blogosphere recently.

Seed Sorting at Navdanya
Ayurvedic Delight
SIMPLE CHUTNEY.....My favorite taste delight with our very simple ayurvedic regimen was the coconut chutney!
Follow this simple recipe if you have wonderful fresh coconut available:
Grated fresh coconut and a little fresh ginger, pinch of salt, excellent pepper, a few curry leaves. Blend all together. Taste and adjust seasoning.
Yum! Especially on your 20th day of rice and dahl!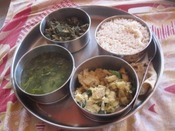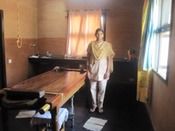 Local Workshops
4/17 SoBo, CA
Indiaspiration
6/13 Yoga and Meditation, SoBo
6/14 Sacramento
Ukiah CA
6/21-25
8/29-30
10/27-28
Omaha
10/30-11/1
Costa Rica in Spanish TBC
12/3-8
2016
3/31 - 4/8