In this newsletter
Some reflections on yoga retreats
Yomo turns 10!
Bioneers Conference, San Rafael California 10/19-21
Updated Local Classes and Workshop Schedules
Michael Pollan on California's Prop. 37
Vinyasa audio series available next week
"Ideal" v. "Memorable"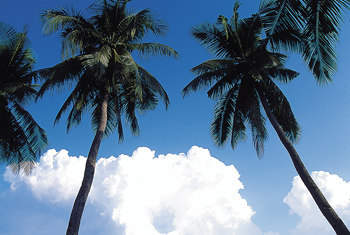 I want to tell you about a very unusual yoga vacation. Yes, it's a vacation rather than a retreat and you will see why soon. I am sure many of you have been to those idyllic yoga-beach resorts, or Himalayan retreat centers, or places like Gray Bear in Tennessee where there is just wilderness, you and your practice and like minded retreatants looking for solace in an over busy world. Nothing quite like it for bringing body and soul together. This is not that kind of yoga happening.
As I reflected back the most memorable yoga retreats are not always ones of bliss and quiet. When I was teaching in Hawaii with Rodney Yee, cosmic views all over the place, serious practitioners everywhere, veggie food delights…all perfect! I do remember one retreat trying to explain to Rodney and Donnas' kids and my seven-year-old daughter why there was so much strange noise coming from one of the pavilions on the grounds of the exquisite retreat center we were at. Concurrent with our retreat, there was a Gay Men's Tantric-Yoga retreat happening…this was back in the early 90s, when these things were less common and yoga retreats in general just beginning to take off along with mainstream yoga.
There was a period of years when I would lead a yoga and white water canoeing retreat down the Trinity and Klamath Rivers with a river guide Dez. To be able to glide (or capsize) down these river canyons and camp at night on the little river beaches, watch the stars and tune into sounds of the forest and the water cocooning your every move, was unbelievable. And yet I often think of the times, that our dear Dez – Viet Nam vet, tattooed from top to bottom, not used to the niceties of the yoga lingo, screaming obscenities at my sweet yoga students as they veered towards a rock or started to space out and keel (with our camp dinner) over. Just the kind of person you would want to have around in a wilderness area, just the kind of skills needed to get you safely through water on the most tipable of floating environments. But oh what language for a yoga retreat!
Another retreat that I was involved in with Rodney was a local longer weekend retreat – another glorious setting, and our first "silent" retreat. I had managed to persuade Rodney and our students that this would be a good idea. Hmmm. Minimal verbal yoga instruction and plenty of time to go deeply inward amid a landscape of redwoods and rivers, incredible support team and divine organic whole foody menu. Towards the end of the retreat, novices at this silence thing, Rodney and I were just dying to know what cosmic depths had been plummeted, what nirvanas touched, …and we waited impatiently for our first opportunity to bring words back into the group at the end of the retreat. I remember our absolute incredulity as we opened the circle after what I thought was a particularly deep and profound practice led by Rodney almost totally in silence. The first offering took over the entire group check-in and had to do with chocolate eclairs and how offensive/delightful their inclusion in the retreat menu had been. We left the group, fighting and bickering among themselves, we shocked amazed …that all this yoga, meditation, quiet time and this is what came out of it - an argument about a pastry! It was almost a redirection in life careers for both of us!
Spanish Fawlty Towers vs. Yoga Retreat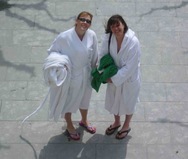 So now let us come to another more recent memorable moment at a yoga event…in Catalunya, Spain. I am careful to say event or vacation because I don't think we could really put this happening into retreat type language, as entertaining and beneficial as it was on many levels.
My first attempt at a yoga retreat in Spain in the early 90s was an interesting fiasco! In the middle of the retreat which was taught with a Spanish friend and included Spanish and international students, a lively bunch. But not as lively as other holiday makers in the Granada mountains – and we had to actually find another hotel in the middle of the retreat! The disco was so intensely loud that none got any sleep till early in the morning. I have to say the students took it all in stride and were amazingly mellow as they packed their bags and we translated locations higher up the mountain.
In the early 80s I used to live in Girona, Catalunya and my idea of fun was to bicycle out to these very old-fashioned traditional spas that you could find in the hills around Girona. These places were not in anyway what most people think of a spa these days. Often a spa nowadays can mean a massage table and a chlorinated Jacuzzi, if that! These older European spas based on the magical thermal waters that came out of the local earth were the source of healing modalities such as Naturopathy. Some of them date back to Roman times and in the 80s, some of the buildings looked – if not Roman – at least in need of a new coat of paint. My young friends and I would meet at these places that had very few visitors under the age of 80, in fact very few visitors altogether. We would delight, after our tortuous bike rides, in the bizarre thermal water treatments that we would go to in the mornings. Sometimes they sprayed you from head to toe with water, sometimes there were mud related treatments. We never had a clue what they were supposed to do and the administrators of these various and sundry arts were always amazed that young-uns (20-somethings) like ourselves enjoyed these quiet, out of the world places. The truth was the combination of the water treatments and a bit of yoga, would leave us completely in another universe...without inhaling anything! And we would then stretch the weekend out lying around in bath robes, doing very little except chatting, eating elderly type food until our mammoth bike rides back to our regular busy lives and work.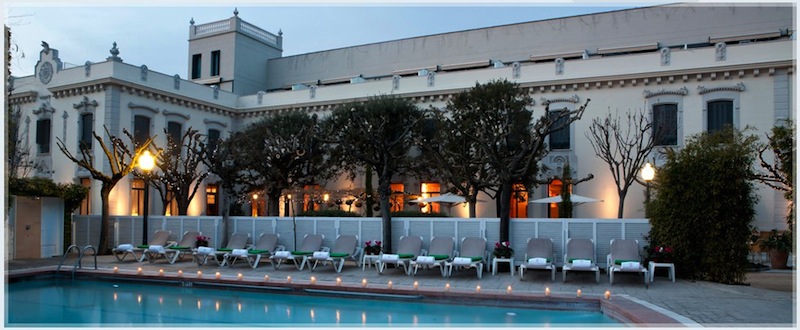 And now these spas have become more upmarket and in vogue. Last year we held a small workshop at
Balneari Prats
in Caldas de Malavela (near Girona) and these memories came flooding back to me. So, even though this particular spa is right next door to the original thermal spa from Roman days, a well-preserved ruin and tourist spot, it has been very spruced up. The clientele is more mixed now but most of our neighbors at the spa, in this off season time, were elderly. Of course now I am almost elderly and most of my students also in their 40s, 50s and 60s, so we found it quite pleasant to hear the Catalan matriarchs giggling to themselves and saying things like "vamos a mirar las ninas haciendo yoga" "lets go look at the kids/girls doing yoga…. In Spain—at least up until very recently and this nail biting recession—ageing healthily and enjoyably is a major consideration for the government. Most of these spas now depend on government sponsored package trips of elderly clients who find the water treatments—all very similar to the strange ones I had experienced over 30 years ago—wonderful for their aching joints and joie de vivre. So even though most of us are not spring chickens, we felt delightfully youthful amid our kindly neighbors.
One of the problems of being in a hotel of mainly elderly clients is that most of them are deaf. And have no idea how loudly they talk or how easy it is for them to snore through extremely loud TV programs. Or even, as occurred one night, set the remote to start the TV up at 2am very loudly. One day the receptionist at the hotel, had a troubled look in her eye told me that they were worried that their discotheque might disturb us. It turns out that at the end of the week, there is always a disco for these 80, 90 and beyond – year-olds. And they dance a nifty paso doble and cha-cha. We were invited, even dragged onto the dance floor and were the recipients of polite Catalan mirth as we attempted to keep up with the octogenarians and not step on everyones toes. As it turned out, it was not a bother at all and ended way before most of us considered it bedtime. But we were touched by their concern for our frailty! and you can imagine there was a little bit of déjà vu here – with situation slightly reversed.
Local Color Indeed
At times I wondered if Manuel would rush from one side of reception to the other on a manic mission for those of you familiar with John Cleese's Fawlty Towers (check it out on Netflix if you don't!). But we did get our morning and evening yoga in, occasionally asking the locals to quiet down a little to no avail.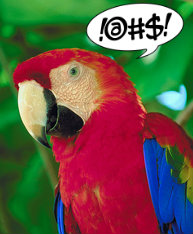 My parting memory is of the cheeky parrot in a large cage in reception, wolf whistling to an elderly gal as she walked slowly towards the desk. The parrot is very insistent and eventually, the dear and very lovely señora turns, and a gentle smile beams all over her face as she bows slightly to the parrot.
Luv it luv it luv it...and maybe you too might luv it and be drawn into this rather strange little event, any age may apply! Please see yoga in Catalunya May 2013.
Reserve your spot for the Catalunyan Yoga "Vacation"
---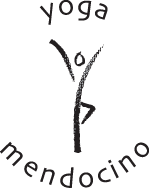 Come celebrate YoMo's 10th Anniversary!
Saturday, October 20th 7:00-10:00pm
Also at Yomo:
November 9th Ajahn Amaro returns to YoMo!
Tea 5:30-6:30pm, Meditation and Reflections 7-8:30pm
A very special evening of dharma teachings with Ajahn Amaro who now resides in England as the abbot of Amaravati Buddhist Monastery. We look forward to hearing from Ajahn Amaro about the shifts and changes that have occurred in his own life since he left this area two years ago. And, of course, how the teachings can help us with the continual transitional existence we all share.
Unfortunately, I won't be able to be at Yomo for the anniversary celebration because I'll be teaching a little yoga at the
Bioneers

Conference
in San Rafael 10/19-21. If you are going to this cutting edge environmental discussion of our bigger body (the earth!), I'll see you at the Council Tent at lunchtimes for some yoga!
---
Local Classes
Thursdays October 4 - 25, 7.30-8.30am
Thursdays October 18 - November 15 (five week series)
Intermediate/Advanced Class
Mondays October 8 - December 17 (no class Monday 11/19 during Thanksgiving week)
5-5.25pm optional silent meditation, 5.30-6.55pm yoga
Go to my Local page for more information on these classes
Upcoming Workshops and "Vacation"
October 26 - 28*
Workshop: The Hip and Other Cautionary Tales
*As of 10/16: Weekend workshop is full 10/26-28, waiting list available. Still room in teachers workshop 10/26. Contact Karla immediately if interested!
November 2 - 4**
The Hip Joint and Other Cautionary Tales
Yoga Teachers Workshop Friday 11/2 12-4pm
Weekend Workshop Friday evening 11/2 - Sunday 11/4
**As of 10/16: Workshop is borderline--you must signup by 10/20 for this workshop to happen!
Amrita Sanctuary - Portland OR
May 26 - 31 2013
Hotel Balneari Prats, Caldas de Malavela, near Girona, Spain
My complete workshop, retreat, and vacation Schedule
---
Some good reading for you Californians and anyone concerned about food...
---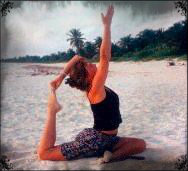 We are putting the finishing touches on a four-practice vinyasa series recorded at Evolve Studio this past summer. It will be available for download or on CD at
my Store
next week.
luv,
m