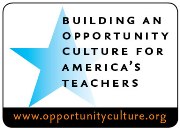 Coming soon from Public Impact: How can you engage teachers in thinking about how to build an Opportunity Culture in their schools? Public Impact is producing a video to help you start the conversation.
Opportunity at the Top: How America's Best Teachers Could Close the Gaps, Raise the Bar, and Keep Our Nation Great [full report or executive summary]
This publication was made possible in part by support from Carnegie Corporation of New York and the Bill & Melinda Gates Foundation. The statements made and views expressed are solely the responsibility of Public Impact.
Prior publications in the Opportunity Culture series were made possible by support of The Joyce Foundation and the Charles and Helen Schwab Foundation.

© 2012 Public Impact
Public Impact has produced a toolkit to select, evaluate, and develop teachers and staff in new school models that extend the reach of excellent teachers to more students, for more pay, within budget.
This is just one of several tools now available to help schools build an "Opportunity Culture" for teachers. Learn more below.
The Teacher and Staff Selection, Evaluation, and Development Toolkit provides job descriptions and tools for interviewing, selecting, developing, and evaluating staff in new school models. The toolkit helps schools match people to roles in which each person can contribute to excellence and continue developing skills and competencies.

Public Impact previously published detailed school models that use job redesign and technology to extend the reach of excellent teachers to more students, for more pay, within budget. In each of these models, teachers have career opportunities dependent upon their excellence, leadership, and student impact. Advancement allows more pay and greater reach. We call this an Opportunity Culture, explained in this infographic.
Most of the models create collaborative teams and enable stronger professional development. All teachers have opportunities to develop, achieve excellence, and pursue career advancement by impacting more students.
Financial planning summary showing how schools can sustainably fund higher teacher pay and other priorities.
Schedule variations showing how top teachers can reach more students with blended learning—with as little as an hour per day of digital learning time per student.
In 2011, Public Impact launched an initiative to help the U.S. close achievement gaps and meet rising global standards by "extending the reach of excellent teachers." These tools are part of the effort to create an Opportunity Culture for all U.S. teachers and students.

With support from Carnegie Corporation of New York, we are also developing partnerships with five major implementation sites nationally to prototype these models in schools, learn from their implementation, and scale up successful approaches. To learn more about the Opportunity Culture sites, click here.