In This Issue:

How much extra pay do Opportunity Culture teachers earn? How much does student learning grow on their watch? And how many students do they reach?

Find these answers and more on the
Opportunity Culture Dashboard
. Every year, Public Impact, which leads the Opportunity Culture initiative, updates the dashboard of engaging facts and figures. Thank you to the many educators who share their data. We use the results to improve our free materials and support for schools and districts, to help you keep reaching more students with excellent teaching. Check out the latest:
225+ schools committed to Opportunity Culture (OC)
1,450+ teachers with advanced roles or on-the-job development
41,000+ students reached by excellent teachers extending their reach
$3.3 million in extra pay for teachers in 2017–18; $10 million since Opportunity Culture was implemented in the first schools five years ago
22 Opportunity Culture sites in 9 states—and growing—a range of urban, suburban, rural
Strong educator support: 97 percent of surveyed multi-classroom leaders (MCLs) and 81 percent of all school staff involved in Opportunity Culture want it to continue in their schools
High growth by MCL-led team teachers: Math gains rose from 50th percentile of teachers to 75th–85th, reading from 50th percentile of teachers to 66th–72nd
See the dashboard for more details.

And please share this newsletter with your colleagues—forward it to your team and principal. You've told us in surveys that district communication about Opportunity Culture is a weak point—help your colleagues to learn more about the initiative and these dashboard results, and to discover the free tools (see below) that were based on the insights and experiences of top Opportunity Culture educators.
Researchers at the Brookings Institution and American Institutes for Research released a study in January showing the effect Opportunity Culture can have: Teachers who were on average at the 50th percentile in student learning gains, and who then joined teams led by multi-classroom leaders, produced learning gains equivalent to those of teachers from the 75th to 85th percentile in math, and, in six of the seven statistical models, from 66th to 72nd percentile in reading.
Tools You Need Now
Ready to help you at crucial points throughout the school year, OpportunityCulture.org has free tools for teachers and multi-classroom leaders, principals, and system leaders.

Summer calls for planning to get you off on the right foot in the new school year. These tools, based on experiences and feedback of top Opportunity Culture educators, help you prepare for a smooth year full of strong results with your students and teaching teams.

Planning tools for principals to start the year off right:
Planning tools for multi-classroom leaders to start the year off right:
See links to all tools for principals, and for MCLs and teachers. Give us your feedback, and tell us what else you need!

Put binge-watching to good use! Watch quick videos of great Opportunity Culture educators to improve your teaching and leading. Find these and more on the Instructional Leadership and Excellence webpages. Our editor and video producer have been busy visiting more Opportunity Culture schools to interview multi-classroom leaders and principals—we thank them for their time and insights! Keep an eye on the webpages for more video clips this summer and fall.
And catch up on gaps in your training—or do the whole series
More awesome tools and videos are coming later in 2018! Watch for them!
Did You Know…Opportunity Culture schools where
students make higher growth also pay their MCLs more?
By Tu Willingham
This column was first published by Georgia Public Broadcasting, May 23, 2018
In many businesses, "efficiency" is a top goal. In work with students, a focus on efficiency may sound cold—but take a look at all the work I must do before I can even begin instruction in my classroom:

Take attendance; grade papers; give meaningful feedback on assignments; collect assignments; implement educational technology; handle discipline concerns; provide remediation for struggling students.

Even as a 24-year teacher with the experience and ability to intuit the specific needs of a class, I find it difficult to effectively execute all these tasks efficiently enough to create more instructional time.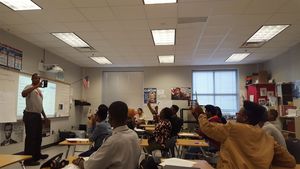 And gaining any time we can for instruction is crucial at any school, but especially at ones like mine—where nearly all students come from economically challenged homes.

I think we've found a way. Beginning in 2016, I became an Opportunity Culture expanded-impact teacher (EIT), in which I teach more students than usual—40 per class instead of 25. EITs are selected for their prior record of success with student learning and are paid more (within regular school budgets); it's an especially effective model for schools that are hard to staff.

Nonetheless, any time you add more students to any teacher's roster can be daunting. At Banneker High, we address that by combining EITs with aspiring teachers. These are full-time teachers in their first or second year in the classroom, selected by the administrative team as a promising new teacher to work alongside the EIT. Now, with two people in the room, all of the menial daily tasks get shared by the EIT and aspiring teacher—meaning we can move more quickly into instruction, with the aspiring teacher learning on the job what it takes to be a great teacher.

In the class block I teach each day with my aspiring teacher, we decided to split the "housekeeping duties" each week. During our planning time, we would decide, for example, who would take roll, while the other collected homework. Then, if we timed it right, I could begin the "bell ringer" assignment or opening lesson as he distributed graded assignments and quietly gave individual feedback on them. What once might have taken 15 or 20 minutes now took five or six—allowing us to create more quality instructional time.

In our school, we see the need for a significant amount of structure within the classroom in order to deliver effective instruction. This model provides that structure and sets the tone for the class. Our students understood very quickly what the task at hand was because we were not bogged down with others unrelated to instruction.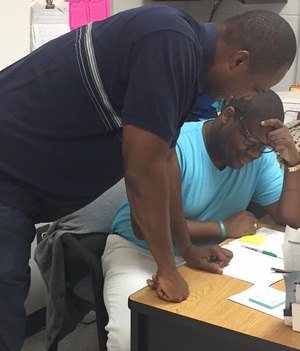 But it wasn't just speeding through those tasks that mattered. Having an EIT-aspiring teacher combination had a pronounced impact on the instruction itself. Because I teach 40 students at a time now, I need more detailed and creative planning.

Our shared creativity was simply magical. I would present an idea for a lesson, and he would help figure out a way to make it more student-friendly and technologically efficient. For instance, during our unit on early America, he created a singalong lesson based on the "Hamilton" musical that truly engaged our students.

And having an additional set of eyes moving around the class helped with discipline and remediation. When one student had questions, we did not have to stop instruction just for him. One of us would simply go to him to explain. I don't believe that students felt as though they were being watched or monitored when that happened; instead, they got the message that we were supporting their learning.

So it feels good—but ultimately, the EIT model will be judged by student progress and growth. In the words of Mark Twain, "figures don't lie." My U.S. history students saw a 13 percent improvement in those scoring a 2 or higher on the state history test from my pre-EIT class, and 71 percent of them passed, versus an average of 66 percent in my other classes. For our student population, that is a significant gain. Notably, the class with the highest scores had the most students. I am clear that my aspiring teacher played a leading role in this progress for this specific class.

And the benefits go beyond one year's worth of students. Keeping teachers in hard-to-staff schools is a goal of Opportunity Culture models like these—and because my aspiring teacher and I formed a bond of trust and professional development, he chose to stay at Banneker this year as a regular classroom teacher.

He and I had some very difficult but necessary conversations last year that were essential to his professional growth. I even had the opportunity to attend his ordination ceremony when he became a youth pastor in his church. On a daily basis, he saw that effective instruction in a disciplined environment was indeed possible when we used certain strategies. Our Opportunity Culture made him feel supported and part of a team. He also saw my shortcomings, and the times I did not have all of the answers. He truly understood that effective instruction is an evolutionary process for every teacher.
---

In my educational career, I have never been a part of a more thoughtful, practical, and effective classroom model than this.

---
In my educational career, I have never been a part of a more thoughtful, practical, and effective classroom model than this. I have reached the twilight of my years in the classroom and feel the need to give back and share what I have learned. I think of the educational profession as a coral reef that adds on more and more to its structure every year—and working in this Opportunity Culture model has played the most significant role in helping me to accomplish my goal of helping teachers new to the profession achieve a level of excellence that we all aspire to reach.

Tu Willingham is an expanded-impact teacher at Banneker High School in College Park, Ga. Opportunity Culture, founded and led by North Carolina-based Public Impact, is a national initiative to extend the reach of excellent teachers and their teams to more students, for more pay, within regular budgets.
See all columns by Opportunity Culture educators, many with accompanying videos,
here
.
Don't be shy—tell us when you get awards for your Opportunity Culture teaching or leadership! We love to spread the word about the successes you're having. You deserve it!
Welcome to the latest announced Opportunity Culture district! Guilford County Schools, based in Greensboro, N.C., and led by Superintendent Sharon Contreras, has joined the national
Opportunity Culture initiative
to extend the reach of excellent teachers and their teams to more students, for more pay, within schools' recurring budgets.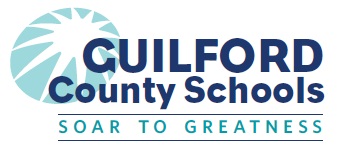 Guilford—one of five districts using Opportunity Culture in North Carolina—will be the second of the state's five largest districts to join the initiative.
Contreras was also the superintendent in Syracuse, N.Y., when she took the unprecedented step of becoming the first collective bargaining Opportunity Culture district in 2014–15, only the third district in the initiative's pilot phase.

Guilford leaders expect Opportunity Culture to help the district meet its new strategic goals by 2022, which include increasing by 50 percent the number of schools that exceed expected growth, and decreasing the achievement gap between black and Latino students and their white peers by 7 percentage points.

Guilford has 126 schools and about 4,800 teachers.

Design teams made up of teachers and administrators at nine Title I schools are now planning their Opportunity Culture implementation for the 2018­–19 school year: Bessemer Elementary, Cone Elementary, Falkener Elementary, Foust Elementary, Hampton Elementary, Wiley Elementary, Ferndale Middle, Hairston Middle, and Jackson Middle.

Hampton Elementary faces the extra challenge of recovering from a tornado that devastated the school in April. (To donate to the relief funds for schools or families affected by the storms, see here.)

Opportunity Culture schools in Guilford will use the multi-classroom leader role, as well as the expanded-impact teacher and reach associate roles. All these roles will receive substantial pay supplements, going up to $20,000 in Title I schools for multi-classroom leaders (MCLs). Supplements vary by how much teachers or MCLs are extending their reach and supporting colleagues.

Thank you to Opportunity Culture schools and educators who share their experiences with others just beginning to contemplate the possibilities! The North Carolina school districts of Charlotte-Mecklenburg, Cabarrus, Edgecombe, and Vance counties are also creating Opportunity Cultures, and teams from Guilford schools visited Opportunity Culture schools in Charlotte-Mecklenburg.
Public Impact's mission is to improve education dramatically for all students, especially low-income students, students of color, and other students whose needs historically have not been well met. We are a team of professionals from many backgrounds, including former teachers. We are researchers, thought leaders, tool-builders, and on-the-ground consultants who work with leading education reformers. For more on Public Impact, please visit www.publicimpact.com.

This newsletter was made possible in part by supporters of the Opportunity Culture initiative. Specific support for publications is listed in each and on the Opportunity Culture
website. The statements made and views expressed are solely the responsibility of Public Impact.