Wild Sockeye Salmon - Portions
$13.00 p/lb

Wild Coho Salmon - Portions
$9.00 p/lb

Wild Keta Salmon -
Large Fillets & Portions
$8.00 p/lb

Smoked Salmon Candy (jerky)
$8.00 p/ 8 oz. pkg
(cured and cold smoked with spices
and brown sugar)

Smoked Sockeye Strips
$8.00 p/ 1 lb. pkg
(hot smoked with spices)

Wild Salmon Burger - Sold Out

Large Order Specials:

1/2 Case - 25 lbs.
Sockeye (portions only) $315

Full Case - 50 lbs.
Sockeye (portions only) $600

Smoked Salmon - 10 or more pkgs get $1.00 off p/pkg

Please contact us for these specials
by Thursday morning

Email: hhuffman@wildalaskasalmonandseafood.com

Cell: 618-303-3949


Get your friends, family and neighbors together to save
call or email us today!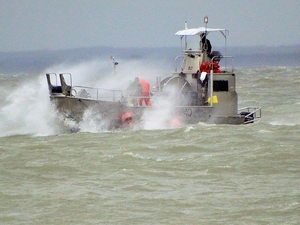 Windy day in the Bay for Captain Tony
and crew on the "Oly".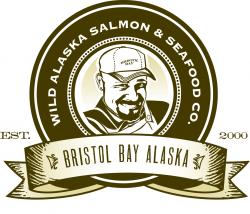 Find us on - Facebook
Ingredients:
1 egg or 2 egg Whites, slightly beaten

2 Tbsp fat-free milk

1 tsp dried minced onion

1/2 tsp dill weed

1/2 - 1 tsp lemon pepper / Cajun seasoning or "Wild Rub"

1 cup soft multi-grain wheat bread crumbs (about 2 slices of bread)

8-10 oz salmon meat, skinless/boneless
Directions:
Preheat oven to 350 F. Spray-coat shallow baking dish. Drain salmon. In mixing bowl, blend egg, milk, onion, dill weed and seasoning. Blend in bread crumbs, then salmon. Divide salmon mixture into 4 pieces. Shape each piece into a 4x2" mini-loaf and place in baking dish. Bake for 20 min. (Serves 4)
Excellent with Bernaise sauce!


Salmon Tartare Recipe
- Sooo Good!
Wild Caught Product of U.S.A.
No Chemicals or Hormones
Sustainable Resource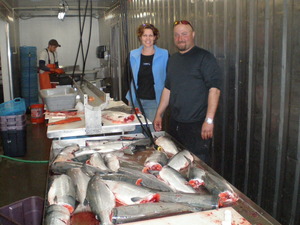 Tony and Heather at the Slime Line