Dear Friends,
Thank you so much
for your enthusiastic financial support for Les Délices! Your support enables and inspires us to continue to bring our high-quality, unique, and compelling programs to growing audiences in Cleveland and beyond!
If you missed making a gift in 2012, we will be equally grateful for your support in 2013.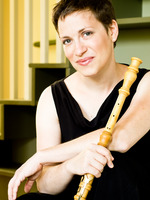 In the meantime, we are eagerly anticipating our upcoming concerts
"Portrait of Love" with renowned lutenist Nigel North & soprano Carrie Henneman Shaw on February 16 & 17.
World-class musicians, an intimate, one-of-a-kind program for Valentine's day, followed by a champagne reception, in a beautiful space...What's not to like?
I look forward to seeing you at the concerts!

Debra Nagy
Founder and Director, Les Délices
---
Feb 16 & 17: Portrait of Love with Nigel North, lute & theorbo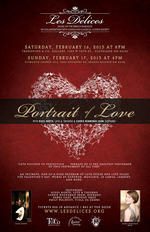 Renowned for his solo recordings of Bach and Dowland, Nigel North has brought lute playing in the modern era to a new standard. North's concerts with Les Délices present a rare opportunity to hear him work his magic as a collaborator, coaxing lyricism and emotion from within the ensemble. Soprano Carrie Henneman Shaw has been hailed as a "major musical force" (St. Paul Pioneer Press).
North and Shaw are joined by Emily Walhout (viola da gamba) and Les Délices' director Debra Nagy (baroque oboe and recorder) for this intimate, one-of-a-kind program of love songs by Pierre Guèdron, Joseph Chabanceau de la Barre, and Michel Lambert, Solos for lute and theorbo by Robert Ballard and Robert de Viseé complete the program.
Info & Tickets
These performances are not to be missed!


Nigel North plays Weiss - Sarabande from Partita in g minor
---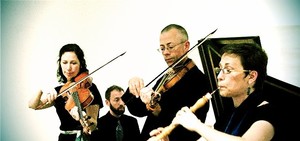 News & Reviews:
"Superb...fascinating...enchanting...[a] tiny powerhouse!" - Plain Dealer

"Inventive...virtuoso performances...with flair and nuance" - ClevelandClassical.com
Praise for Myths & Allegories:

"another CD triumph...the musicians are models of shapely phrasing...guest soprano Clara Rottsolk animates the texts, caressing words, and adding vocal shimmer to every line." - Plain Dealer

"superb...lively, fresh, and continually listenable." -ClevelandClassical.com

Purchase from CDbaby.com
Did you miss our performance & interview on Ideastream's Applause? Watch the archived show here.
---
Soprano Carrie Henneman Shaw is known across the US for her vivid, unique performances of Baroque and contemporary classical music.
Praised as a "major musical force" (St. Paul Pioneer Press), "consistently stylish" (Boston Globe), a "cool, precise soprano" (Chicago Tribune), and "startlingly moving" (Hub Review), Shaw appears with Boston Early Music Festival, the Chicago Symphony's MusicNow series, The Newberry Consort, Haymarket Opera Company, Ensemble 61, Zeitgeist and Lyra Baroque Orchestra. She has given numerous world and U.S. premieres, most recently the premiere of Abbie Betinis's 'Moonlight' for soprano and cello, a live-music-for-dance piece by Jocelyn Hagen, and the U.S. premiere of Hans Thomalla's multi-media work 'The Brightest Form of Absence' for large chamber ensemble and soprano. In summer 2013, Carrie can be heard singing the role of 'Euridice' in Boston Early Music Festival's production of Charpentier's 'La descente d'Orfée aux Enfers'. Carrie holds degrees from Lawrence University and the University of Minnesota, and serves as an instructor at the national Lute Society of America conference in Cleveland. She is co-artistic director of St. Paul-based Glorious Revolution Baroque.
Visit Carrie's website
Carrie sings & talks about her relationship to historical performance and her baroque ensemble in the Twin Cities