Location: NEW Center, 1100 North Main Street, Ann Arbor, MI 48104
RSVP to Pam at plabadie@hrwc.org, (734) 769-5123 x 602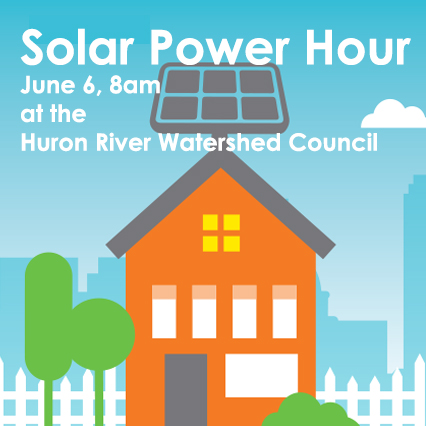 Learn how to determine if your home is a good candidate for solar; first steps for starting a project; whether to take out a loan or purchase your panels outright; what the payback period will be; and how the federal 30% tax credit works.
HRWC is hosting a "Solar Power Hour" with the A2 Solar Club in support of the City of Ann Arbor's solar discount program for residents of Ann Arbor and Washtenaw County.
The A2 Solar Club's goal is to help property owners within our community switch to solar energy and to propel our community toward meeting Ann Arbor's ambitious climate action goals. The program is a partnership between the City of Ann Arbor, its Energy Commission, the Clean Energy Coalition, and Geostellar.
Not only does the City's partnership with Geostellar mean that you'll have a seasoned "solar guide" to walk you through every step of the process from assessing your property to hooking your panels into DTE's grid, but you'll also be getting an extended warranty and a low price guarantee.
More Solar Power Hours:
Thursday, May 25, 12-1pm. Interfaith Council for Peace and Justice, 1414 Hill Street Ann Arbor MI 48104. (734) 663-1870


Tuesday, May 30, 7-8pm. Ecology Center at the Westgate Library, 2503 Jackson Ave (in Westgate Shopping Center) Ann Arbor, MI 48103. (734) 327-4200