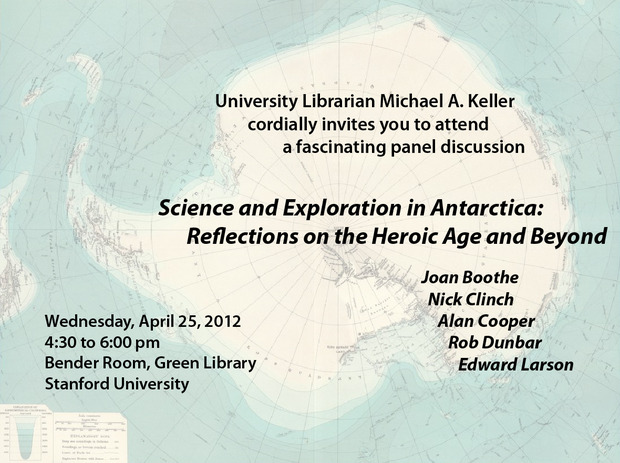 Image: South Polar regions. The Edinburgh Geographical Institute, John Bartholomew & Son, Ltd.
"The Times" atlas. (London: The Times, 1922). David Rumsey Map Collection.

2012 marks the centenary of Captain Robert Falcon Scott's last expedition to Antarctica; Scott and his men reached the South Pole on 17 January 1912, only to discover that Norwegian explorer Roald Amundsen had beaten them to the prize. Scott and his party perished on the return route. Recently, studies of Scott's expedition and other explorations of the "Heroic Age" have re-emphasized the scientific contributions made by these pioneers.

The study of both the human and scientific history of Antarctica thrives at Stanford: Continuing Studies Lecturer and bibliophile Joan Boothe has studied the history of human exploration of the Antarctic and is author of The Storied Ice: Exploration, Discovery, and Adventure in Antarctica's Peninsula Region (Regent Press, 2011) and collected the print culture of Antarctic exploration. Nick Clinch, a Stanford graduate, attorney, and accomplished alpinist led the first ascent of Vinson Massif, the highest mountain in Antarctica in 1966. Alan Cooper, an emeritus geophysicist with the Coastal and Marine Geology Program of the U.S. Geological Survey (USGS) and consulting Professor in Geological and Environmental Sciences has led efforts to collect seismic data from Antarctica. Rob Dunbar, W.M. Keck Professor in the School of Earth Sciences, has studied ancient seafloor sediments under the East Antarctic Ice Sheet to find evidence of Earth's past climate – and clues to our future climate. Edward Larson is a visiting professor of law at Stanford University and author of An Empire of Ice: Scott, Shackleton and the Heroic Age of Antarctic Science (Yale University Press, 2011). Larson is the University Professor of History and holds the Hugh and Hazel Darling Chair in Law at Pepperdine University. He is the recipient of the 1998 Pulitzer Prize in History.

Joan Boothe's book will be available for purchase and signing. Light refreshments will be served.
RSVP to Sonia Lee if you would like to attend: sonialee@stanford.edu, 650.736.9538

Map, parking is free on campus after 4 pm.
Closest parking may be found on Galvez St., Serra St., or The Oval (top of Palm Dr.)
This event is free and open to the public.