Digital Papyrology: Greek Fragments in the
Stanford Classics Department Collection
By David Jordan (comment to author)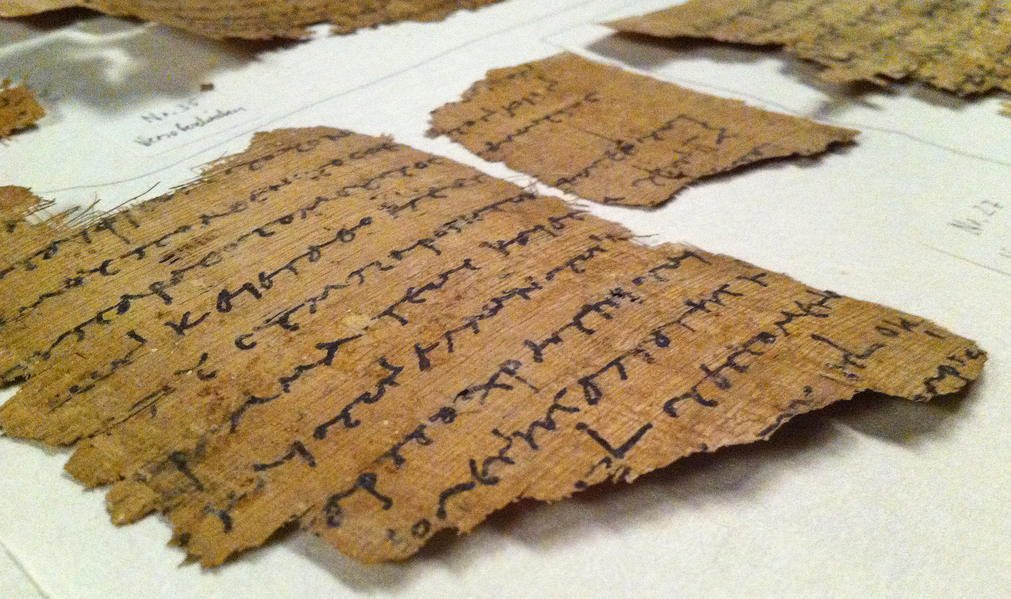 At faculty request, I had the privilege of assembling a team with expertise in storing, handling, imaging, reading and interpreting ancient Egyptian papyri for the purpose of digitizing and publishing online a group of fragments written in Greek. The fragments are part of the Classics Department Papyri Collection, which is currently on deposit (with access to the original fragments by special request only) in Special Collections. In the 1980s, the department purchased about 75 Egyptian papyri for use as a teaching and research collection. The provenance of the papyri is uncertain, but like many others they could have been found in ancient garbage dumps or mummy wrappings (cartonnage). Hellenistic in origin, nearly all date from 250-150 BCE. Their texts, written in ancient Greek and Demotic, are documentary in nature: official letters, receipts, accounts, contracts, petitions (including one from jail), land measurement, public sale at auction, and lists of names. A well illustrated summary of the numerous languages and scripts found in papyri is available at Writing in Graeco-Roman Egypt (University of Michigan Library).

Advanced Papyrological Information System (APIS), a site aggregating papyri collections mostly, but not exclusively, in North American libraries, has more than 28,000 records and 18,000 images. Several years ago, the Classics Department Papyri Collection was listed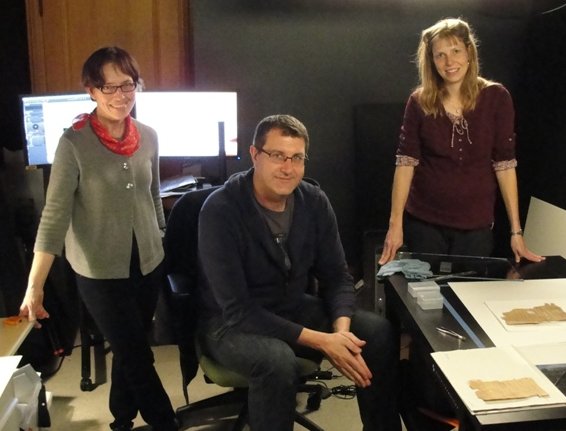 and described on APIS, with accompanying images of those written in Demotic, but funding ran out for providing images of those in Greek. With recent support from Digital Library Systems and Services (DLSS), the project was resumed by the team (pictured left to right) of Beth Ryan from Preservation and Conservation, Wayne Vanderkuil from the Digital Production Group, and Christelle Fischer-Bovet, Stanford PhD in Classics, 2008 and currently assistant professor in Classics at University of Southern California. As a graduate student at Stanford, Fischer-Bovet studied the Greek papyri and expects to publish her findings soon. The Greek images have now been provided to APIS and will be available there within the next few months, accessible by choosing "Stanford" in the institution drop-down menu.

It is an interesting question whether, assuming the consent of private and institutional owners – which cannot be taken for granted – the entire body of pre-modern Western written culture could be placed online. Because so many ancient and medieval written artifacts remain in private collections, no one knows precisely how many exist. For instance, there are approximately 2,600 Books of Hours in cataloged library holdings, but perhaps as many as 7,500 in private hands. Of papyri, the sands of Egypt (mainly) have to the present yielded, according to the Leuven Database of Ancient Books (LDAB), more than 16,000 Greek, Latin, Demotic and Coptic literary texts, and many times more diplomatic documents. In "Carolingian Culture and the Making of the Literary Culture of the Middle Ages," an essay in Literary Cultures and the Material Book (The British Library, 2007), David Ganz calculated that fewer than 10,000 pre-tenth-century parchment codices have survived:
"E. A. Lowe's Codices Latini Antiquiores and its supplements include around 1950 surviving manuscripts, from tiny scraps to complete one-volume bibles (pandects) copied before around 800. In the ninth century we have some 7,200 manuscripts, of which 3,884 have been listed and dated in the catalogue of ninth-century manuscripts which was the life's work of the great German palaeographer Bernhard Bischoff." (p. 147)
Of course, the later medieval period is much better represented by extant codices. Indicative of the interdisciplinary nature of modern manuscript studies, advanced statistical methods have been applied to this question to estimate manuscript survival rates and extant numbers. See, for instance, "How Science Survived: Medieval Manuscripts' "Demography" and Classic Texts' Extinction," John L. Cisne (Science, 2005) and Medieval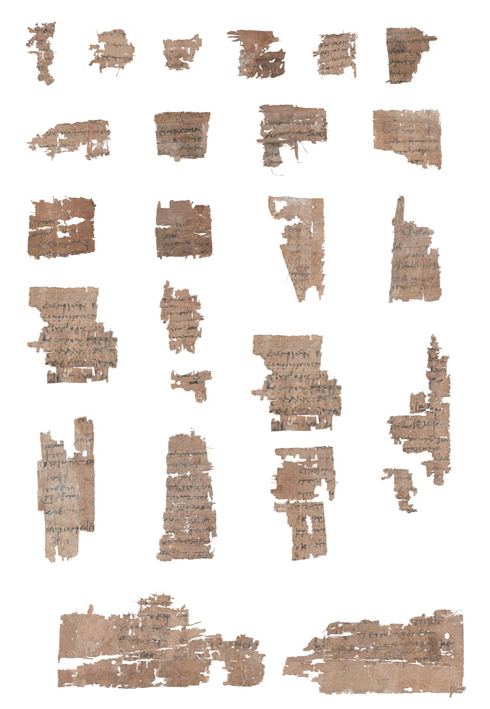 manuscript production in the Latin West: explorations with a global database, Eltjo Buringh (Brill, 2011). Pre-1600 manuscripts on papyri and parchment from the Western world may number one to two million, an imposing number but not an insurmountable one relative to the ongoing digitization of printed books.

An August, 2011 report from the Council on Library and Information Resources (CLIR), "Rome Wasn't Digitized in a Day": Building a Cyberinfrastructure for Digital Classicists, by Alison Babeu, superbly summarizes the current state of digital resources for the numerous academic disciplines – paleography, papyrology, epigraphy, archaeology, numismatics, geography, art, philology, etc. – studying the classical past. The report credits Ann E. Hanson with noting that "there was a considerable amount of collegiality between scholars and collectors that was described as the amicitia papyrologorum, and this collaborative nature of papyrological research continues today." As a result, the report adds, "Both individual papyri collections and massive integrated databases of papyri can be found online. In fact, digital papyrology is considered to be a relatively 'mature' digital discipline." (p. 141)

The Stanford Classics Department has a rich history in epigraphy and papyrology, in part owing to the teaching and scholarship of Professor Anthony E. Raubitschek (1912-1999), for whom a room in Green Library, containing resources (many from his own collection) in Greek and Latin epigraphy and papyrology, is named. Supplementary resources include a second collection of papyri, donated by alumnus Stewart M. Marshall in 1953 with additional materials transferred from the University Museum of Art (as it was called then) in 1971; a gift in 2007 from alumna Chele Chiavacci in memory of her grandmother, Edna Kumpe Upton, enabling the purchase of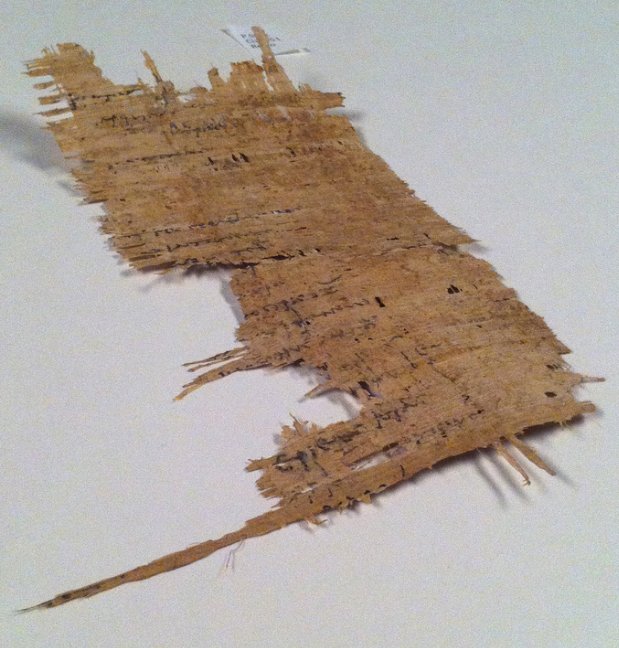 one of the world's best remaining private libraries of Egyptology, that of renowned scholar and collector Wolja Erichsen (1890 –1966), whose handwritten annotations are found in many of the books; and the proximity and collegiality of the The Center for the Tebtunis Papyri at the Bancroft Library, Berkeley.

A somewhat surprising outcome of this project was the discovery that the digitization labs in Green Library are themselves an underutilized teaching resource. Astrid Smith, digitization specialist for Rare Books and Special Collections, hosted a session for the winter quarter paleography seminar in which the process of imaging fragile and unique (and thus irreplaceable if damaged or lost) texts was demonstrated for students. The students, who throughout the seminar had worked with both original materials and digital versions, were deeply interested in the laboratory setting where manuscripts and technologies interact.

ReMix readers interested in examining ancient papyri and medieval manuscripts online may request an "Exemplary Manuscript Websites" list (a work in progress) by writing to the author at dajordan@stanford.edu.