The month of December is full of festivities, starting with First Friday and Holiday Open House and our Group Show with Brenda Boylan, Michael Orwick, Katie Hovis of Whimsy and Ali Peret Designs.
Gayle has shown at the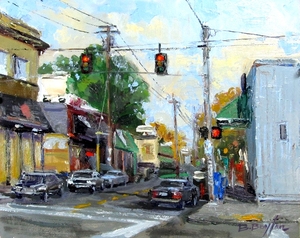 Back with lots of brand new work is Brenda Boylan. Most of you know Brenda's gorgeous, landscape pastel work, but she has been working in oils this year and will be showing a body of work including city scapes. Also joining the festivities will be oil painter, Michael Orwick whose beautiful landscapes of familiar Oregon locations are always popular.

Also in the Gallery, beautiful blown glass bowls by Russell Ford and unique extruded crystal lamps by Keith Appleman.
These glass pieces make wonderful gifts and additions to your home decor.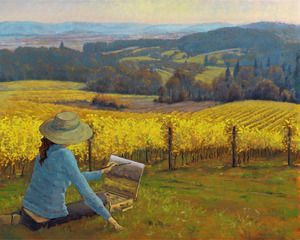 Visit Ali Peret Custom Designs and see what he has available for gift giving. If your in the market for a special Christmas gift, don't wait till the last minute-now is the time to shop!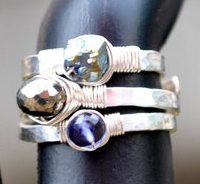 If you love artisan jewelry, Katie Hovis of Whimsy will be here with her gorgeous new rings. Very cute, very affordable! Katie uses fine metals and gemstones for her wire wrapped jewelry. Always unique and one-of-a kind.

We will have Rip's sculpture "Mary and Joseph" on view and available for Christmas. Ask to see this beautiful piece.
Al

ong with these popular artists, we will have entertainment by songwriter and vocalist, Crystal Lariza and FREE wine tasting with our friends from Phelps Creek Vineyard!
Make sure to start your weekend off with us! Festivities start at 5:00 p.m. Most Troutdale Merchants participate in First Friday and this month's will coincide with Troutdale's Tree Lighting Ceremony in Mayor's Square, so we guarantee plenty of Christmas spirit! Troutdale has great restaurants, shops and lots of parking.

There will be no First Friday in January, but we'll be back on February 1, 2013.
Holiday Open House throughout the weekend Dec. 8th - 9th.
Come view the precast offerings and enjoy holiday refreshments.
Receive an exclusive Caswell gift with any purchase!


And, remember, Caswell Gallery offers a simple layaway plan!
Follow our blog!
We have launched the Caswell Gallery blog. We are blogging about all kinds of things, so take a look and sign on. If you have any suggestions or ideas of topics you would like to know about or have us look into, let us know, it could be our next blog post.