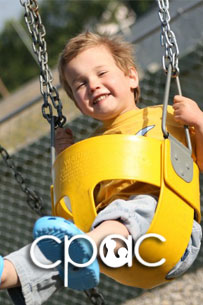 March E-News from
Connecticut Parent Advocacy Center

Spring is right around the corner and spring weather is already here! We have lots of workshops scheduled during the next few months and some great resources to share with you. As always, we welcome your calls and emails and look forward to providing you information and support.

Accessible Instructional Materials (AIM) Basics for Families
PACER Center and the National Center on Accessible Instructional Materials has created a booklet (in English and Spanish) to help parents and members of a child's Planning and Placement Team decide whether the child needs AIM, what types of specialized support the student needs, how to access the materials for the student and what supports the student needs to use AIM.
Access the Booklet on the National Center on Accessible Instructional Materials website
---
New Lending Library Resources
The internet is an invaluable resource, but there are also some excellent books available on topics related to special education.
Check out a few of the new additions to our Lending Library.

"How Well Does Your IEP Measure Up? Quality Indicators for Effective Service Delivery" by Diane Twachtman-Cullen, Ph.D. and Jennifer Twachtman-Reilly

"Late, Lost and Unprepared: A Parents' Guide to Helping Children with Executive Functioning" by Joyce Cooper-Kahn, Ph.D. and Laurie Dietzel, Ph.D.

"The Parent's Guide to College for Students on the Autism Spectrum" by Jane Thierfeld Brown, Ed., Lorraine Wolf, Ph.D., Lisa King, MEd. and G. Ruth Bork, MEd.

Contact us by phone or email to borrow a book from our library.
---
Parent Perspectives on Bullying
Connecticut Parent Advocacy Center is interested in parent perceptions regarding bullying and student-to-student harassment. Children with disabilities are one of the most vulnerable groups of students targeted by children who bully. As the number of bullying incidents continues to rise in our schools, what can we learn from parents so they feel their fears are understood and validated, their concerns have been appropriately addressed and their children are supported and valued as members of the school community?
To share your experiences, please complete this brief survey
---
Good Grades: Does My Child Still Need Special Instruction?
Wrightslaw addresses parents questions regarding what to do if a child is getting good grades but struggling with homework and schoolwork.
Visit the Wrightslaw website to read the article
---
Students at Norwich Free Academy (NFA) Create Video for R-Word Campaign
If you haven't seen it yet, be sure to view this powerful video created by students and staff at NFA to promote the R-Word Campaign, a campaign to stop the derogatory use of the r-word in everyday speech and promote the inclusion and acceptance of people with intellectual disabilities.
Watch the video
---
Family Voices' Family Matters Booklet
Family Voices has created "Family Matters: Promoting Health and Wellness for Children with Special Health Care Needs Family Booklet." The publication offers information on healthy eating, physical activity and screen time.
Access the booklet online
---
A Parent's Guide to Response-to-Intervention
The National Center for Learning Disabilities RTI Action Network has developed "A Parent's Guide to Response-to-Intervention" for parents and schools involved in implementing response to intervention (RTI) in the elementary grades. In Connecticut, RTI is referred to scientific research-based interventions (SRBI). The guide offers parent perspectives, a glossary, explanations of tiered interventions, sample interventions plans, checklists and worksheets.
View the guide online on the NCLD website
---
Proposed Bill Of Rights Aims To Narrow Deaf Children's Learning Gap
Advocates for children who are deaf are campaigning for a Deaf Child Bill of Rights, which the General Assembly's education committee is considering. Chris Calabrese, clerk of the committee, said the bill would be drafted this week.
Upcoming Events

The following workshops will be presented by Connecticut Parent Advocacy Center. Click on the workshop title for full descriptions. Registration is required for all workshops.

For more information or to register, visit www.cpacinc.org/workshop-registration or contact CPAC at 1-800-445-2722 or cpac@cpacinc.org.
---
About Us
CPAC is a statewide non-profit organization providing information and support to families in Connecticut who have children, ages birth to 26, with any disability or chronic illness. We believe that parents can be the most effective advocates for their children given the confidence that knowledge and understanding of special education laws can bring.