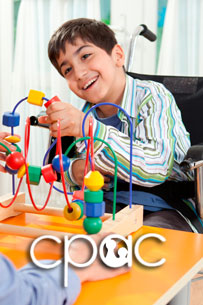 May E-News from
Connecticut Parent Advocacy Center

Spring has been a busy season for education in Connecticut. In this e-news, we will highlight some of the upcoming changes to education in CT, important information about the Parent Survey of Special Education in Connecticut, as well as new resources and research. As always, we encourage you to contact us if you have any questions.

CT Education Reform Information
CT's new education reform bill will bring many more changes than the highly publicized revisions to teacher tenure. The bill, which was signed on May 15th by Governor Malloy, will mean be up to 1,000 new preschool slots, 20 more school-based health clinics, 20 minutes of mandated school recess, a new focus on getting students to learn to read by the time they leave third grade, and funding to open 10 new family resource centers designed to provide parent education and training.
Read more about the bill, "More preschool slots, reading focus on tap for schools through education reform" by Linda Conner Lambeck
---
Parent Survey of Special Education in Connecticut
Each year, the Bureau of Special Education conducts a survey of parents of students receiving special education services, ages 3 through 21, in a sample of school districts throughout the state.
Districts chosen to participate in this year's survey include: Andover, Derby, Lebanon, North Stonington, Shelton, Windsor, Ashford, East Lyme, Madison, Orange, Canton, Easton, Preston, Westbrook, Chester, Killingly, New London, Sharon, Wilton and a sample of parents in Waterbury and New Britain.
Within the next week, parents of children receiving special education in these districts will receive an envelope in the mail with a return address of Glen Martin & Associates (GMA) containing the survey. Parents can also complete the survey online.
Find out more about the survey
---
Connecticut Birth to Three System Under One Initiative
CT's Birth to Three system is taking proactive steps to ensure that all infants and toddlers who are eligible for early intervention services are identified at the earliest possible age. The new "Under One" initiative aims to discover how children can be identified earlier, target public awareness and increase the number of children under the age of one enrolled in Birth to Three.
Read the announcement of the new Child Find initiative
---
Math Matters, Even for Little Kids
A new study by the University of California, Irvine, suggests that early math skills are even more important than early literacy skills in predicting academic success. Check out the ideas and challenges to enhancing early math experiences in this article.
Math Matters: Even for Little Kids by Deborah Stipek, Alan Schoenfeld and Deanna Gomby
---
New U.S. Department of Education Resource Document Discouraging Restraint and Seclusion
The U.S. Department of Education issued a publication that outlines principles for educators, parents and other stakeholders to consider when developing or refining policies and procedures to support positive behavioral interventions and avoid the use of restraint and seclusion. The goal of this resource document is to help ensure that schools are safe and healthy environments where all students can learn, develop and participate in instructional programs that promote high levels of academic achievement. The 15 principles that frame the document highlight how schoolwide behavioral interventions can significantly reduce or eliminate the use of restraint or seclusion.
Read the Restraint and Seclusion: Resource Document
---
Camps for Kids with Special Needs
Summer is right around the corner. Check out this great article from Kids Health about everything you need to know about camps for children with special needs.
Read Camps for Kids with Special Needs
---
Standards Open the Door for Best Practices For Special Education
Some instructional approaches associated closely with special education, especially universal design for learning and response to intervention, are gaining traction more quickly than ever as more states and districts look to them as the ideal tools to implement the Common Core State Standards.
Standards Open the Door for Best Practices for Special Education by Nirvi Shah
---
Teacher's Perspective: Does Your Student Have Executive Dysfunction?
Students with executive dysfunction have problems of a neurobiological nature that particularly affect planning, flexibility, organization, and self-monitoring. Check out this article by Tracy Landon and Linda Oggel for some tips on how to help students who have difficulty with executive functioning.
Teacher's Perspective: Does Your Student have Executive Dysfunction by Tracy Landon and Linda Oggel
---
Achieve College: A Guide for College Access
The Intercultural Development Research Association (IDRA) has published a bilingual (English/Spanish) guide entitled, "Achieve College ~ ¡Hacia Adelante! ~ A Guide for College Access." The guide promotes a collaborative approach to goal-setting and decision-making among student, family, and school. It includes four steps: getting ready in high school, making a good choice of a college, applying early to several colleges, and planning to get financial help.
Find out how to purchase the Guide