Dragon Carrots, Bulls Blood Beets Comin' to Gitcha!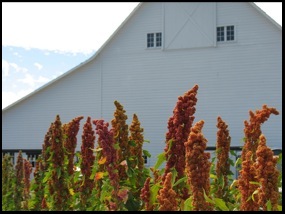 Volunteer Garden Crew Update -
The volunteers have been busy clearing and preparing beds, planting cover crops, corralling and moving the chickens, harvesting tomato, basil, wheat and quinoa. We have been busy! Our food harvest donations are close to 800 pounds so far for the season. We look forward to the later fall harvest of winter squash, onions and potatoes.
Garden News
Seeding & Transplanting has kept us busy and on our toes this month, from 'Dragon' Carrots to Bulls Blood Beets and numerous heirloom varieties of Lettuce, Chard and even Kohlrabi. We are especially looking forward to the Purple Peacock Broccoli and a very old Beet variety dating to 1885 named 'Crapaudine'. Two solid beds of Winter Greens were planted in early September with more going in soon. These kale and green beds will allow us to continue donating fresh produce this winter to the Tualatin School House Pantry. Along with the greens come more cover crop seeds of Crimson Clover and Oats. Our beds will be ready and fertile for next Spring's post cover crop.
Save the Date - You can purchase organic veggie starts and support the OEC on September 17 at our Plant Sale & Open House at Luscher Farm in the Tilth Gardens! Here's a sampling of what we'll be selling:
Purple Sprouting, De Cicco, & Purple Peacock Broccoli

Bull's Blood Beet

Ruby Streaks Mustard

Rainbow Chard

Red Choi Pac Choi

Slow Bolt Cilantro

Spinach

Lacinato and Russian White Kale

Italian Flat Leaf Parsley

Marvel of 4 Seasons Lettuce

Winter Cover Crop seed
Invite a Friend
Do you know someone who is interested in food systems that are healthy for people as well as the environment? Invite them to become a supporting member of Oregon Tilth! Members of Oregon Tilth receive the bi-monthly In Good Tilth Magazine, discounts to events and classes and more!
Become a Fan!
Hey! You need to start sportin some cool Tilth Gear! Check out our Store!
---
Upcoming Classes - Join us!
Sept. 17. (10 am – 3 pm) Tilth Plant Sale & Open House
. Free event in celebration of Organically Grown in Oregon Week.
Sept. 28 - Oct. 19, Comprehensive Organic Gardener Program.
Multi-session program in organic vegetable gardening.
To register, Click Here!.
Don't forget to check out these other tilth-worthy events...