IN THIS ISSUE:
1. Overpaid CEOs Under-Deliver for Shareholders
(3rd annual report of As You Sow, with HIP Investor)

2. How Cities Can Finance GHG Reductions with Positive ROI: 20 mechanisms, 8 partnership types (by HIP Investor and City of Palo Alto for USDN.org)

3. Strategies for Energy Investing in the Trump Era: HIP featured in the New York Times

4. How Higher Impact Portfolios Can Outperform: HIP authored column in CR magazine

5. The $30 Trillion Impact Investing Opportunity: HIP featured in WorldPositive.org

6. How to Go Fossil-Free and Sustainable in Your Company's 401(k): HIP featured in Fast Company

7. How to Quantify Well-Being: the mechanics of HIP Investor's Ratings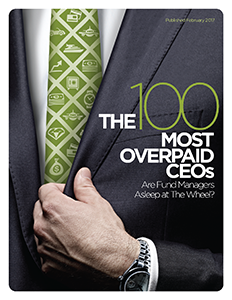 As You Sow, with HIP Investor, shows how the top 100 firms with Overpaid CEOs lag the S&P500, and even destroy share value

Are firms with Overpaid CEOs in your portfolio?

Stocks in firms led by Overpaid CEOs underperform as a group, and some even lose value, especially after Board approve high CEO pay. HIP has analyzed "CEO pay to average worker pay ratio" since our founding 11 years ago, and calculates this leading indicator for our universe of nearly 6,000 companies globally.

Also, fund managers analyzed by As You Sow, frequently vote with the Board for overpaying CEOs -- what do your fund managers do?

Authored by compensation and proxy expert Rosanna Landis Weaver of As You Sow, with analysis and performance analyzed by HIP Investor's SVP of Analytics Fabian Willskytt

---


How can cities finance GHG reductions and positive ROI?

This action-oriented "how-to toolkit" for Chief Sustainability Officers and Chief Financial Officers catalogs 20 financial mechanisms already in use, and 8 partnership structures -- for cities striving towards bold climate action and sustainability goals, including a scan report, infographic of finance options, and conference agenda.

USDN.org members include 150+ cities in USA and Canada seeking to reduce GHGs by 20% to 80% by 2050 or sooner. City of Palo Alto has committed to 80% reductions by 2030, inspired by its Chief Sustainability Officer Gil Friend and city council approval.

Write us to learn more on how your city can become more sustainable, reduce GHGs and generate positive ROI for investors.
Download 250 page PPT
and 1-page Infographic HERE
Trump May Not Like Alternative Energy, But Investors Should
HIP Investor shares strategies for your portfolio in the new political environment

"R. Paul Herman, the chief executive of HIP Investor, an investment rater and portfolio manager, said investors looking for broad guidance should keep three things in mind...."
Read The Full Feature HERE
Learn How Investors Use HIP to Take Action

Higher Impact Portfolios Can Outperform
Leading indicators of business performance typically have lower risk and higher profitability, which investors can pursue

"Solving human and environmental problems with investment portfolios builds a better world—and can yield higher income and profits too. Would a responsible executive purposefully invest their retirement money to underpay people, destroy nature, or foster corruption? Today's business world can be quite volatile, and if people choose to operate in this way— intentionally or not—their portfolios might not survive."

Read The Full Feature HERE
Are HIP Portfolios Right For You?

The $30 Trillion Consumer Investing Opportunity
Demand for new investing approaches is growing, but funds may not be as clean as they seem.

"Historically, the 'socially responsible' in SRI has been more of a judgment call than a quantitative measured ratio," says R. Paul Herman of HIP Investor, which developed its own ratings system to rank different types of investments for risk, potential return, and their impact on society (HIP translates to human impact + profit). "Plus, no company is perfect, but a mix of stronger and weaker characteristics."

Read The Full Feature HERE

HIP's 32,000 Ratings Can Help You Seek
Higher Impact & Profit



How To Convince Your Employer To Divest Your 401(k) From Fossil Fuels
A movement to create retirement options that look to a cleaner future begins with your firm.

"It's easier, medium, or hard depending on if you're working for a small, mid-sized, or large company," says R. Paul Herman, CEO of HIP (Human Impact + Profit) Investor, a company that rates the social and environmental impact of 32,000 stocks, bonds, and mutual funds. "What we've found with small companies is that they are very adept and agile and listen to their employees."

Read how to convince your company to go fossil-free and sustainable in your 401(k) HERE

Sustainable, Fossil-Free 401(k)s For Everyday Investors: Are They Available For Your Company's Retirment Plan?
_____
HIP Investor's Award-Winning Whitepaper,
Solid Approach to Investing with Impact

Quantifying Well-Being and Impact Can Drive Investors to Build a Better World
In this detailed whitepaper, HIP Investor explains its methodology, including financial evidence for stronger, more resilient portfolios
When companies create quantifiable value for society as well as shareholders, those firms can be more profitable and become the foundation of a stronger portfolio. Across all investment types (cash, fixed income, equities, venture, real estate) human, social, and environmental impact can be quantified, scored and valued – and linked to profit and shareholder value. Yet, investors, advisers and brokers are ignoring this potential today. 21st century investors and their fiduciaries will capture this potential upside of a better world and strong portfolios.
Read The Full Award-Winning White Paper HERE
---
---
HIP INVESTOR'S DISCLOSURES AND DISCLAIMERS
This is not an offer of securities. Past performance is not indicative of future results. All investing involves risk.

The views expressed by registered representatives and the investment adviser are for informational and educational purposes only, and are not investment recommendations or an offer of securities.
For a full description of services and disclosures (including fees) relating to separately managed accounts, portfolio management, and wealth management at HIP, please read HIP's Part II of Form ADV (which can be found at http://adviserinfo.sec.gov).
All investments may lose value and risk possible loss of principal. HIP Investor Inc. or its Advisory Representatives do not provide tax advice. You should consult with your tax advisor on specific tax issues.
This newsletter should not be construed as a solicitation or offer to sell investment advisory services except where HIP Investor, Inc. is registered or where an exemption or exclusion from such registration exists.

HIP Investor Ratings LLC is an independent limited-liability company, providing ratings to investors, advisors, fund managers and retirement plans, including 401(k)s.

HIP Investor Inc. is a registered investment adviser, registered in the states of California, Illinois and Washington, and serves clients in other states.
RSVP For These Upcoming Events
---

GIFT IDEA:
for Your Family, Friends, Co-Workers, Clients
and 401(k) Manager


Read the best-seller,
add to your curriculum,
or give as a gift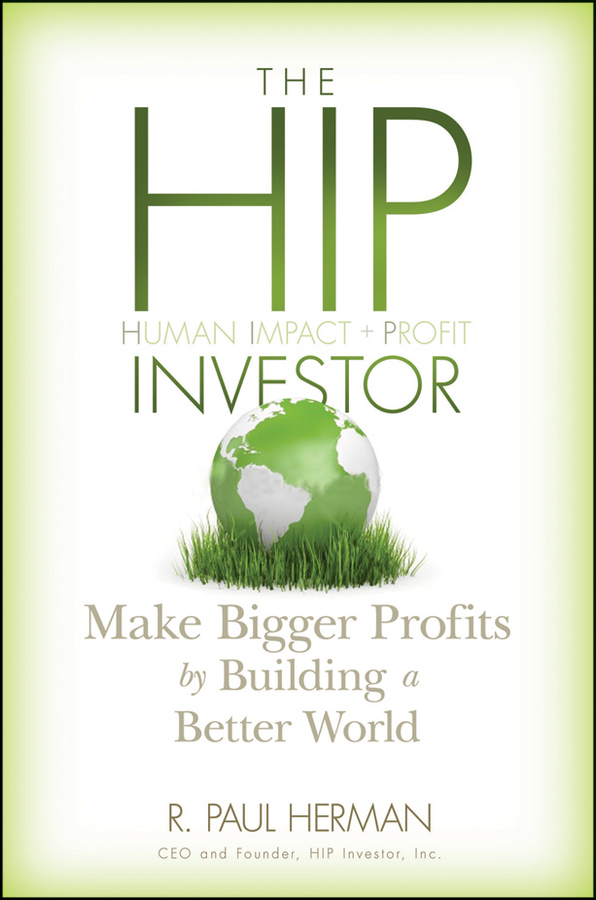 LEARN how companies can create impact and profit, how HIP measures future risk and indicators of future returns, and how you as an investor can seek Higher Impact Portfolios

READ the HIP Investor book (now a reference textbook in 26 university and MBA, MPA and
undergraduate curricula)

DOWNLOAD the HIP e-book
(for Kindle, Nook, iPad)

LISTEN to the HIP audio-book (audible.com)

GIVE the HIP book as a gift to your financial advisor,
wealth manager, broker
-- or your 401(k) manager

FIND THE HIP BOOK HERE
Follow HIP on Social Media:


© 2006-2017 HIP Investor Inc. All rights reserved.