Submit to me a card between the 1st and 30th of the current month for your chance to earn 40% OFF stamp coupons! Limit two entries per person per month. I'll need a minimum of 6 participants per month, so be sure to pass this email along to all your stamper friends!
You may drop your cards off at Debra's Cottage or mail them to me at my address below.
Any theme okay, but please use stamps and/or dies from the monthly featured company ONLY, and preferably stamps that you recently purchased from my booth (V#1585).
The top 3 cards each month will receive a FREE stamp coupon, and the winners will also be entered in the end of the year contest for a GRAND PRIZE (to be determined).
Jan - Penny Black
Feb - Hero Arts
March - Inky Antics
April - Memory Box
For inspiration or an additional "challenge", try to do one of your 2 cards that follow the suggested sketch: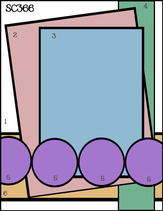 Here's the link for a bigger picture of the sketch:
Sketch Challenge SC366
I'm looking forward to your submissions!
Email me to sign up today!