Work of Heart Volunteers Honored

Program Coordinators
Linda Shelly and Annabel Murphy, Volunteers Shannon Zaring and Margaret Berry, Program Director Amorita Johnson, Program Coordinator Darcy Lanz and Volunteer David Platt.
Four extraordinary CASA Volunteers were honored March 6 at the Work of Heart dinner. Nominated for the recognition by Program Coordinators, these volunteers have demonstrated superior commitment and service on their cases. Shannon Zaring, Margaret Berry, and David Platt and their guests were treated to a wonderful dinner provided by Friends of CASA. Tim Phillips was unable to attend. Thanks to our wonderful volunteers for all they do to help children grow up in safe and permanent homes.
Haven't RSVP'd But Still Want to Attend?
10th Annual Promise of Hope Luncheon
Thursday, April 4th
12:00 - 1:00 p.m. (11:30 a.m. for networking)
Ritz Charles in Overland Park
Please contact Alyssa at 913.715.4035 or aperbeck@casajwc.com to inquire. We'd love to have you join in this great event and may still be able to accommodate your request.
The Promise of Hope is free for all attendees; however, contributions will be requested. Proceeds will benefit CASA children and those who are in need of CASA advocacy. Visit the event website to make a contribution.
Friends of CASA to Host Fundraiser
CASA's volunteer auxiliary group, Friends of CASA, is holding a fundraiser to benefit CASA. Make plans to eat at the Culver's at the Legends Shopping Center on Thursday, April 11 between 5:00 and 8:00 pm. Friends of CASA will be there to help serve you and CASA will receive a portion of all proceeds that evening.
CASA Elects Board Officers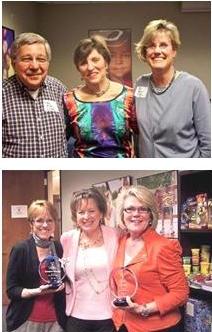 Board members and trustees attended the March 17th annual meeting. Newly elected board officers include Jason Cole, president; Terry Phipps, vice-president; Kerry Cosgrove, secretary; and Bob Fowler, treasurer. Past president Maggie Bessenbacher, and outgoing board members Elizabeth Graham and Judy Frye were recognized for their years of service to CASA.

Above: Board Trustees Mike Milens, Sharon Milens and Judi McCue at the annual meeting.
Left: Board Member Liz Graham, Past President Maggie Bessenbacher and Trustee Judy Frye.
CASA's 2012 Annual Report is now available.
Click here to learn more about our success.
CASA Awarded Human Service Fund Grant
CASA is pleased to be the recipient of the Human Service Fund grant for $20,000. Funded by local municipalities and County government, the Human Service Fund offers local governments a cost-efficient, accountable mechanism to support an array of services that help residents of every Johnson County city who are facing difficult circumstances. Join CASA in thanking your city and county officials for contributing to programs that build economic self-reliance, protect victims of family violence, and support a standard of living. CASA anticipates serving 350 Johnson County children in 2013.

In Good Company Spotlight
First National Bank
Thank you to First National Bank for participating in the "In Good Company" Club. With a commitment of doing what's right for their customers and communities, First National Bank has been building relationships with Kansas customers since 1993. Today, they serve communities throughout Johnson County offering a wide variety of services from commercial lending, wealth management, private banking, small business and individual accounts. The bank is also proud to be a visible part of the communities it serves, and has developed a Community Outreach Committee to foster their commitment to encouraging charitable giving. To learn more about First National Bank and their services, visit their website at www.fnbk.com.
Would you like to join the club? Find out more at http://www.casajwc.org/ or contact Alyssa Perbeck at 913.715.4035.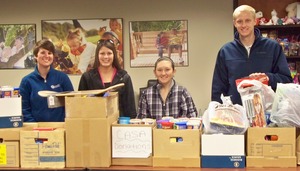 Capitol Federal Bank employees delivered supplies from a "Birthday Bag" drive they conducted at their local branches. Donations include cake mixes, frosting, personal care items, sports equipment, and gift cards. In addition, Capitol Federal Foundation donated $1,500 to the Birthday Bag fund that ensures each CASA child experiences a birthday party while in foster care. Thanks to Capitol Federal Bank employees and customers for their generosity.
Left to right – Michelle Lynn, Breanna Sigman, Haylie Coen, Aaron Flickinger
.
Fast Stats: 1st Quarter 2013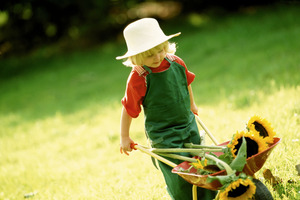 • CASA served 283 abused and neglected children
• 130 CASA volunteers provided services to 146 families
• CASA trained 22 new volunteers in our first 2013 training sessions
• A total of 104 court reports were submitted by CASA volunteers
• Staff and volunteers attended 122 court hearings
• CASA has 147 CASA volunteers
Our mission of advocating for children continues and we need your financial support! You may give online at www.casajwc.org, or mail your donation to the CASA office. Thank you for your support!
CASA Volunteer Spotlight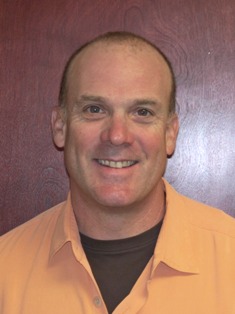 Thanks, Tim Phillips
Tim Phillips joined our CASA family in 2010. Since that time he has served as the CASA volunteer for two brothers who desperately needed a positive male role model in their lives. The boys 'Eric' and 'Jeff' had a mom who was in and out of their lives and a dad placed in a nursing home who had severe health issues. In February of 2012, their father passed away. Tim broke this sad news to Eric who was experiencing instability in his life and acting out from frequent changes in foster placements and living in a boy's shelter.
In November, the brothers faced more tragedy; their older half-brother was killed in a one-car accident. Again, Tim brought the news to Eric, driving three hours to the shelter where Eric was placed. Tim sat with him while Eric wept for over an hour. Eric expressed to Tim that he felt that there was no one left who cared about him. Tim cared about Eric and Jeff on that day and every day thereafter. Tim has shown extraordinary commitment to his role as a CASA volunteer. Not only has the CASA staff noticed this commitment, but also other professionals, including the KVC case manager, the Guardian ad Litem, and even the Judge commented on what extraordinary commitment Tim has shown.
CASA sincerely thanks Tim for all he has given; for his compassion, his generosity of time and spirit, and his tireless dedication.
Conversation with CASA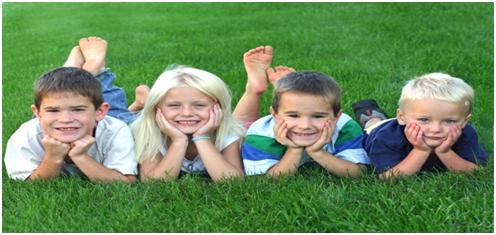 This one-hour program includes information on CASA's mission and history, local child abuse statistics, the role of volunteers, and a story from an active CASA advocate. The next conversation is

Thursday, April 11th from 12 noon - 1 pm

. This event is free and refreshments are provided. Please RSVP to Nina Kimbrough-Smith at 913.715.4042.
For CASA Volunteers
---
Trauma-related Diagnoses: Recognizing the Symptoms
2nd Workshop of the Trauma Informed Care Series - 2.5 CEUs
Monday, April 29, 2013, 11 a.m. - 2 p.m.
West Wyandotte Library
1737 North 82nd Street
Kansas City, KS 66112
Registration fee: $35.00. Register by April 23th by emailing or faxing your completed registration form to Catrina Bennett at cbennett@mhah.org. Fax: 913.281.3977.
For additional questions, you may call Catrina at 913-281-2221, ext.104.
Coffee, Conversation and Camaraderie
Do you need to talk through a situation? Do you need a shoulder to lean on? Join us monthly for two great opportunities to talk with other volunteers, get their recommendations on tough case issues, and learn from the experiences of other advocates. It is a safe place where you can talk, vent, discuss and get feedback on whatever you are facing, while earning 1.5 continuing education hours.
For ALL CASA Volunteers, the next Coffee Shop meetings are:
Monday, April 8, from 5:30-7 p.m.


Topic: Establishing a Rapport with Teenagers

Wednesday, April 24, from 9:30-11 a.m.


Topic: Activities a CASA can do during a Visit. Topics of Discussion for the CASA Volunteer and the Child.

RSVP to Gayle Hathorne if you plan to attend. ***Please join us!***