SPECIAL EVENT:

Tuesday, October 4
7:30 PM

JEREMY RIFKIN
THE THIRD INDUSTRIAL REVOLUTION:
How Lateral Power Is Transforming Energy, the Economy, and the World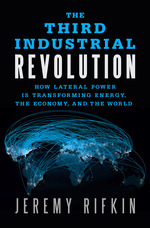 Facing the prospect of a second collapse of the global economy, America and the world are in a desperate search for a sustainable economic game plan that can take us into the future.

Jeremy Rifkin's new book, THE THIRD INDUSTRIAL REVOLUTION explores how Internet technology and renewable energy are merging to create a powerful "Third Industrial Revolution" that will transform the way we work and live in the 21st Century. Rifkin asks us to imagine hundreds of millions of people producing their own green energy in their homes, offices, and factories and sharing it with each other on an "energy internet," just like we now create and share information online. The democratization of energy will bring with it a fundamental reordering of human relationships, from hierarchical to lateral power, impacting the way we govern society, conduct business, educate our children and engage in civic life.

While the First and Second Industrial Revolutions were accompanied by national economies and nation state governance, the Third Industrial Revolution scales laterally across continents, creating continental economies and continental political unions. According to Rifkin, we are beginning the long transition from nationalism to continentalization and from geopolitics to biosphere politics.

After decades of advising European heads of state, the European Parliament issued a formal declaration calling for the implementation of Rifkin's Third Industrial Revolution. The five pillar infrastructure plan, which will usher in a new economic era, create thousands of new businesses and millions of new jobs, is now spreading to other nations in Asia, Africa, and the Americas.

The Third Industrial Revolution is an insider's account of the next great economic paradigm, including a look into the personalities and players — heads of state, global CEOs, social entrepreneurs, and NGOs — who are pioneering its implementation around the world.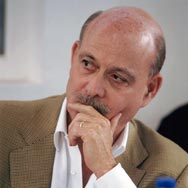 Jeremy Rifkin is president of the Foundation on Economic Trends and the author of eighteen bestselling books, including The Hydrogen Economy and The End of Work. He has been a guest on Face the Nation, The Lehrer News Hour, 20/20, Larry King Live, Today, and Good Morning America. The National Journal named Rifkin as one of 150 people in the U.S. that have the most influence in shaping federal government policy.

Please join us (and C-Span Book TV, which will be filming this evening) for a very spirted talk and discussion with Jeremy Rifkin.

You may reserve a seat with the purchase of a copy of Rifkin's new book at The Booksmith...in person, by phone (415-863-8688), by email (orders@booksmith.com), on online (booksmith.com). Just ask!
Forward this message to a friend
Click to view this email in a browser
THE BOOKSMITH
1644 Haight Street / San Francisco / 415-863-8688
---